Ripple (XRP) is very likely to rally hard if the price remains above the $0.30 mark for the next few days. We have already seen the price resist a sharp decline below its trend line support. Although it is down significantly below its 50 day EMA, we expect it to rally hard in the near future if it remains above $0.30. RSI on the daily time frame points to the strong probability of a rally towards the 50 day exponential moving average. Dreams of a golden cross seem to have fallen apart after the price broke below the 50 day EMA and declined sharply but the price could still rally towards the trend line resistance of the symmetrical triangle is trading in. This triangle is now very unlikely to be breached any time soon and chances are as Bitcoin (BTC) starts to decline, XRP/USD will follow.
For the last few months, Ripple (XRP) has been under attack from the crypto community as well as crypto media outlets. Posts like "Ripple is the worst performing crypto of the year" are common to see and we have noticed a steady decline in the buying interest in Ripple (XRP). The legal status of this cryptocurrency is still not clear and investors do not see it as such a lucrative investment anymore. It would appear that JP Morgan's announcement of its JPM coin changed the future outlook of Ripple (XRP) permanently. Ripple (XRP) once enjoyed a monopoly in its space but now it seems to be losing to alternatives like Stellar (XLM) and Chain Link (LINK). If banks like JP Morgan can issue their own digital tokens, then that leaves little to no use for Ripple's XRP tokens.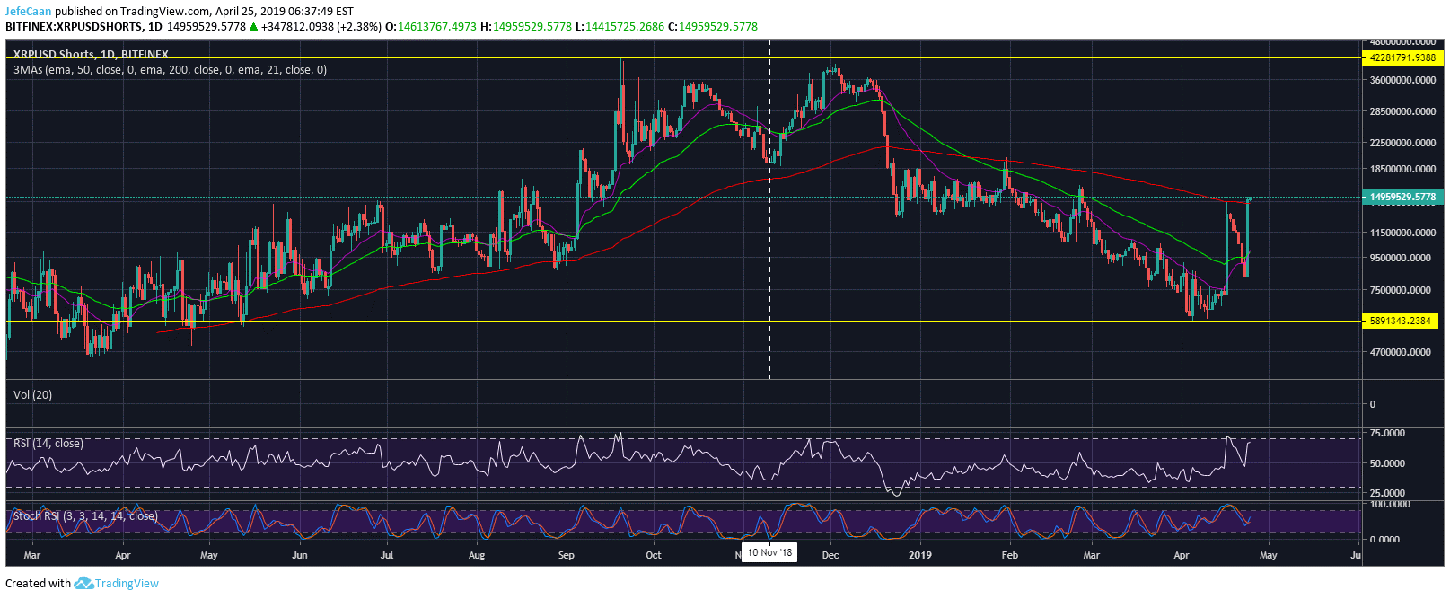 Chart for XRPUSDShorts (1D)
It is true that there are some financial institutions that are experimenting with Ripple's XRP token but it is not hard to see that most of them will eventually end up issuing their own tokens after they are done testing Ripple's product. No bank would want to depend on a third party when it can issue its own digital token that will allow it more control and save a ton of money in fees payable to a third party service like Ripple. Ripple (XRP) may have other ways to capitalize on its superior distributed ledger technology like using it to facilitate payments on ecommerce websites, but investors in XRP had to know from day one that this is not a long lasting project.
Even Ripple's CEO, Brad Garlinghouse has said on multiple occasions that they believe that cryptocurrency adoption will take some time, so meanwhile it is the banks that will stay in power meaning that creating a product that helps the banks is good business. Certainly it seems to have been and as we have seen Ripple (XRP) made a lot of millionaires and even some billionaires. However, for the mainstream investor things do not look as promising as before. Ripple (XRP) may still reach a new all-time high during its next cycle but it is highly unlikely to grow with the same pace that it did during the last cycle.