Ripple (XRP) has been long overdue for a breakout but the price keeps on stalling a break out of the symmetrical triangle. This triangle extends back to since the beginning of the bear market but we have yet to see a formal break out. The daily chart for XRP/USD shows that the price has once again started to decline towards the bottom of the triangle as it has faced a strong rejection at the 200 Day EMA. A close below the 200 Day EMA is a very bearish sign which often denotes further downside. The same could happen this time and Ripple (XRP) might decline to the trend line support considering it is heavily overbought on the daily time frame.
The past few months have been tough for Ripple (XRP) as the price has missed a lot of opportunities to rally when the rest of the market did. When the price was finally in a position to move, it did not last for long and was one large candle to the upside as seen on the daily chart around the beginning of this month. During the whole time, Ripple (XRP) has been massively oversold against Bitcoin (BTC) but it continued to decline further. Even when the price of Bitcoin (BTC) rallied the past few days, Ripple (XRP) failed to capitalize on that and has yet to break out of its symmetrical triangles against both the US Dollar (USD) and Bitcoin (BTC). This demonstrates a serious lack of buying interest in Ripple (XRP) as investors are concerned regarding its future. Its legal status is also a bit ambiguous at the moment and investors do not want any problems especially while the SEC is busy cracking down on ICOs.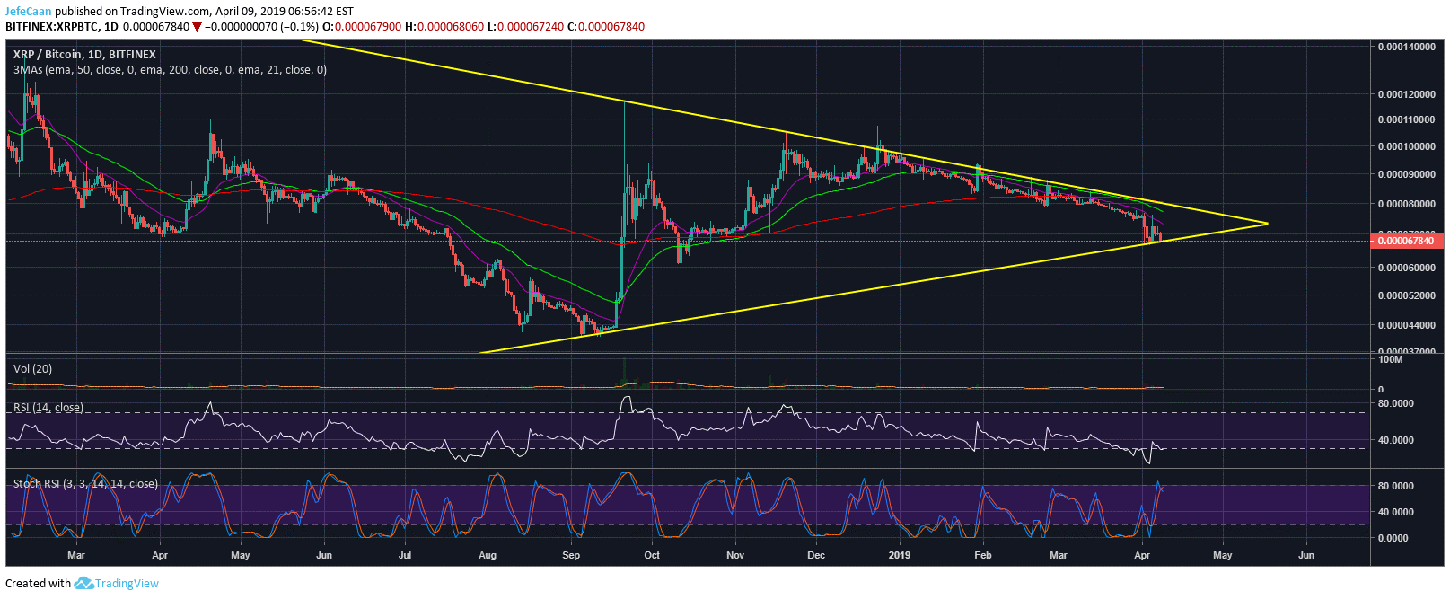 The daily chart for XRP/BTC shows that Ripple (XRP) has now become overbought against Bitcoin (BTC) without having staged a breakout. This is how Ripple (XRP) has lost opportunities to break out in the past mostly due to a loss of interest in the cryptocurrency. Something like this would not have happened in 2017 when Ripple (XRP) would have broken out of the symmetrical triangle and shot up towards a new all-time high. However, investors have become more cautious and circumstances have changed as projects that once used to have a strong monopoly now have competent competitors fighting for the same market share.
Ripple (XRP) has a strong competitor in Stellar (XLM) that is more focused on peer to peer finance rather than having intermediaries like banks or large financial institutions. Ripple (XRP) did profit off a lot of hype during the previous cycle but that seems to be changing quickly as buying interest in Stellar (XLM) is rising sharply especially after its Coinbase listing. On the other hand, interest in Ripple (XRP) has declined after the JPM Coin announcement. This space is now a lot different than what it used to be and it does make a different what projects someone invests in as opposed to picking up any coin that would shoot up during the next hype cycle a few years back.