Ethereum (ETH) has finally broken below a large bearish pennant against Bitcoin (BTC). This has led to the price breaking a strong trend line support that had held since December, 2018 when ETH/BTC found a temporary bottom. In the recent past, Bitcoin (BTC) has been rallying more aggressively compared to Ethereum (ETH) or Ripple (XRP) but when it comes to declines, altcoins still fall harder than Bitcoin (BTC). This means that it was expected that altcoins would end up breaking key supports against Bitcoin (BTC) during the next pullback. I think all of this is just getting started. By the time Bitcoin (BTC) finds its true bottom, most of the useless ICO projects and so called Dapps built on Ethereum (ETH) are going to be wiped out.
During the past few years, there has been a steady rise in the number of scams and useless projects profiting off tags like Ethereum (ETH) or Blockchain next to their names. Considering that borrowing money from the banks is still so cheap and interest rates are quite low and may even fall lower in the future, it is no surprise that a large number of people are falling for these scams. Most of these ICO Projects have been dumping their own coins on bag holders throughout the bear market. We at Crypto Daily have done extensive research on what projects have been dumping their coins on bag holders since the beginning of the bear market. Most people would be surprised to see that some of the most reputed ICOs have been engaging in this practice. It is one thing to say that projects needs funds to stay functional and thus they have to sell some of their coins, but it is another to systemically dump on the people who have been backing your project all along.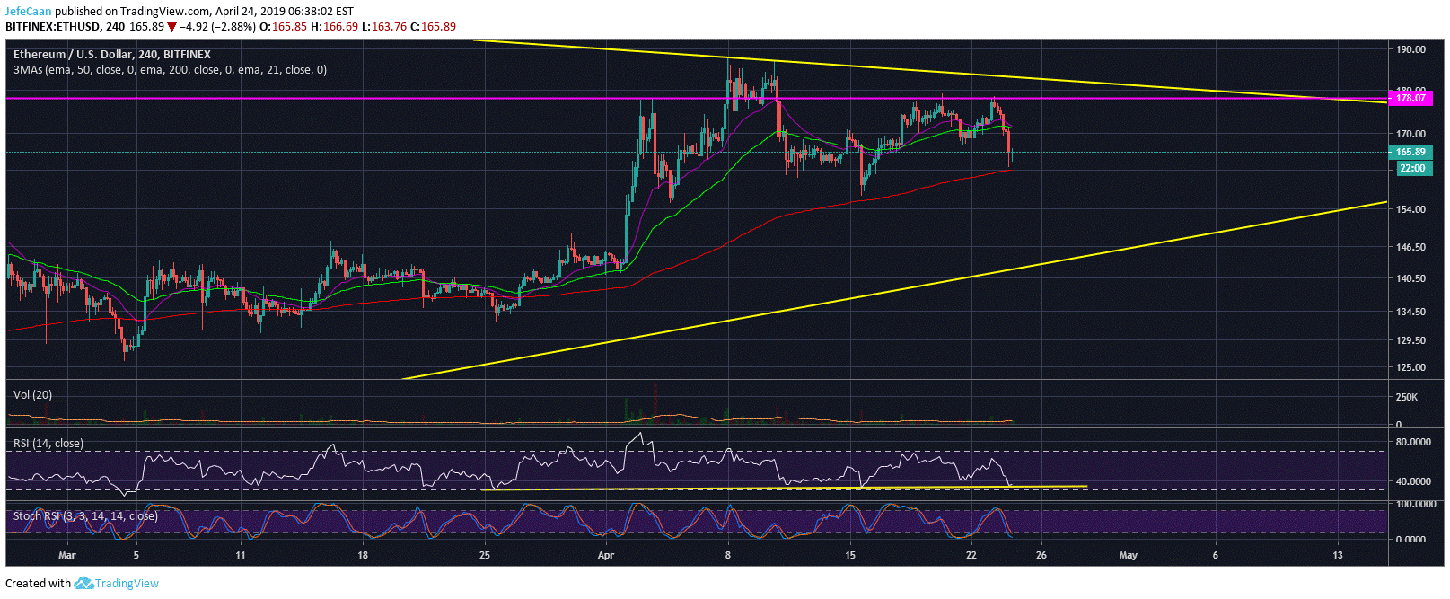 The cryptocurrency market has yet to see any regulation which is why it attracts all kinds of people. Most of these useless projects built on the Ethereum blockchain are already on the verge of collapse. During the next downtrend which is expected in the months ahead, most of these useless projects are going to be bled dry. This is a good thing for the market as we cannot see a healthy recovery with most of these useless projects or scams still around. The 4H chart for ETH/USD shows that the price has now declined sharply after forming a triple top. It is still struggling to bounce off the 200 EMA but it may end up falling below it in the days ahead.
The case of Ethereum (ETH) is a lot different than Bitcoin (BTC) because the former has already tested its previous market structure and faced a strong rejection whereas the latter has yet to test its previous market structure around $5,800-$6,000. This means that Ethereum (ETH) does not have to retest anything in the days ahead. It will continue to see some bullish momentum if Bitcoin (BTC) rises but we have seen that there is a clear weakness in the price action and it will have a very hard time breaking past the triple top it has formed recently.