Ethereum Classic (ETC) has just tested the previous trend line resistance as a strong support and bounced off it starting the day with an almost 4% gain. The daily chart for ETC/USD shows that the price still has plenty of room to rally towards the 200 day moving average which means we could see a price of $6 per coin or higher before the next major decline. Ethereum Classic (ETC) has seen its fair share of negative developments in the recent past but that does not seem to have deterred investors from investing in this promising blockchain project. Recently, Anthony Lusardi of the ETC Cooperative announced his exit but the price kept on rising.
Previously, ETC Dev, the team that is to be credited for the existence of Ethereum Classic (ETC) left the project but ETC Labs took over and the price was completely unaffected by the bad news. A lot of people on Crypto Twitter expected Ethereum Classic (ETC) to decline significantly after ETC Dev left the project but most of the people who expected the decline were not Ethereum Classic (ETC) investors in the first place. One thing about the Ethereum Classic (ETC) community that is quite different from the rest of the communities is that the investors are very thorough and meticulous. Most of the people supporting Ethereum Classic (ETC) are either strong believers in principles of immutability and decentralization or they understand the project well enough to know it is going to be a good investment long term.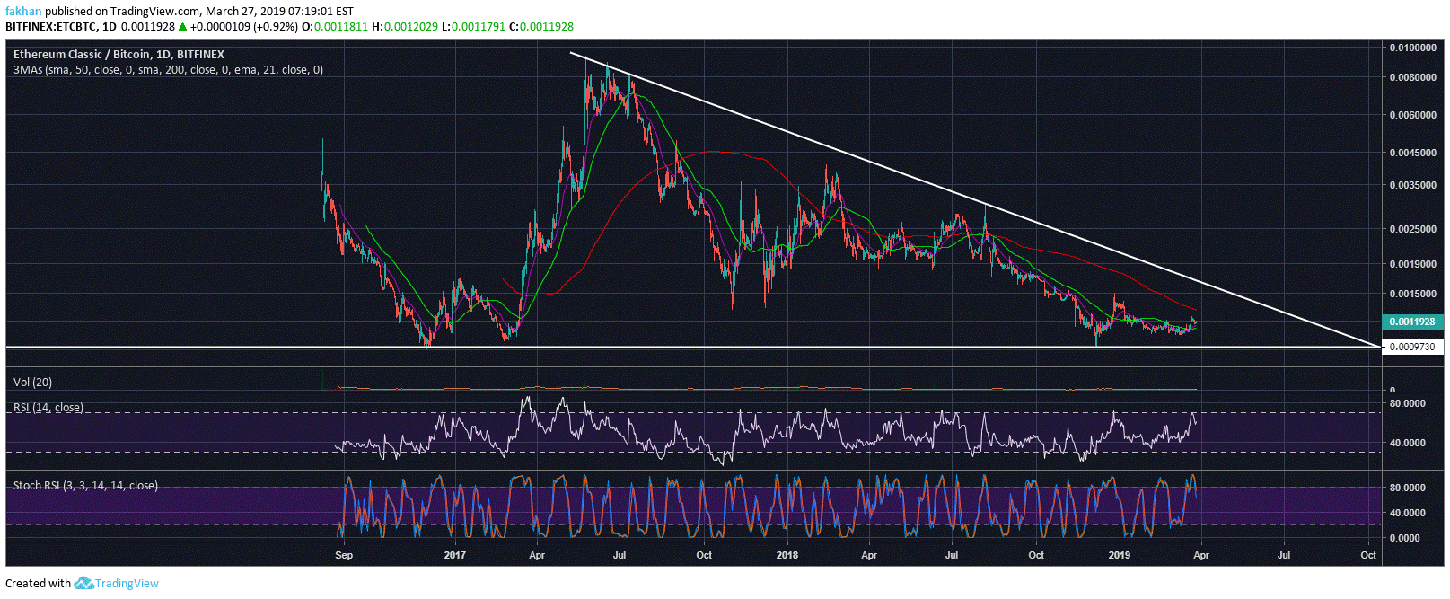 The daily chart for ETC/BTC shows that Ethereum Classic (ETC) might end up forming a golden cross against Bitcoin (BTC). If the price ends up shooting above the 200 day moving average and forms a golden cross, that could be the catalyst it needs to break out of the triangle that extends all the way to March, 2017. This would be an interesting break out as Ethereum Classic (ETC) is one of the few coins that are poised for its biggest breakout in years during the next bullish cycle. Perhaps this is why the buying interest in Ethereum Classic (ETC) is still on the rise despite some serious negative developments.
If such a high profile team member from another blockchain project like Cardano (ADA) or Tron (TRX) had left, we would have seen the price react to that and that cryptocurrency would have been down significantly. Cryptocurrencies are already in a bear market and the sentiment is overly pessimistic. It is thus not reasonable to expect a decline even on the most inconsequential bad news. However, the fact that Ethereum Classic (ETC) keeps on rising despite all the negative developments tells us that something is going on behind the scenes that the average investor does not know about. Considering that Ethereum Classic (ETC) is still in very early stages compared to some of its competitors, we can expect it to have more room for growth in the next few years from now.