Ethereum Classic (ETC) has broken past a critical trend line resistance and is now rising on bad news. That's right, bad news! The cryptocurrency seems to be completely unaffected by the departure of a high profile developer, Anthony Lusardi of ETC Cooperative. We at Crypto Daily have interviewed Anthony Lusardi in the past. He has been very keen to see the project succeed. However, he recently announced his departure due to "burnout and social media FUD". The price has reacted in a completely strange way as if the departure had a positive impact on the future of the Ethereum Classic blockchain. One explanation for this is that the community is trying to show its support by holding on to its coins as a key Ethereum Classic figure quits. However, we cannot say for sure what the cause of the recent spike in ETC/USD might be despite the negative news.
Looking at the daily chart for ETC/USD, we can see that the price has clearly broken past a critical resistance and now does not face any real obstacle in its rally towards the 200 day moving average. The daily trading conditions are close to the overbought territory but that does not mean the price cannot surge further. In fact, we expect ETC/USD to continue to rally next week until the price runs into the 200 day moving average. After that, we expect the price to decline swiftly towards its ultimate bottom. This year has been a terrible year for Ethereum Classic (ETC) as we have seen a lot of key figures leave the blockchain. It does raise concerns regarding the future of the blockchain if a few more key developers were to quit.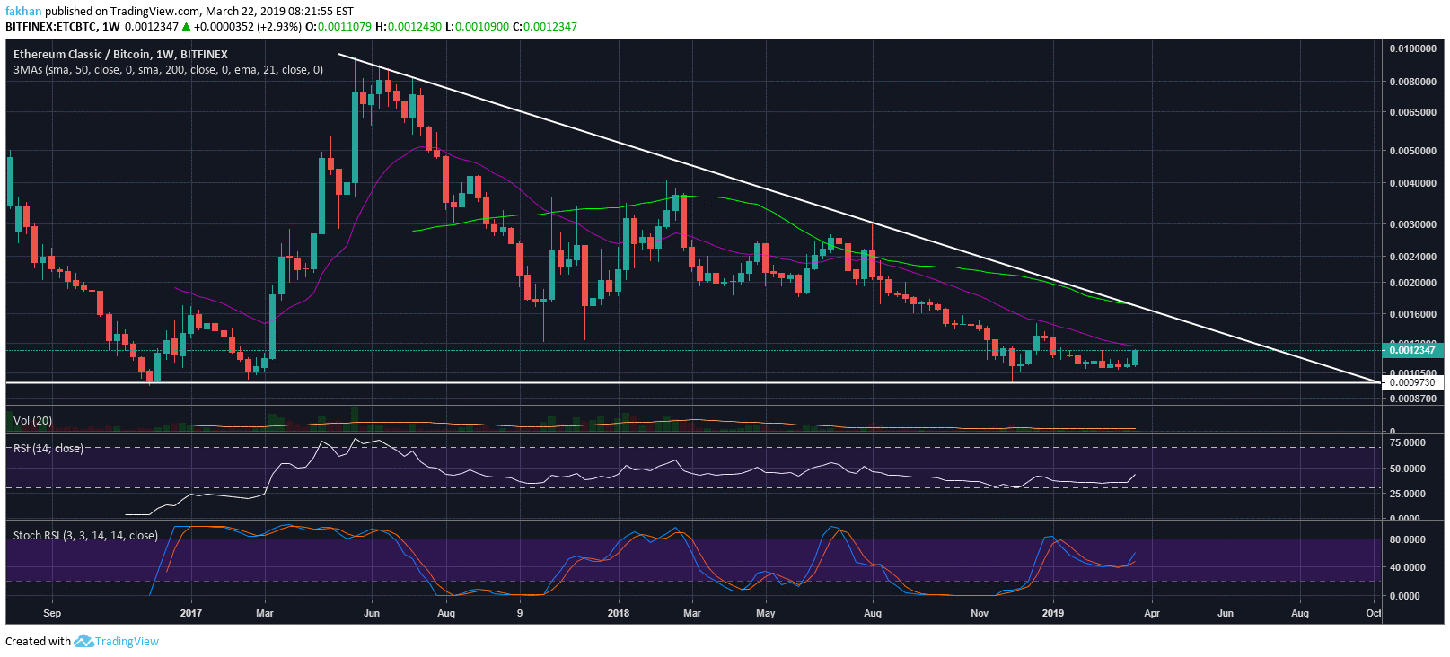 Chart for ETC/BTC (1W)
We have seen the Digital Finance Group (DFG) cozy up to Ethereum Classic (ETC) in the recent months but it is yet to be seen whether they have what it takes to keep this project alive, let alone take it to the next level. If such high profile figures keep on leaving the blockchain on reasons like "social media FUD" and "burnout", investors might have every reason to second guess whether the people working on this project are actually serious about the future of this blockchain. A good team stays with the project through thick and thin, through good times and bad times. This is why we have seen projects like Golem (GNT) achieve so much even during the bear market.
Ethereum Classic (ETC) is in every way a larger project than Golem (GNT) and to see some of the people working on it leave for such reasons is alarming. The reason it is alarming is because as investors one might have to dig deeper to see what exactly behind "social media FUD" and "burnout" is there that has brought on this onslaught of departures in such a short time. While we do expect Ethereum Classic (ETC) to continue to rally for now, we do believe that investors might have some serious doubts regarding the future of this project during the next bull run. If things remain unchanged, we might once again see Ethereum Classic (ETC) miss out on most of the gains that its fellow altcoins make during the next bullish cycle.