Bitcoin (BTC) has just retraced to its 61.8% fib extension level after more than a week of sideways movement. The price is not expected to fall further as the trend line support that it is currently resting on is a very strong one and might serve as a ground for a potential take off from current levels. We have now seen BTC/USD decline past the 21 day exponential moving average which is why it declined so aggressively in the past 24 hours. That being said, the price is still trading above the critical 50 day moving average. The Stochastic RSI shows that the bulls have wasted an opportunity to push back for the most part but there might still be room for a rally.
The daily trading volume is on a steady decline which is why we see most of the moves as choppy. This is also one of the reasons investors are afraid to get into the market because a few quick moves in a small time could lead to significant drops and then the price would just trade sideways for a long time. This is why times like these are good for accumulation but terrible for taking any margin positions. Traders who longed BTC/USD the last week have already realized how manipulated such an under regulated market can be and what human greed can do to the price of anything no matter how noble or valued. It is no secret that most of the people in this game don't care about Bitcoin (BTC) as long as they are making money even if that means cornering the market to malign cryptocurrencies.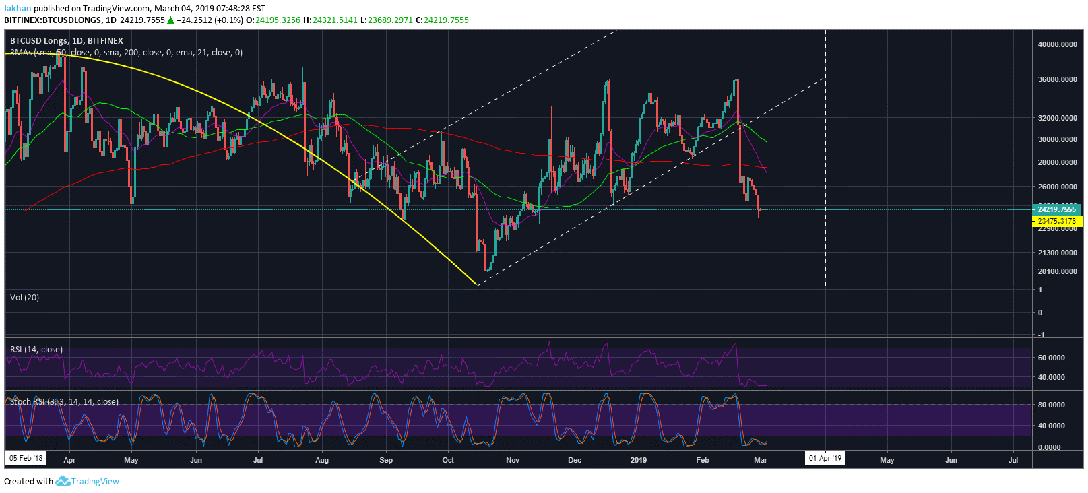 The number of margined longs is still in a strong decline which shows that the bullish resolve is pretty weakened. Now, what's interesting to note here is that both the margined long and the margined shorts are in a strong decline. This means that one of these charts is giving us the wrong idea. If we look at historical trading data for BTCUSDLongs, we can see that the number of margined longs has been more easily influenced by market sentiment than BTCUSDShorts. The fact that BTCUSDLongs has declined this low while BTC/USD is poised for a near term rally shows that the bulls are scared for the wrong reasons.
If we look at the daily chart for BTCUSDLongs, it is easy to see that the number of margined longs has been trading in a steady uptrend until recently, but strong manipulated moves in the Bitcoin (BTC) market lead to this uptrend being broken. Now, this does not mean that BTCUSDLongs will continue to go down but it does mean that the retail bulls are scared. This is a good sign for contrarians who would take this as a sign of a trend reversal in BTCUSDLongs and a potential rally in BTC/USD in the days and weeks ahead. That being said, investors should only enter margined positions with smart risk management techniques at this point as the lack of volume makes the price vulnerable to choppy moves.