The state of Wyoming has just passed a bill which will allow cryptocurrencies to be recognized as actual money. On January 18th, Wyoming legislation first presented the Digital Assets-Existing Law Bill (Senate File No. SF0125) which is intended to clarify the classification of cryptocurrencies. Wyoming legislature website states that the bill will go into effect on March 1st 2019. The bill classifies digital assets as money, intangible personal property, and a security.
Wyoming
The following in the quote is a section from the bill where it explains the classification of cryptocurrencies, also referred to as digital assets:
" 34‑29‑102. Classification of digital assets as property; applicability to Uniform Commercial Code.
(a) Digital assets are classified in the following manner:
(i) Digital consumer assets are intangible personal property and shall be considered general intangibles, as defined in W.S. 34.1‑9‑102(a)(xlii), only for the purposes of article 9 of the Uniform Commercial Code, title 34.1, Wyoming statutes;
(ii) Digital securities are intangible personal property and shall be considered securities, as defined in W.S. 34.1‑8‑102(a)(xv), and investment property, as defined in W.S. 34.1‑9‑102(a)(xlix), only for the purposes of articles 8 and 9 of the Uniform Commercial Code, title 34.1, Wyoming statutes;
(iii) Virtual currency is intangible personal property and shall be considered money, notwithstanding W.S. 34.1‑1‑201(b)(xxiv), only for the purposes of article 9 of the Uniform Commercial Code, title 34.1, Wyoming statutes. "
Source: State of Wyoming Legislature https://www.wyoleg.gov/
The new bill also suggests that coin exchanges who operate in the state of Wyoming may have to meet SEC-level requirements such as a bank or brokerage firm.
Earlier in January, the state of Wyoming has passed other blockchain and cryptocurrency related bills into legislation to help push forward the regulation of cryptocurrencies, all of which will go to effect in March 1st. Financial Technology Sandbox (House Bill No. HB0057), Wyoming Utility Token Act-property amendments (House Bill No. HB0062) and Corporate Stock-Certificate Tokens (House Bill No. HB0185).
New Hampshire
The state of New Hampshire also just become one step closer to pass a bitcoin related bill, (House Bill 470) which will allow taxpayers to use bitcoin as a method of payment when filing their state taxes. On January 23rd, the bill was unanimously approved by the House Subcommittee. While this is a step closer, the bill still must go through Senate and House of Representatives approval before the bill can go into effect.
Bill 470 Summary: Allowing State agencies to accept cryptocurrencies as payment.
Indiana
On January 24th, the state of Indiana also proposed a bill to accept cryptocurrencies as a payment method for state taxes (House Bill No 1683).
Bill 1683 Summary: Payment of taxes with virtual currencies. Allows a person to pay taxes using an approved virtual currency.
Ohio
Ohio became the first state to adopt Bitcoin as a form of currency as of November of 2018. Ohio currently accepts Bitcoin as a form of payment for when individuals or businesses file their taxes.
With the recent series of states embracing cryptocurrency as a payment network, it's possible to see more new states or countries follow the same direction in the near future.
More Cryptocurrency Developments
The cryptocurrency industry overall has seen more major developments during the past 15 months than ever before. Companies continue to enter the crypto space and Bitcoin continues to get adopted as a form of currency despite the recent bear market cycle.
Back in October, one of Sony Corporation's subsidiaries, Sony Computer Science Laboratories Inc announced that they developed a cryptocurrency wallet using IC card technology. The IC card hardware wallet is small and can in a tight pocket just like a credit card. Sony CSL also mentioned that they are advancing towards the commercialization of the IC card wallet which would make it unlike any existing hardware wallets that are currently available.
Many other companies are entering the industry in efforts to make cryptocurrency easier to use and to demonstrate Bitcoin as an actual currency. For example, the world's first Bitcoin dedicated shopping app Bitplaza recently launched on the Apple app store and is also available on Google Play for Android users. By using the Bitplaza app, anyone around the world can freely spend Bitcoin on anything from the latest electronics to even groceries.
Most recently, Samsung filed for 3 trademarks with the European Union Intellectual Property Office for cryptocurrency and blockchain related mobile applications. The three trademarks that SAMSUNG Electronics Co., LTD. filed for are named Blockchain KeyStore, Blockchain Core and Blockchain key box. In a recent leak on Twitter, there were 3 pictures [1,2,3] that revealed one of the mobile applications, Samsung Blockchain KeyStore which is a cold storage cryptocurrency wallet.
Bitcoin Adoption Via Integration
Alongside companies developing new technology and tools for bitcoin users, there are also companies out there integrating bitcoin transactions with their existing technology.
For example, CoinStar recently integrated a bitcoin purchasing system in some of their cash-to-coin kiosks. Another example is the Cash App integrating Bitcoin into their platform letting their users buy and sell bitcoin straight through the mobile app. Developed by Square Inc, the Cash App is currently the most popular app that people use to send and receive money.
Bitcoin Network Growth
Aside from industry related developments, the Bitcoin network itself is steadily growing according to data gathered from Blockchain. For instance, the aggregate number of daily Bitcoin transactions has reached 353,945 compared to approximately 200,000 daily transactions during the same period the previous year.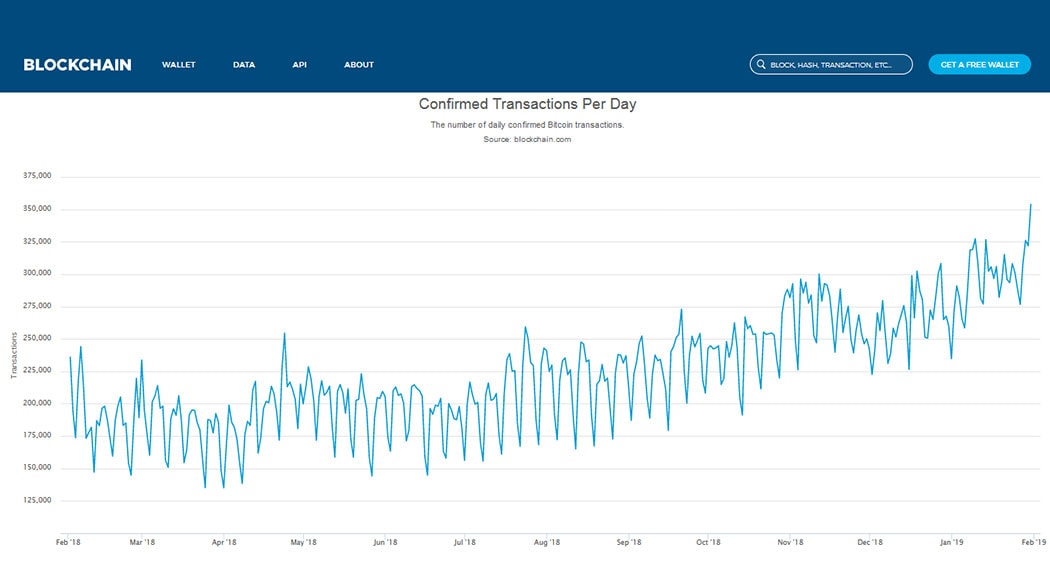 Confirmed Daily Bitcoin Transactions
Chart provided by Blockchain.com
Closing Statement
With the recent series of events, Bitcoin is getting closer to reaching mainstream adoption, as well as regulation slowly being put into place making the environment safer for everyone. The industry overall is growing at a rapid pace with many new projects and developments making cryptocurrency more accessible and easier to use paving the way for cryptocurrency to thrive going forward.