Ripple (XRP) has been trading sideways for a while but now it is time to make a decisive move. The price is already consolidating below the 21 Week EMA but it has reached the end of the line trading inside a diamond formation. XRP/USD entered this diamond pattern in April, 2018 and will have to break out of it by February, 2019. The price is currently trading at the bottom of this diamond formation and a few strong moves to the upside might easily facilitate a breakout to the upside. Such a break out is going to be very helpful in getting more investors onboard as it will also result in XRP/USD breaking above the 21 Week EMA.
The weekly RSI also has plenty of room for further upside. The price can rise continuously for the next few months and it is expected that XRP/USD will take this opportunity to preserve its second spot by market capitalization. That being said, Ripple (XRP) has performed better than most other cryptocurrencies and investors are aware of that. XRP/USD has not corrected in the same manner as most cryptocurrencies which could hinder its chances of moving with the rest of the market in the weeks and months ahead. One thing we have seen in this market is that there is no single cryptocurrency that is immune to market cycles. If a cryptocurrency escapes a correction at some point, it is likely to face it at another time. There is no such thing as avoiding a correction.

Many cryptocurrency enthusiast that invested in XRP/USD before the bear market kicked in are still waiting for the price to fall back to $0.20 or closer before they can get back in the game. So far, XRP/USD has thrived without needing help from such investors waiting on the sidelines. However, if this rally runs out of fuel, we could see an ultimate fall towards $0.20 to get those investors onboard. It is hard to say that any cryptocurrency might be overbought at this stage considering we have just been through an extensive bear market. However, the reaction of retail investors to XRP adoption does appear to have made the cryptocurrency slightly overvalued. Most of the time, this confusion stems from new investors who hear about Ripple (XRP) priced below $1 and then they go on confusing XRP with Ripple (the company).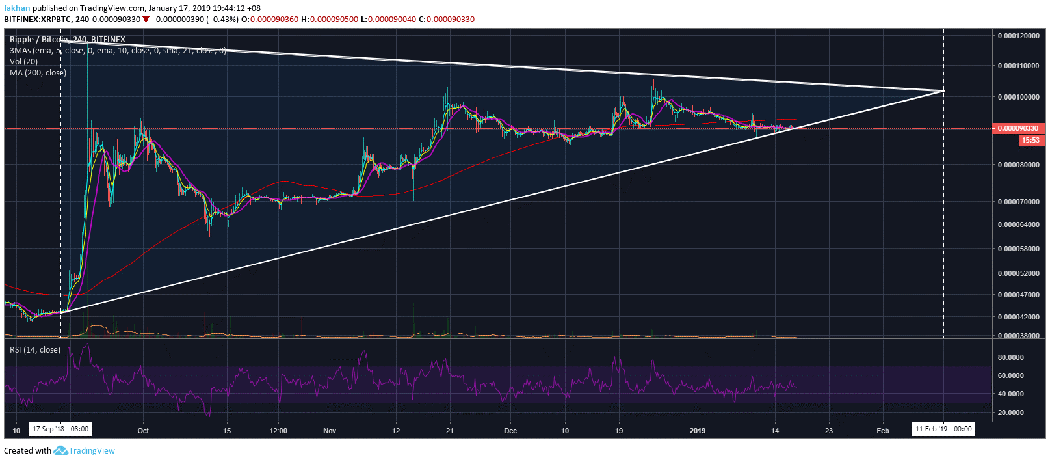 Chart for XRP/BTC (4H)
Ripple (the company) has been pushing aggressively for XRP adoption the past few months but we are yet to see how XRP adoption is going to unfold. It is not clear why these banks or financial institutions would want to use XRP instead of their nostro accounts when they could issue their own cryptocurrencies run on Ripple Net. If XRP adoption does not go as retail investors expect it to, we may see the price of Ripple (XRP) decline significantly. On the other hand, if XRP adoption does go as expected, we should see XRP rise enormously in price as banks will have to buy billions of dollars' worth of XRP to replace their nostro accounts.