In its entire trading history, Bitcoin (BTC) has begun a new bullish cycle every time roughly a year before its next halvening. It happened in November, 2011 approximately a year before Bitcoin (BTC)'s halvening in December, 2012. It happened again in August of 2015 just before the halvening in July, 2016. Now, the next Bitcoin (BTC) halvening is expected around May, 2020 which means if Bitcoin (BTC) were two do what it has done in the past, we should see the price start rallying towards the end of May this year. That also means that before that, the price will continue to trade sideways like it did in 2015 just before beginning a new cycle.
The weekly chart for Brave New Coin Liquid Index for Bitcoin (BNC:BLX) shows that investors have until the month of May to accumulate at current prices before market sentiments takes a 180 degree shift and a new cycle begins. The time to accumulate is when there is blood on the streets and that is exactly what the big players in this market are doing. At the moment, it would appear that most of these Wall Street types are after the exchanges and companies that provide services for the underlying assets but there is some serious accumulation going on in the background that is not reflected by trading on exchanges or the prices that we see on Coinmarketcap.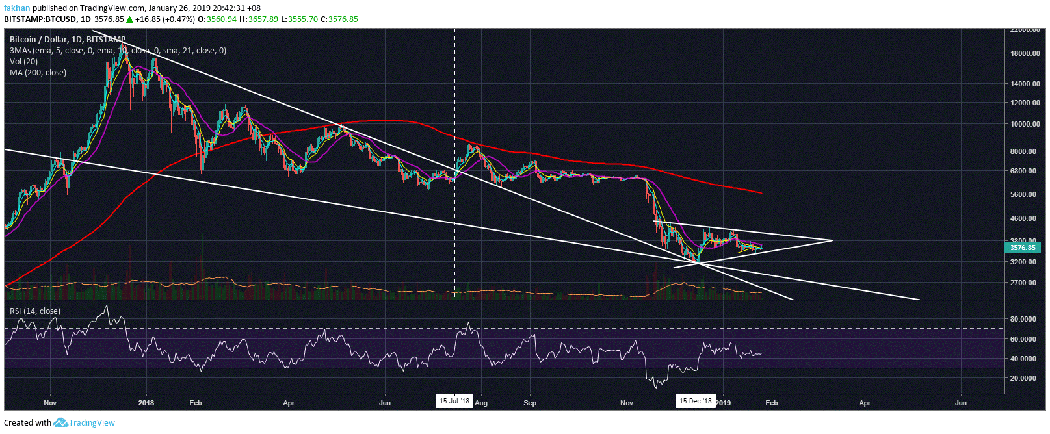 In the last 24 hours, we saw NYSE Arca file for its Bitwise ETF and Robinhood just bagged a New York Trading License. These are big developments happening on a very small time frame. Things are moving fast in this space and it might be wrong to think that what took four years to happen in the past might take four years this time as well. The global economy is not the same as it was four years back and Bitcoin (BTC) is not what it used to be. Back then, most financial institutions or even regulators did not care about Bitcoin (BTC). However, today the circumstances are dramatically different and cryptocurrencies have become the hottest investment on the block. Most financial institutions and tech companies know that if they do not become a part of this revolution, they are going to die their own death.

Large tech companies are already filing for patents and trademarks in this space. Leaked photos of the upcoming Samsung Galaxy S10 just opened a new debate regarding what could be the next catalyst that might drive BTC/USD to a new all-time high. Perhaps this is the first time in history that some tech geeks and early crypto enthusiasts have beaten Wall Street in the adoption race towards a new asset class. Institutional investors are yet to get into the space but some early adopters have already witnessed a series of market cycles in this space. The next cycle to push Bitcoin (BTC) towards a new all-time high is going to require an influx of new capital which is why it is not going to happen without the involvement of institutions. It is pertinent to note though that we are still very far from mainstream adoption which may take another five to ten years but the next institutions fueled bull run is just around the corner.