Table of Contents
Road Town, BVI, August 24th, 2023, Chainwire
LBank exchange continues to focus on providing its users with access to quality tokenized projects. For the week starting August 21, a total of five new tokens will be made available for trading on LBank including a number of memecoins.
On August 21, LBank listed ROA, the token for metaverse and NFT project Roaland. The token is connected to facilitating NFT transactions and NFT-based service experiences. Roland also operates services based on the Art-Tech platform. On August 22, LBank listed JjangGu (JJGU), a meme-based cryptocurrency that is designed to serve as digital currency for charity, donations, good deeds, and similar altruistic causes.
On the same day, LBank listed DT, a BEP20 token issued by DT Foundation, a company focused on blockchain technology and DeFi. It's building a trading system that breaks away from centralization, providing users with greater freedom and efficiency. DT Foundation operates products such as MonkeySwap through a partnership with WoWMax.
On August 25, LBank will list DongCoin (DONG), which has been described as Korea's first shitcoin. Two days later, it will list FILEDOGE, a decentralized memecoin and DEX on Filecoin. The project was launched in February 2023 as a community-driven initiative embodying the spirit of DOGE's meme culture while adhering to FIL's smart contracts. The token features a fair Genesis release and an inclusive, teamless structure.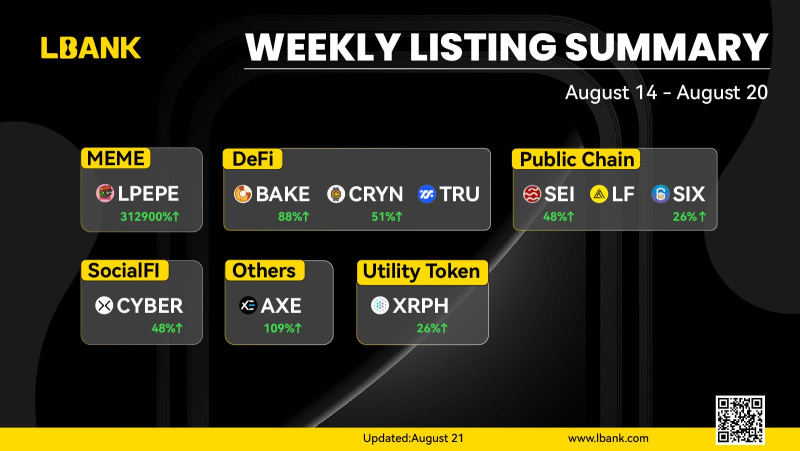 For the week running from August 14-20, LBank listed a total of 10 tokens. These included LadyPepe (LPEPE), a memecoin that rose by an impressive 312,900%. There was also BAKE (up 88% in a week), CRYN, TRU, SEI, LF, SIX, CYBER, AXE, and XRPH, all of which posted significant growth after listing.
About LBank
LBank is one of the top crypto exchanges, established in 2015. It offers specialized financial derivatives, expert asset management services, and safe crypto trading to its users. The platform has over 9 million users from more than 210 regions across the world. LBank is a cutting-edge platform that ensures the integrity of user funds and aims to contribute to the global adoption of cryptocurrencies.
Community & Social Media:
Telegram l Twitter l Facebook l LinkedIn l Instagram l YouTube
Contact
LBK Blockchain Co. Limited
[email protected]