London, United Kingdom, June 7th, 2023, Chainwire
Sweat Economy, the pioneering move-to-earn project, is launching a new governance vote today in the Sweat Wallet application, letting the community decide the fate of 2 billion idle SWEAT tokens in inactive user accounts.
The 2 billion SWEAT tokens, constituting ~13% of the total supply, are currently locked up in a 24-month contract in inactive user accounts.
After the successful Token Generation Event last September, a considerable number of users, despite repeated prompts, have yet to activate the Sweat Wallet application and claim their tokens.
The new governance vote aims to resolve the lingering question: what should be done with these idle tokens? Sweat Economy now allows token holders to participate directly in the decision-making process, exercising the principle of one person, one vote, thereby democratizing the token's future.
Users can either vote in favor of having the 2 billion idle SWEAT tokens recovered and transferred back to the Sweat Treasury for potential future distribution (or other uses as decided by subsequent votes), or users can vote in favor of leaving these tokens in inactive user accounts.
A minimum of 75,000 votes is required for the proposal to be accepted or denied, and in order to ensure everyone has a fair opportunity to make their vote count, the proposal will run for at least seven days, with the possibility of a three-day extension, in the event of an ongoing influx of votes.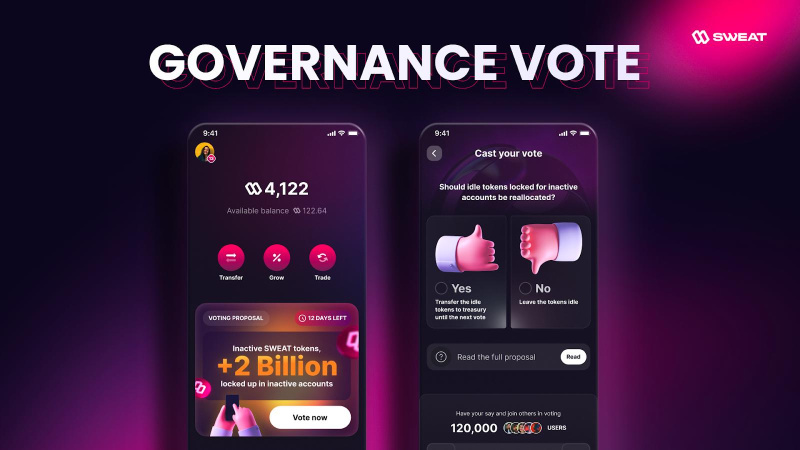 This new governance vote is notable because of the vast volume of SWEAT tokens at stake and the deepening commitment of Sweat Economy to community-centric decision-making. The platform is determined to ensure all voices are heard, regardless of the size of their SWEAT holdings. This intention resonates well with the community, as highlighted by user feedback:
"Thanks for letting the community know before the vote is live. Much better for transparency."
"It's a good proposal! I can't wait to see what they propose to do with over 2 billion $SWEAT!"
The previous vote attracted a whopping 153,783 participants, and Sweat Economy is optimistic about seeing even higher engagement numbers this time, given the magnitude of SWEAT tokens involved.
This milestone event strengthens Sweat Economy's mission to create a more inclusive, transparent, and democratized ecosystem, continuing to foster strong community involvement and influence over pivotal decisions.
About Sweat Economy
Established in 2015, Sweat Economy promotes healthier living by encouraging people to move more. Sweatcoin, the most downloaded health and fitness app globally in 2022, incentivizes over 130 million users to move more by earning sweatcoins, dubbed 'Airmiles for steps.' The in-app currency can be redeemed for branded products, digital services, or donated to various charities. Last summer, Sweat Economy launched the Sweat Wallet app and its cryptocurrency, $SWEAT, to further reward users and establish a tangible financial unit of value for movement. Over 14 million users received airdropped tokens, constituting the largest crypto giveaway ever. By harnessing the decentralized power of Web3, the company is well on its way to creating a true economy of movement where health and wealth intersect.
Start earning crypto for your steps by following this link. To learn more about Sweat Economy, visit our website. For the latest news, follow us on Twitter, Discord, Telegram, and Reddit.
Contact
Suki Cheung
[email protected]