Table of Contents
Cryptocurrency trading has taken the financial world by storm, offering exciting opportunities for both seasoned traders and newcomers to the market. If you're looking to dig deep into the world of crypto futures trading, one platform that has gained attention recently is PrimeXBT. But should you try PrimeXBT crypto futures? In this honest review, we'll explore the platform's key features, usability, security measures, and more to help you make an educated decision.
Crypto futures trading on PrimeXBT
The first thing you will notice is the diverse selection of cryptocurrencies available for trading. PrimeXBT offers a wide range of cryptocurrencies, including Bitcoin, Ethereum, Litecoin, Ripple, Dogecoin and many more. This extensive offering allows traders to diversify their portfolios and take advantage of different market dynamics and opportunities. Whether you're interested in major cryptocurrencies or seeking exposure to promising altcoins, PrimeXBT has you covered.
Another aspect that sets PrimeXBT apart is its user-friendly interface. Navigating the platform is a breeze, even for those new to trading. The intuitive layout provides easy access to key features and tools, allowing you to focus on making informed trading decisions. Plus, PrimeXBT offers a customizable user interface, allowing you to tailor the platform to your preferences. Whether you prefer a clean and minimalist workspace or a more comprehensive view of charts and market data, PrimeXBT gives you the flexibility to create your ideal trading environment.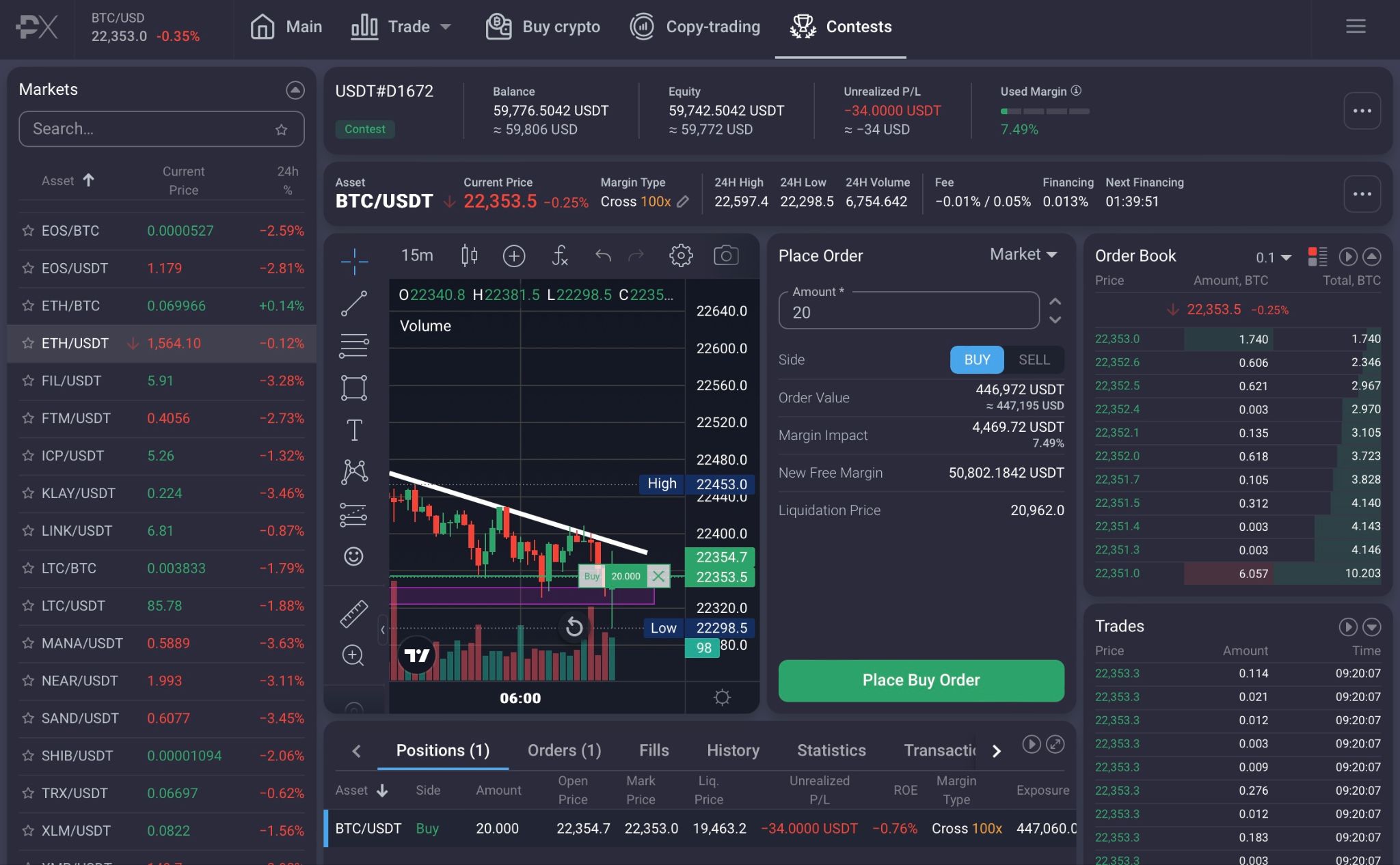 When it comes to risk management, PrimeXBT provides a range of tools to help protect your capital. One notable feature is the ability to set stop-loss orders. These orders automatically close your positions if the market moves against you, limiting potential losses. PrimeXBT also offers other risk management tools, such as take-profit orders and adjustable leverage settings. These tools allow you to control your exposure to the market and optimize your trading strategies based on your risk tolerance and market conditions.
In addition to its user-friendly interface and risk management tools, PrimeXBT stands out with its integration of TradingView's advanced charting tools. TradingView is a popular platform among traders for its comprehensive technical analysis features. PrimeXBT's collaboration with TradingView provides users with access to over 50 pre-built technical indicators and more than 50 drawing tools. These tools empower experienced traders to analyze price charts, identify patterns, and make more successful trading decisions.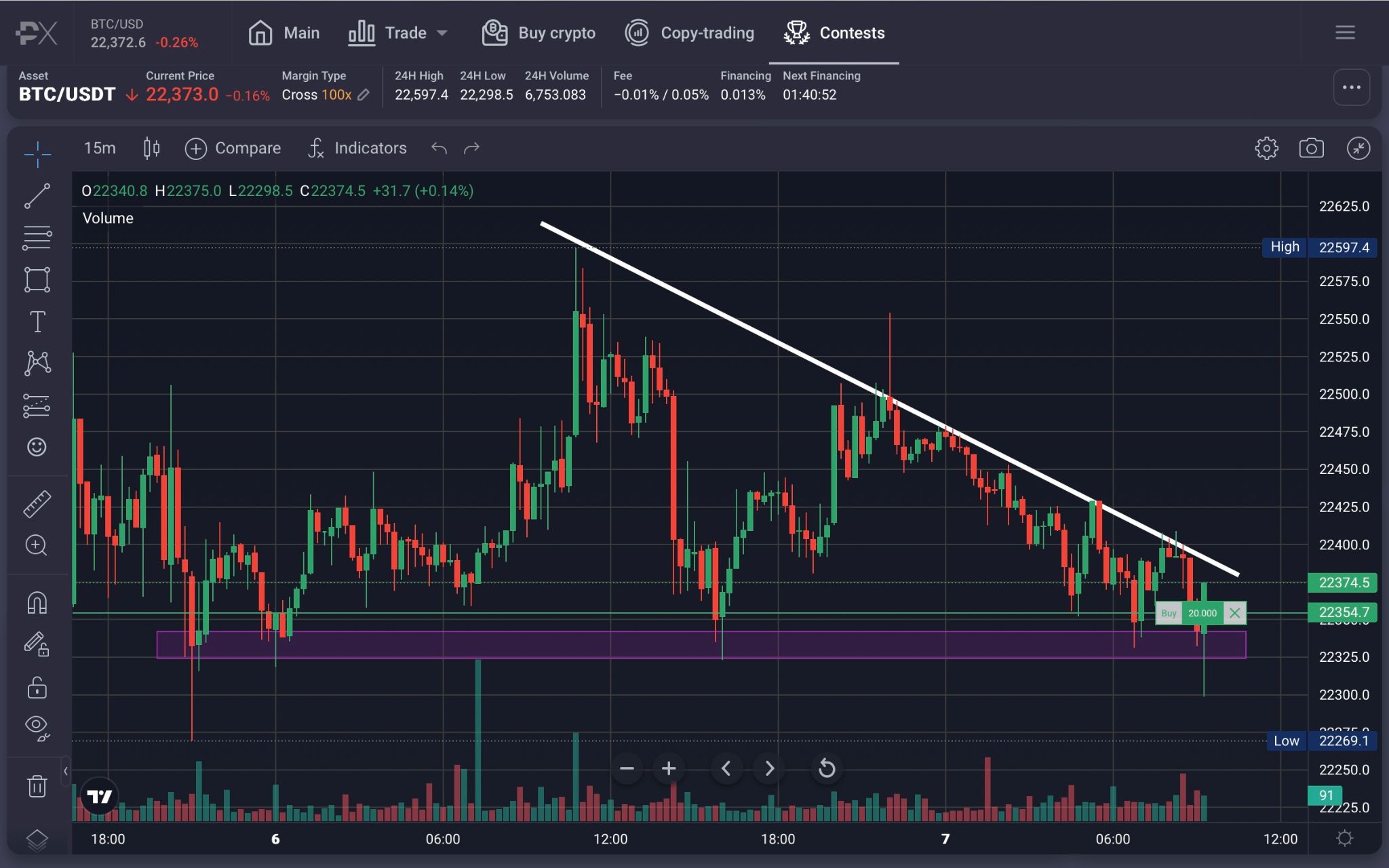 Additional trading opportunities at PrimeXBT
Unlike most other crypto futures platforms, PrimeXBT also provides access to Contract for Difference (CFD) trading on traditiaonl assets. This allows traders to speculate on the price movements of forex, commodities, and stock indices. With CFD trading on PrimeXBT, you can diversify your trading portfolio and take advantage of opportunities in multiple financial markets, all from a single platform.
Another unique feature offered by PrimeXBT is copy trading. This innovative tool allows you to follow and automatically replicate the trades of successful traders on the platform. If you're new to trading or simply want to learn from experienced traders, copy trading provides an excellent opportunity to observe and potentially profit from their strategies. With PrimeXBT's copy trading feature, you can browse through a list of top-performing traders, analyze their historical performance, and choose to copy their trades with a few clicks.
PrimeXBT Trading Academy and Contests further enrich the platform's offerings. The Trading Academy provides educational resources, including articles, tutorials, videos, and webinars, covering a wide range of trading topics. Additionally, PrimeXBT's weekly trading contests add an element of excitement and competition. These contests allow you to showcase your trading skills and compete for crypto-based prizes. Using virtual demo funds, provides a risk-free way to test your strategies, gain experience, and potentially win rewards, all while sharpening your trading abilities.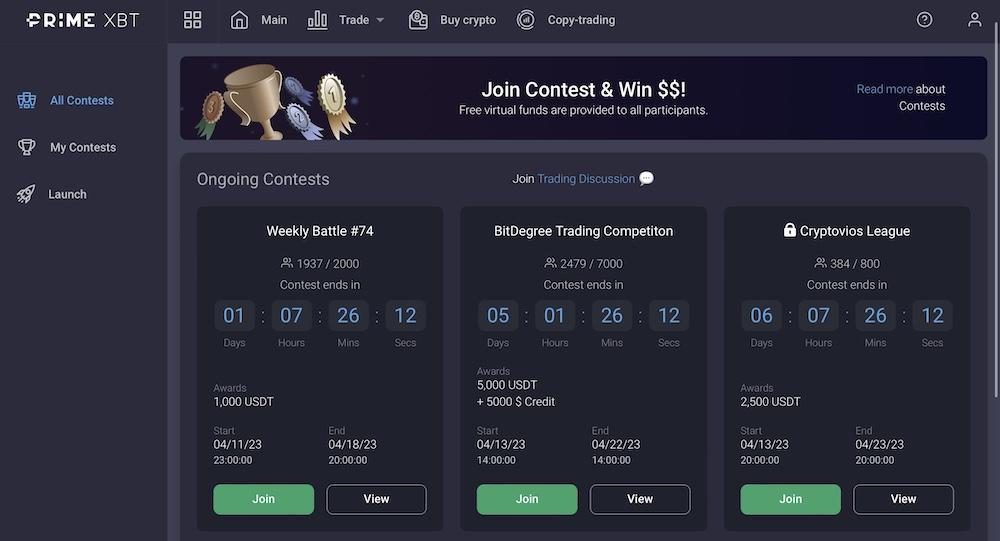 PrimeXBT crypto futures review conclusion
Now, let's address the crucial question: should you try PrimeXBT crypto futures? The answer is a resounding yes. PrimeXBT offers a comprehensive and user-friendly platform for crypto futures trading. Its extensive selection of cryptocurrencies, customizable user interface, risk management tools, and integration of advanced charting features make it an attractive option for both novice and experienced traders.
Moreover, PrimeXBT prioritizes security and user safety. The platform stores the majority of user funds in cold storage wallets, ensuring their protection against online threats. Two-factor authentication (2FA) adds an extra layer of security, reducing the risk of unauthorized access. PrimeXBT also adheres to industry best practices, such as Know Your Customer (KYC) and Anti-Money Laundering (AML) policies, to ensure a safe and compliant trading environment.
PrimeXBT has received positive user reviews and recognition within the industry, further solidifying its reputation as a reliable and trustworthy platform. The company's commitment to providing excellent customer service, as evidenced by its 24/7 live chat support and extensive help center, demonstrates its dedication to user satisfaction. For all these reasons and more, we recommend you give it a try.
Disclaimer: This article is provided for informational purposes only. It is not offered or intended to be used as legal, tax, investment, financial, or other advice.