Eden Island, Republic of Seychelles, June 27th, 2023, Chainwire
A new PEPE memecoin is launching, following hot on the heels of its Ethereum namesake. Issued as a BEP20 on BNB Chain, PEPE is a novel memecoin with a number of unique mechanisms programmed into its tokenomics.
Like the original PEPE token, which has proven a runaway success in 2023, the BEP20 PEPE draws its cues from the mischievous frog of the same name, whose design was derived from the webcomic "Boy's Club."
The market capitalization of the original PEPE token, which debuted on Ethereum in April, exceeded $1 billion on May 5th, prompting a new wave of memecoins, including a number of frog-themed efforts. Unlike subsequent memecoins, the PEPE (BEP20) has several unusual features programmed in including a syndication system designed to support price stabilization.
The team behind the BNB Chain PEPE aren't settling for just one memecoin either: they plan to launch multiple PEPE projects, all based on the loveable frog. 13 such launches have been cued up for 2023 alone.
Although each PEPE project will operate independently, the introduction of a "Burn & Drop" system will govern the consortium. Burn & Drop is a first-of-its-kind system in which burning one token leads to the airdrop of another.
To initiate a Burn & Drop, two types of tokens are required. For example, this could involve a scenario in which Token A is priced at $1 and PEPE (BEP20) is also priced at $1. However, if the price of Token A were to drop to $0.8, Token A holders would have the option to burn their tokens on the Burn & Drop platform, automatically receiving PEPE (BEP20) through an airdrop, and with Token A having been burned, its total supply would decrease.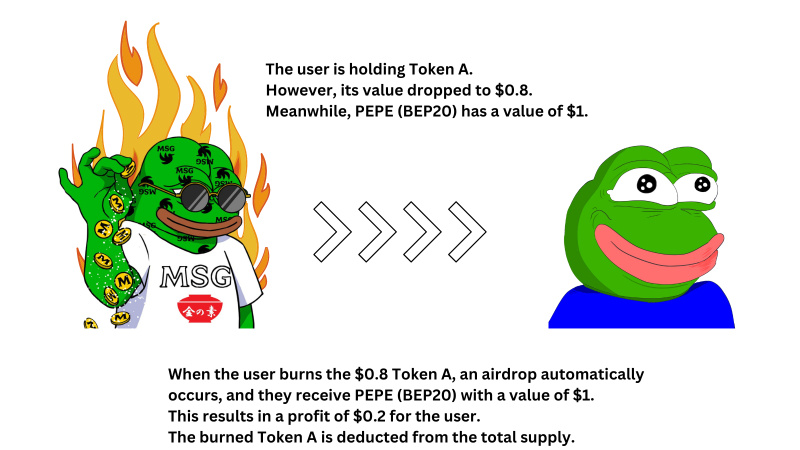 By initiating the Burn & Drop process between tokens, excess volatility can be reduced while possibly providing trading opportunities for arbitrage and intra-token trading. This logic is a fundamental component of PEPE (BEP20), and one which users can engage with directly within the platform.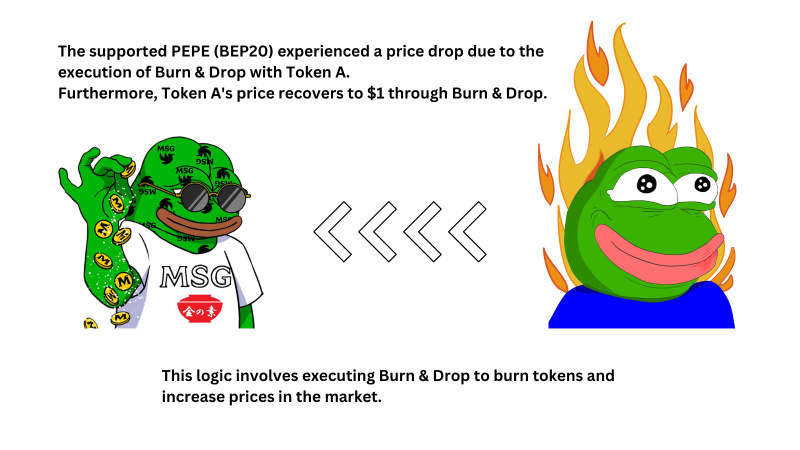 In addition, PEPE (BEP20) has plans to introduce numerous services that will further extend the token's utility. To further increase interest in the project, PEPE (BEP20) is currently running an airdrop campaign on Twitter that's open to everyone.
About PEPEBEP20
PEPE is a project launched on the Binance Smart Chain, taking the form of a BEP20 token. The Pepe Syndicate and the unique "Burn&Drop" mechanism of Pepe are designed to manage the token's price volatility. This is not a guarantee of price stability, but a mechanism to potentially mitigate price fluctuations. Furthermore, various projects that participate in the "Burn&Drop" system collaborate with each other, fostering a robust Pepe Syndicate network.
For more information regarding the campaign, please visit PEPE BEP20's Twitter (@pepecoinbep20) or Join PEPE BEP20's Telegram
PEPEBEP20 is the source of this content. This Press Release is for informational purposes only. The information does not constitute investment advice or an offer to invest.
Contact
PEPE BEP 20 FOUNDATION
[email protected]