BTC/USD Orbiting 28042: Sally Ho's Technical Analysis – 9 April 2023


Bitcoin (BTC/USD) continued to orbit a short-term technical level early in the Asian session as the pair did not stray far from the 28042.91 area, representing the 61.8% retracement of the depreciating range from 28199.11 to 27790.21. The pair has been pressured since peaking around the 28175.89 area and BTC/USD tested the 28014.86 area, representing the 38.2% retracement of the appreciating range from 27716.77 to 28199.11. Earlier, BTC/USD depreciated as low as the 27716.77 area, representing a test of a downside price objective around the 27726.99 level that became technically significant following selling pressure around the 28770.47 and 28323.86 levels. Related downside price objectives include the 27480, 27176, and 26683 levels, and additional price objectives related to selling pressure around the 28111.54 area include the 27594, 27230, 26867, 26418, and 25691 levels.
Bulls continue to eye the 30127.80 area, an upside price objective associated with buying pressure around the 15460 and 19568.52 levels. Following the most recent appreciation, upside price objectives include the 29244.66, 29639.37, 30127.80, 30275.12, 30763.09, and 31477.37 levels. Stronger long positions are eyeing price objectives around the 34658 and 35821 levels. Following the ongoing appreciation, retracement levels and areas of potential technical support include the 25948, 25756, 25358, 24253, 24099, 23789, 23147, 22605, and 22198 levels. Below current price activity, downside price objectives include the 19266, 19132, 19106, 19006, 18981, 18919, 18822, 18116, 17720, 17523, 17457, 17230, and 17196 areas. Traders are observing that the 50-bar MA (4-hourly) is bullishly indicating above the 100-bar MA (4-hourly) and above the 200-bar MA (4-hourly). Also, the 50-bar MA (hourly) is bearishly indicating below the 100-bar MA (hourly) and below the 200-bar MA (hourly).
Price activity is nearest the 100-bar MA (4-hourly) at 27994.29 and the 50-bar MA (Hourly) at 28033.07.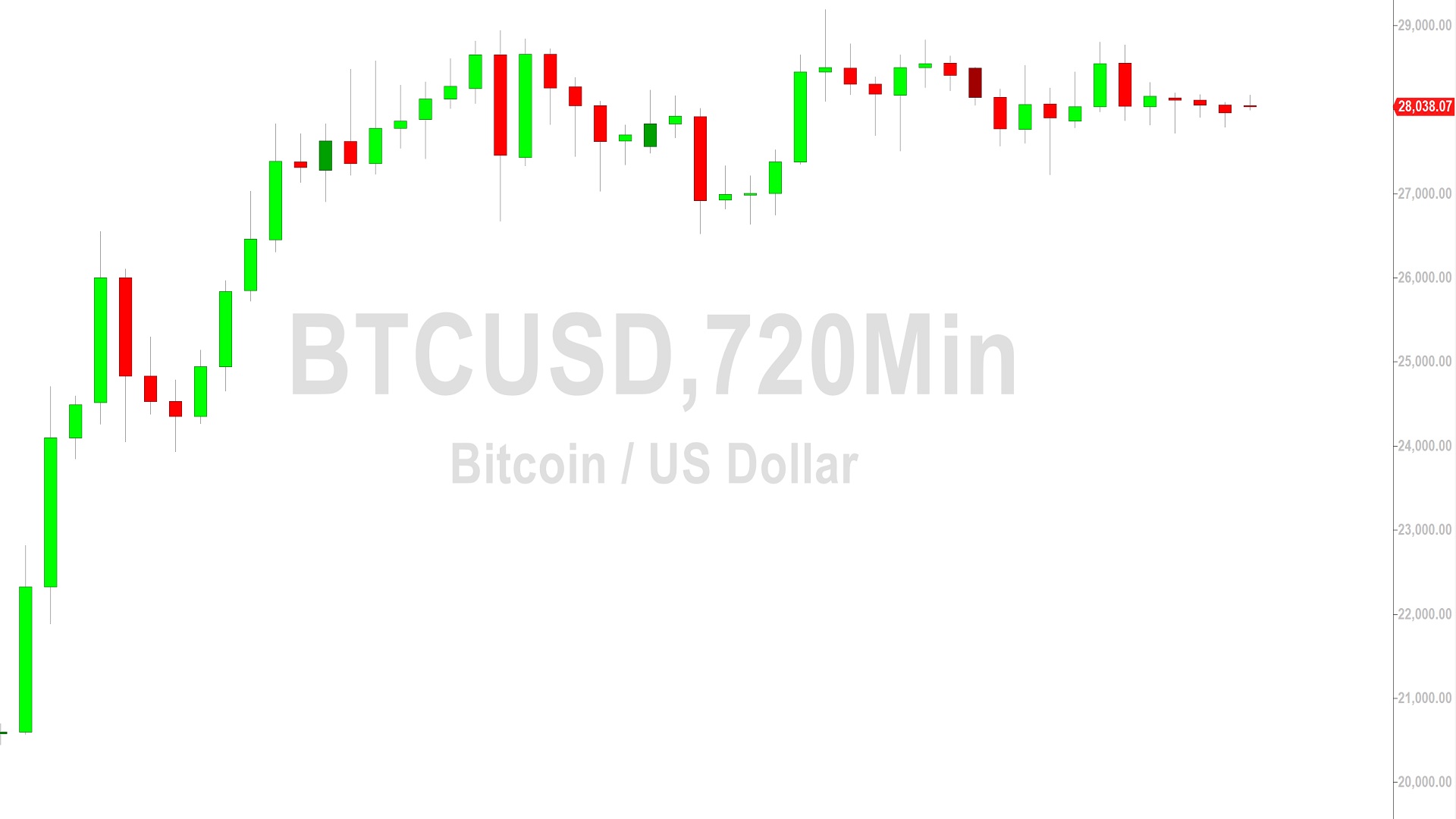 Technical Support is expected around 25256.83/ 24224.60/ 21753.70 with Stops expected below.
Technical Resistance is expected around 29244.66/ 29639.37/ 30127.80 with Stops expected above.
On 4-Hourly chart, SlowK is Bullishly above SlowD while MACD is Bearishly below MACDAverage.
On 60-minute chart, SlowK is Bearishly below SlowD while MACD is Bullishly above MACDAverage.
Disclaimer: Sally Ho's Technical Analysis is provided by a third party, and for informational purposes only. It does not reflect the views of Crypto Daily, nor is it intended to be used as legal, tax, investment, or financial advice.