Table of Contents
Image source: Myria
Blockchain game developer Myria is opening a limited number of slots for gamers to participate in demos of Metarush, its first non-fungible token (NFT) game.
Myria aims to collect feedback to refine its development of the game while it is still in the alpha phase. The closed demos are by invitation only. Players chosen to participate will be able to complete a full level of Metarush before it reaches the beta testing stage.
What is Metarush?
Metarush is one of the first games on the Myria blockchain developed by its own game studio. In the multiverse racing game, players select characters to compete in races set across different locations in the known and unknown galaxies.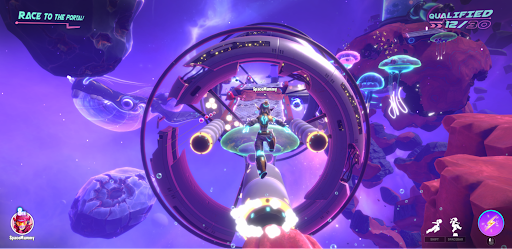 Image source: Myria Studios
Each race has quirky landscapes and inhabitants for players to explore while navigating a series of obstacles along the course to avoid being eliminated. Gamers can play alone or with friends in various game modes depending on their style of play.
The main objective of the game is for players to reach the finish line first to win the race without falling from the suspended track. Players use their characters to bounce, tumble, and bowl over other players to advance and collect power-ups that will give them advantages over other players.
A limited number of the fastest players qualify to move on to the next round. The surviving players continue to battle in increasingly difficult races until there is only one left standing.
Players can customize their runner characters with outfits, cosmetic skins and items represented by interoperable NFTs that they can transfer to other Myria games.
Metarush adopts "play and earn" model
Myria aims to design games that "bring blockchain gaming to the world". Myria has over 300,000 users in their community, and developers are building more than 220 projects on the blockchain.
The play-to-earn (P2E) model has popularized crypto gaming but many games require players to buy NFTs to get started, creating barriers to entry when NFT prices take off. Instead, Myria has adopted a "play-and-earn" approach. Metarush is free to play, so gamers do not need to buy NFTs upfront and they will have the opportunity to earn prizes based on their in-game skills.
Myria's Ethereum Layer 2 solution uses zero-knowledge (ZK) rollup technology to scale digital assets, NFTs and blockchain gaming. ZK-rollups are enabled by smart contracts that run on the Ethereum network. They process transactions in batches off-chain, reducing the amount of data that needs to be processed on-chain and speeding up transaction times.
Myria has implemented ZK technology so that users including Metarush players can benefit from high transaction speeds, zero gas fees and free NFT minting.
Players chosen for the demo will be able to complete a full level of Metarush before it's even in beta! Participants can then leave essential feedback, which will help us improve Metarush. Interested? Here's what you have to do to join.
How to apply for the demo slots
Here's what you have to do to join:
Fill in the

application form

Make sure you have a PC covering the minimal requirements:
CPU - Dual Core

GPU - At least 4GB of VRAM

RAM - 16GB Min

OS - Windows 7+ (macOS not supported yet)
If you've been selected, you'll receive an email with more info on the next steps. Good luck!

Disclaimer: This article is provided for informational purposes only. It is not offered or intended to be used as legal, tax, investment, financial, or other advice.