Arctic is a crypto wallet created by industry professionals who design and build products
and are familiar with the target audience needs. We assembled a strong team and
provided them with the opportunity to execute the boldest ideas.
What inspired us to build Arctic Wallet?
Arctic is not just an average crypto wallet, it is a simple and convenient ecosystem. Modularity and an all-in-one approach are the keys to letting users opt out of multiple separate services in favor of a single clear interface for daily tasks ranging from grocery shopping and managing subscriptions to investing and browsing the Web3.
Where?

Estonia

What?

Multi App

Why?

Make people's lives easier

Category

Crypto, blockchain,

Web3, investment

When?

01.09.22

Team

18 members
Scope of Work & Timeline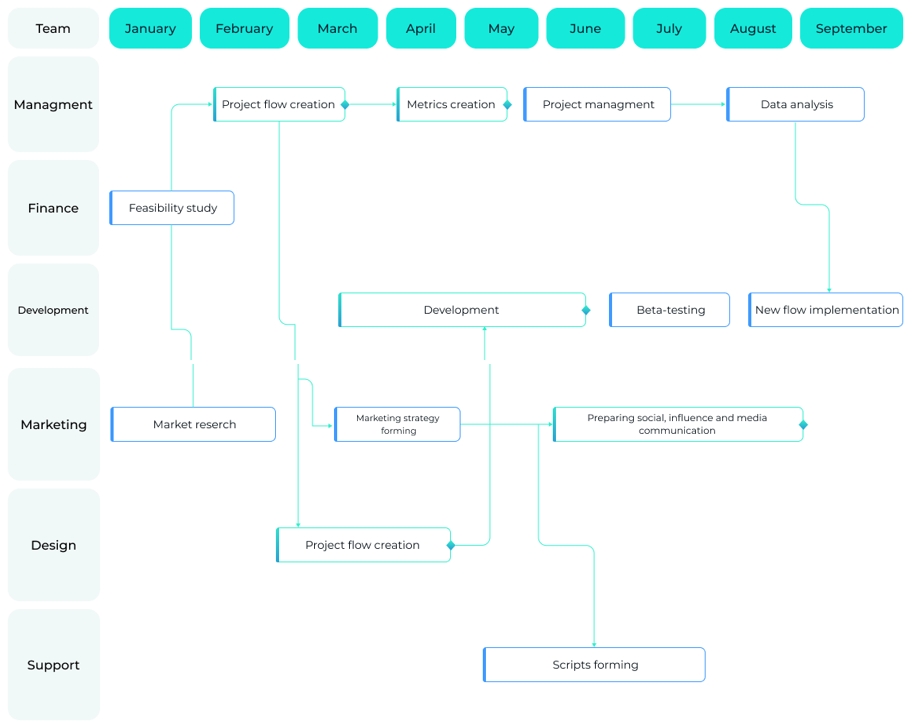 Hypotheses & Market Research
STATEMENT

✅ The crypto market is rapidly developing

✅ More and more businesses integrate

blockchain and Web3 technologies.

✅ Despite the global recession in 2022,

the number of people holding

cryptocurrencies multiplied threefold

✅ Cryptocurrencies have been legalized in the UAE, Japan, Germany, Italy and
44 other countries.

✅ The stability of fiat currencies and the

trustworthiness of the banking system

are increasingly under challenge.

ISSUE

⚠️The COVID-19 pandemic, accelerating

inflation in developed countries, and

unstable political climate all contributed

to the devaluation of savings under the

influence of outside factors.

⚠️ Lack of trust in centralized financial

systems leads to users declining to share

personal data. An increasing number of

cases of bank-authorized forfeiture

further accentuates the issue of

security of funds.

⚠️ The difficulty of managing assets on

blockchain stops a significant share of

potential users from buying and using crypto.
Each of these 450 dots represents a headline about the "death" of Bitcoin
Over 8 years of work in the industry through its ups and downs taught us to keep emotions in check and resist both FUD and FOMO. We approached the product with a cool head and a deep understanding of its intricacies.
Benchmarking Competitors
We segmented the competitors by carrying out a field study and compiling and analyzing over 80 brand and product attributes. After filtering the collected data, we got a better understanding of the competitor's strengths and weaknesses and came up with 26 unique features which lay the foundation for the future ecosystem of the product.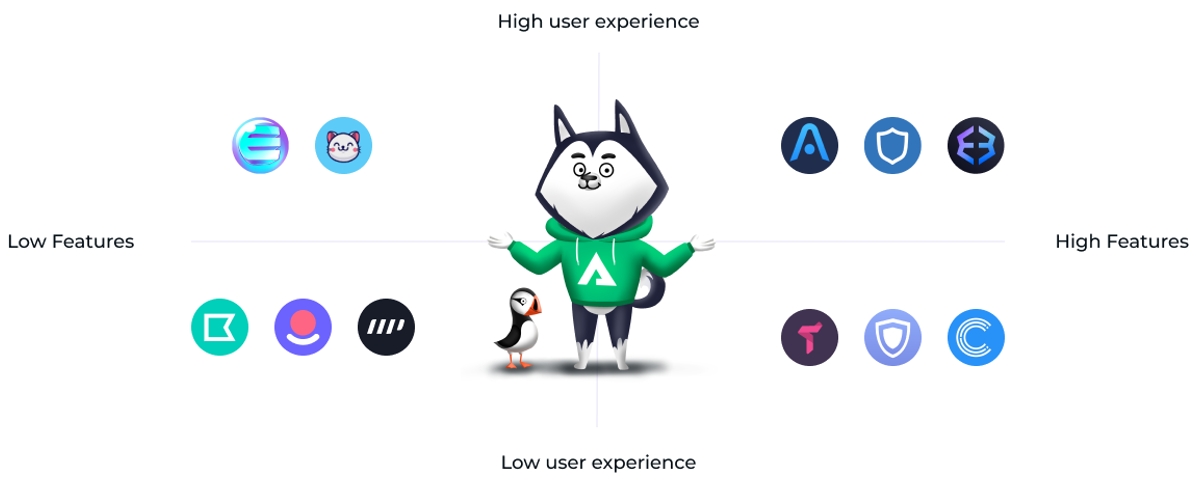 SOLUTIONS

✅ Develop a modular application for flexible introduction of new features and updates

and quick resolution of issues.

✅ Integrate all available features into the

app:exchange, buy, sell, then add staking,

NFT management and storage; and to

lay a foundation to integrate Web3

widgets into the wallet later on.

✅ Create user-friendly interface solutions to help "no-coiner" users adapt better.
Multi- and complex solutions will be made

available in a Pro interface in the future.

✅ Allow Arctic users to influence the

development and feature production

with a DAO tool set.

✅ Position our developers as brand

ambassadors to give better transparency about design and development.

MONETIZATION

🪙 Commissions from partner integrations

🪙 Unobtrusive in-app advertising

campaigns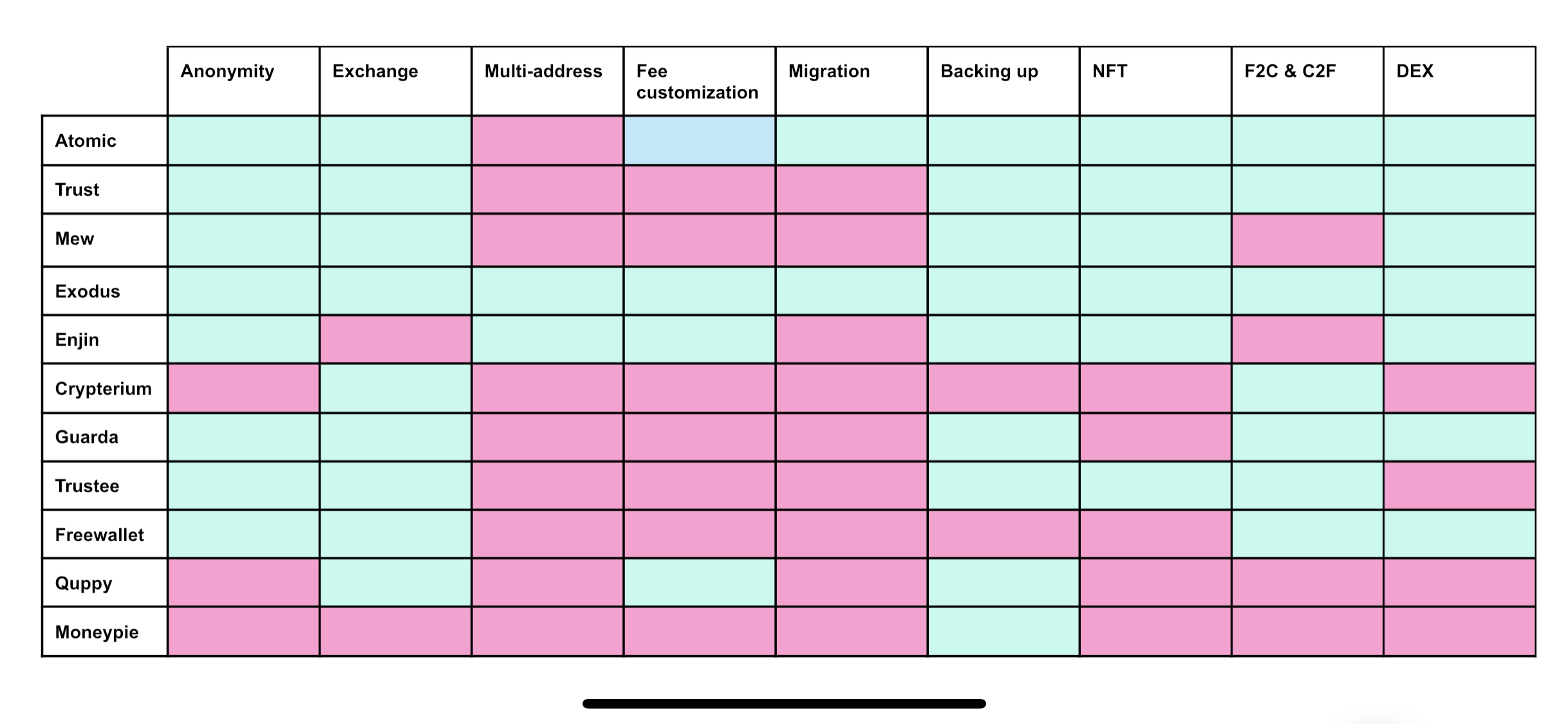 Brand Attributes
Brand attributes reflect the team's values, broadcast both to the media and to the team.
They establish the brand identity on the market and dictate relationships with the overall culture, merchants, and customers, as well as values and the company's voice.

User Flow
To describe the essential app functions, we created a flow chart of the basic user actions. One of them is given below. For the purposes of this UX case, we omit the extended descriptions for each action.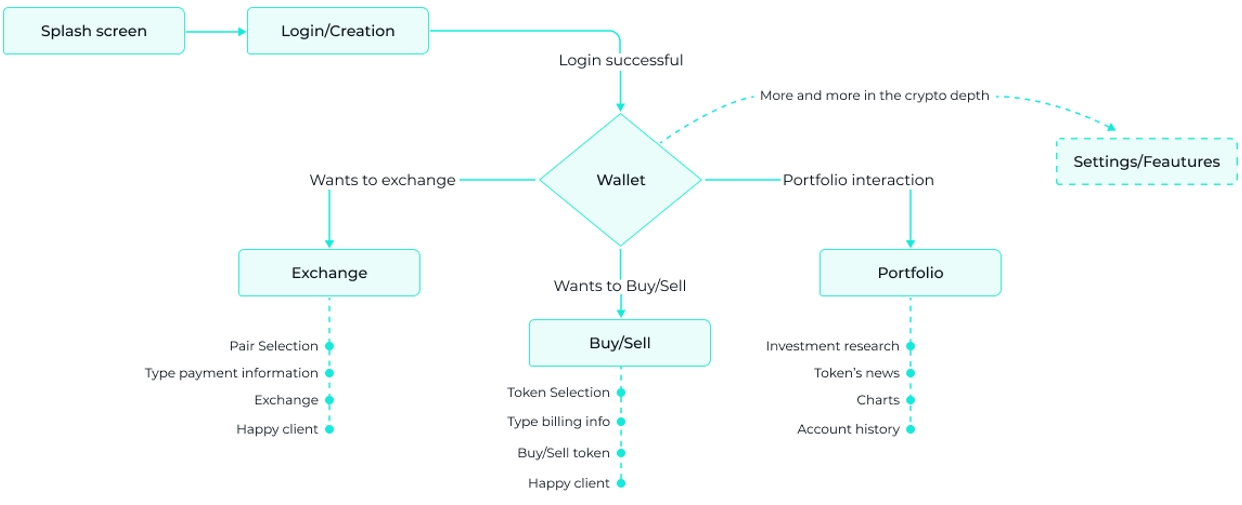 6.1 Wireframes and Initial Insights

6.2 Collecting Prototype Feedback:
👨‍💻 After the initial drafts, we broke down the UI on more than 72 hours of sync calls.
✍ We designed a research and feedback collection plan with the project's goals,
priorities, and KPIs.
📉 Based on the plan, we created a proximity diagram to compile and break down
patterns into clusters.
💻 Finally, we made a presentation about the results of the usability research to
demonstrate the gist of findings, ideas, and recommendations for partners.
High-Fidelity UI design
After finalizing the flow and prototypes, we moved on to brand identity and designing the initial interface versions. Picking the color palette and typeface was a crucial moment. To maintain consistency in design, we compiled a style guide. For colors, to get precise coloring and shadows, we use the HSL model. And for the layout, to ensure its consistent scaling across all platforms, custom typography has been made.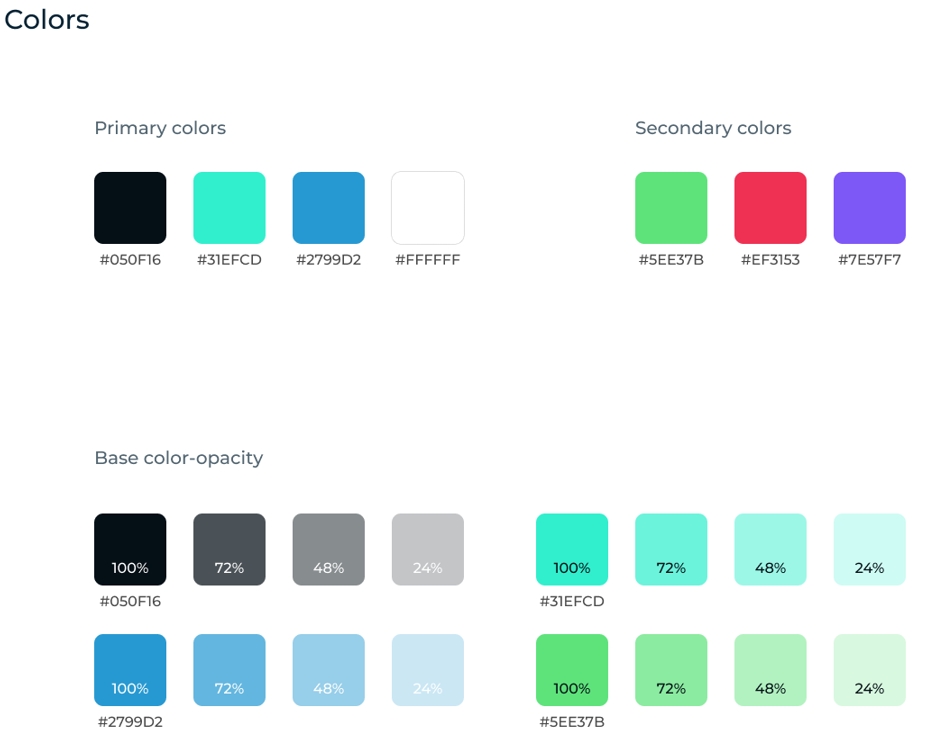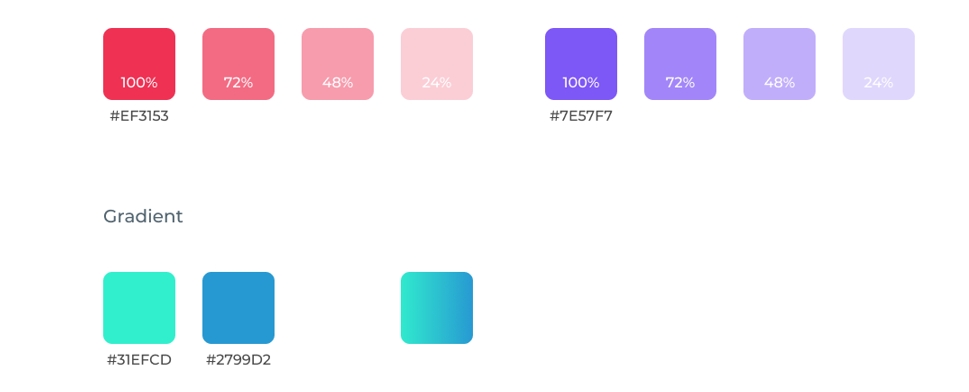 User Research
8.1 Focus group composition
There are four general categories in our focus group.

The size of the sample group was calculated from a planned median yearly MAU of 10 thousand users with a confidence level of 90% and a ±10% discrepancy.
8.2 Qualitative Analysis
After finalizing a reference group, we drafted a questionnaire for qualitative analysis of the product and referred it to the testers prior to the beta. This will help fine-tune decision-making, avoid subpar user experience, and make adjustments to the products prior to the release to make it more in line with the expectations of users. Below is the questionnaire we use for the qualitative analysis and defining patterns of user groups: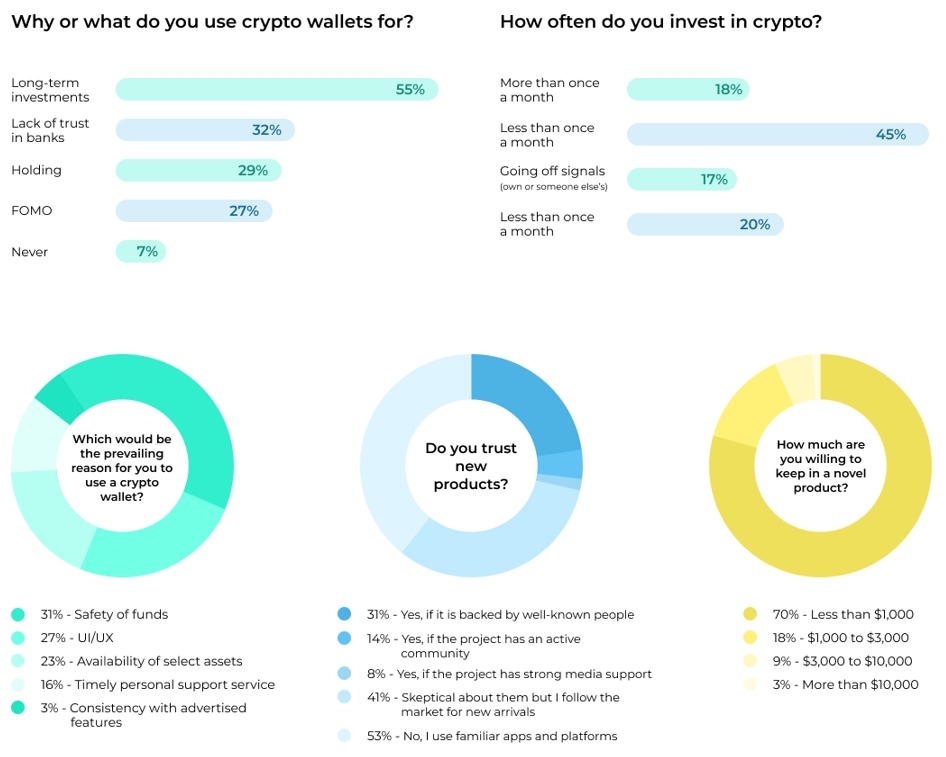 8.3 CUSTdev and Beta Testing
We devised the reward system to encourage the focus group to finish the beta test. The focus group participants were to check all the crypto wallet functions and perform specific actions. Afterward, they were invited to evaluate all the product elements according to CUSTdev specifically designed for the purpose. Wallet testing stages:
Check Wallet, Portfolio, Exchanges, Buy/Sell , History, and Setting sections inside the app.
Perform a test exchange using the available TRX amount.
Create a transaction using the 'send' option and transfer successfully swapped funds.
Contact support via live chat.
Sell or buy tokens with the corresponding function powered by our partner platform Mercuryo.
We ensured extra-rewards were granted to participants who managed to screen-record the whole process.
8.4 Data Analysis
Participants were given two week to finish all the steps. After that, we gathered and sorted out the retrieved data. As a result, Buy/Sell option appeared to be the most compelling to users. Focus group participants rated a large number of functions, a user-friendly interface, and the number of assets the highest. The average rate equalling 4 shows great teamwork in decision-making, UI and UX design, and project flow management.
We analyzed the major problems users reported and identified the following groups of issues.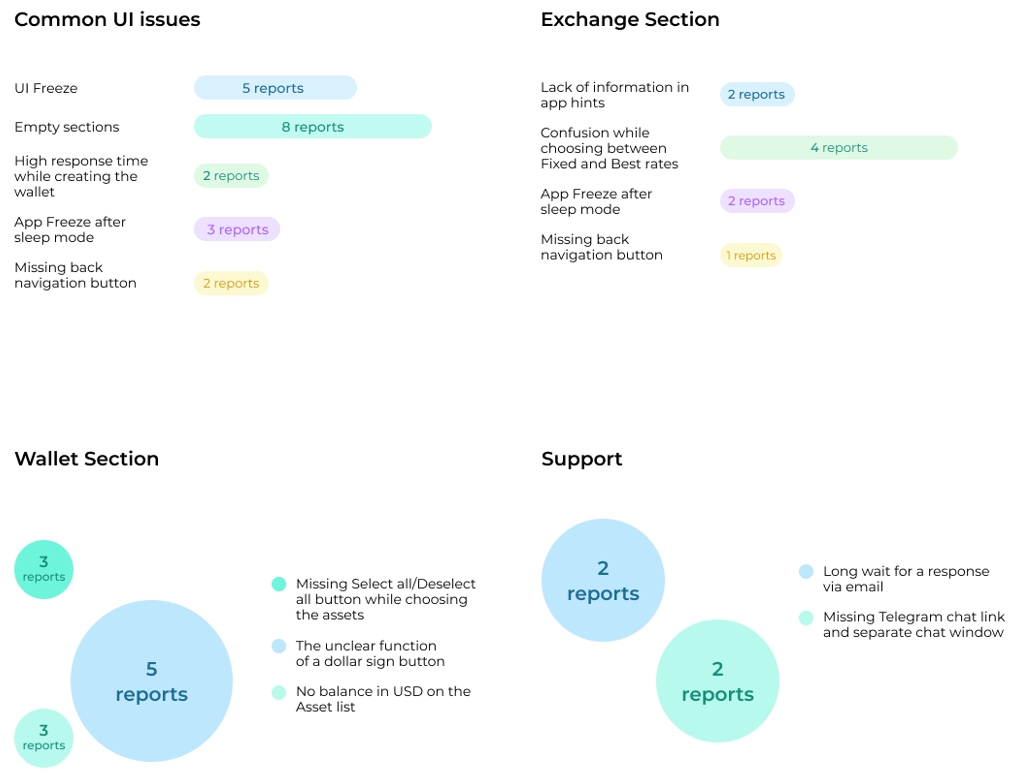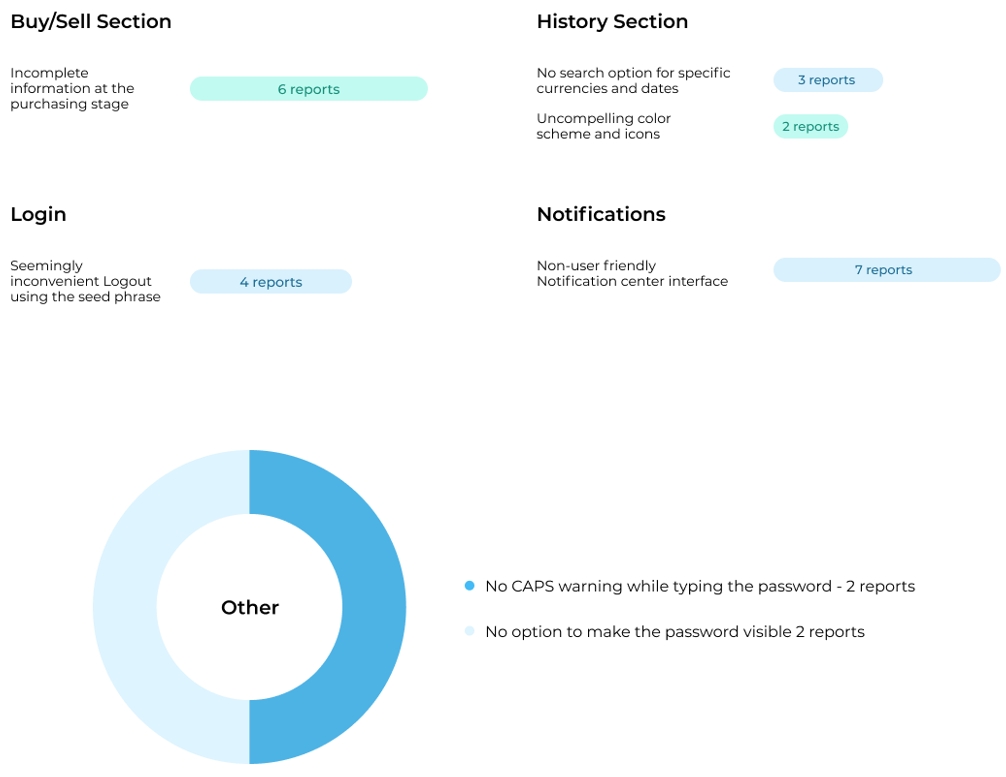 Final Metrics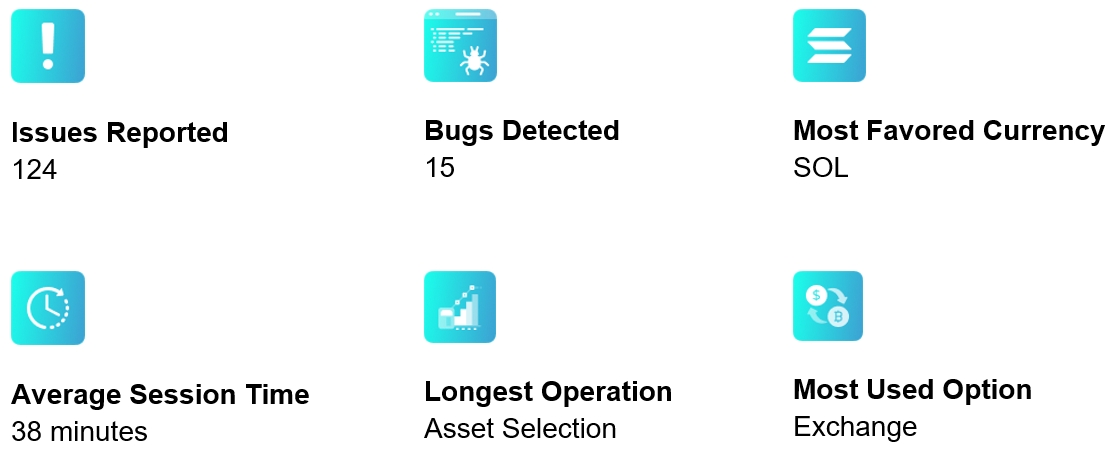 10.User Persona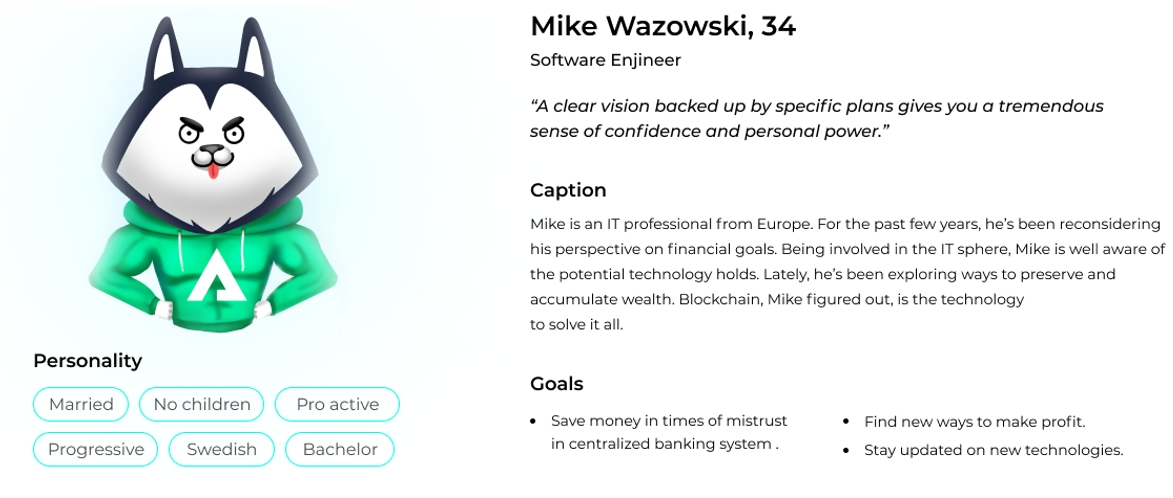 11.Empathy Mapping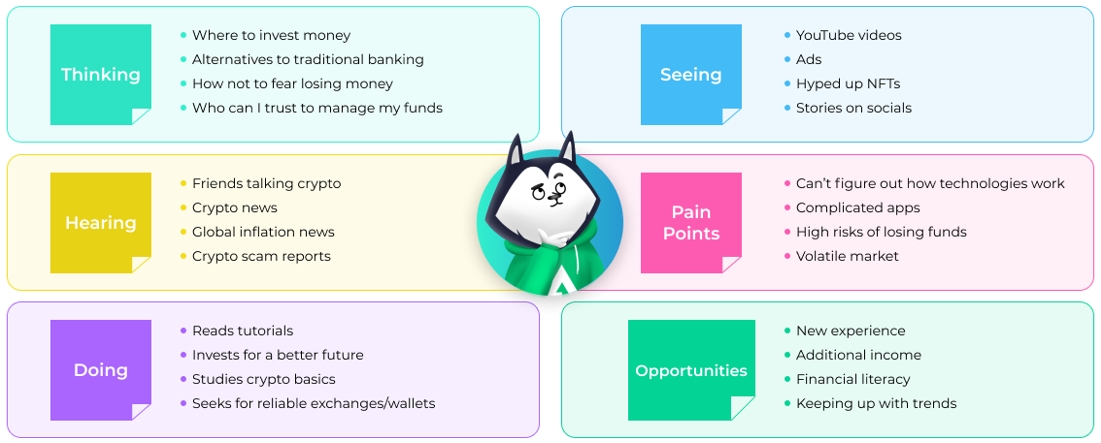 12.CJM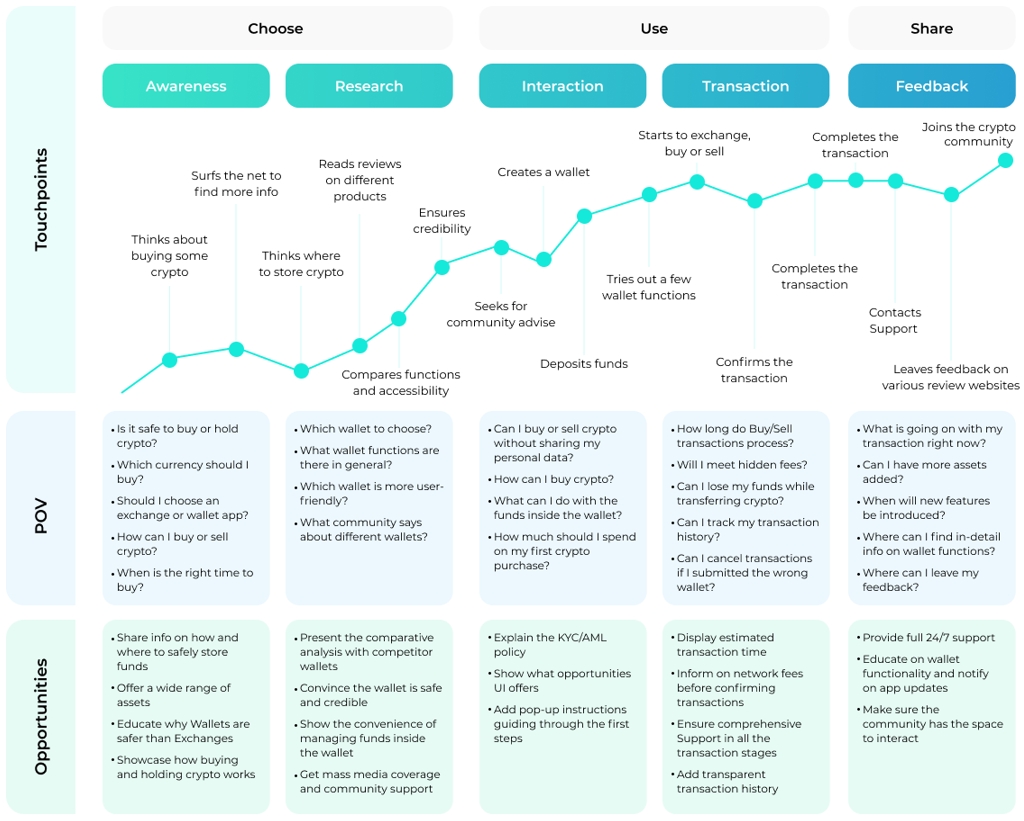 13.Prioritizing Ideas
After investigating user behavior patterns and finishing beta testing, we set the goals and priority levels and organized them into a roadmap.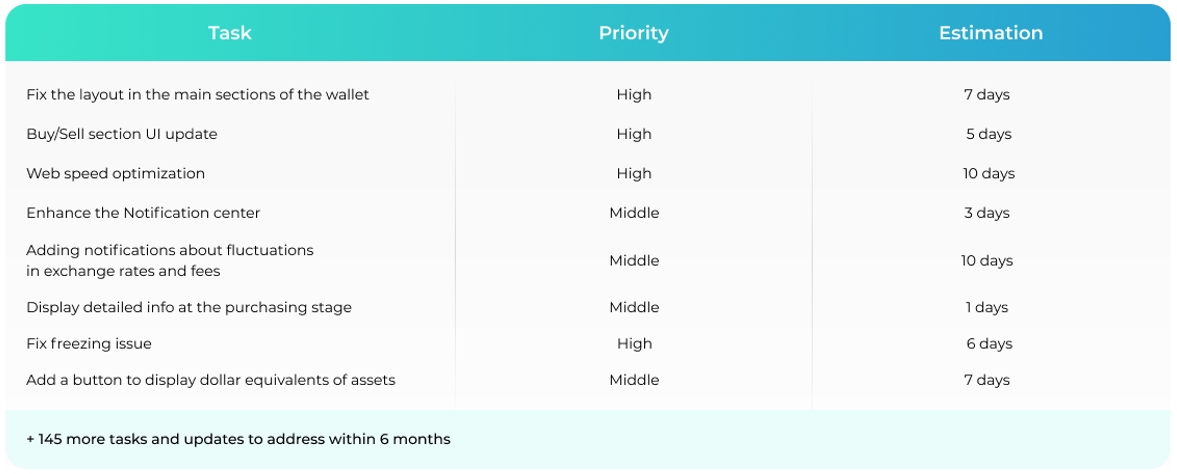 14.Conclusion
An integrated approach has allowed us to avoid serious problems with product development. Full-fledged research conducted right after the release attracted the first 1,500 people in a month and several dozen partners, including Mercuryo, TRON and SOL. In the next six months, we plan to increase MAU to 10,000 people and add more killer features already in development. We are confident that the Arctic will help our users survive more than one crypto-winter and the midnight sun will eventually come.
Disclaimer: This article is provided for informational purposes only. It is not offered or intended to be used as legal, tax, investment, financial, or other advice.