According to billionaire investor Mike Novogratz, the crypto market will continue to be under pressure while bond yields climb higher. The US 10 year bond has spiked over the last 5 weeks and is currently at 1.88%.
Bitcoin has been hovering at an extremely critical area for the last 3 weeks. The level of between $42,000 down to around $39,000 will need to hold or we could possibly see bitcoin descending to the $30,000 area which it last saw in mid 2021.
Novagratz, CEO of Galaxy Investment Partners, and an ex-hedge fund manager, is a prominent figure in the crypto space. He has let it be known that he expects volatility over the next few weeks, and recently tweeted that he expected more pressure on crypto as bond yields rise.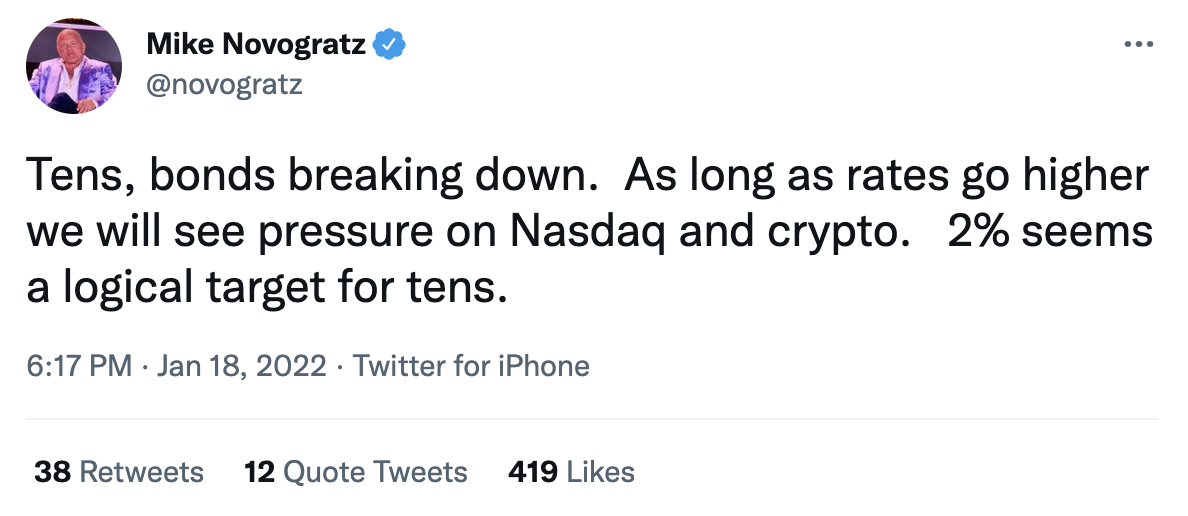 Novogratz's call for bond yields to hit a 2% target is not far off. The US bond yield is currently sitting at 1.88%. The recent spike started in mid December at 1.36%, and has rapidly moved upwards over the last 5 weeks.
Yields on bonds have started rising this year no doubt as a result of investors who are anticipating the incoming Federal Reserve rate rises, of which at least 3 are forecast for this year.
This kind of environment is generally not positive for crypto and tech stocks, given that they are considered to be more speculative, and therefore less attractive than risk-free government bonds.
According to an article on Business Insider Australia today, investors are nervous about the crypto market prognosis for 2022. After the much kinder climate of near zero interest rates in 2021, things are likely to be more difficult this year.
According to the article, Novogratz and Skybridge Capital founder Anthony Scaramucci, both prominent crypto investors, have said that they are waiting before buying any more.
Disclaimer: This article is provided for informational purposes only. It is not offered or intended to be used as legal, tax, investment, financial, or other advice.