LYOCREDIT heads into the last phase of their ICO as users get the last chance to acquire tokens at a discounted price.
LYOCREDIT is in the final phase of ICO between 1-31 December 2021.
LYOCREDIT is the utility token of LYOPAY, a cryptocurrency payments Super App.
The token is priced at €0.75 in this phase, after ICO it will be priced at €1.
On launch it will be available on different exchanges including LYOTRADE and PancakeSwap.
LYOPAY's utility token LYOCREDIT has gone into the final phase — Phase 5 — of its Initial Coin Offering (ICO) on December 1, 2021 and the ICO will end on December 31, 2021. Once the ICO is over, the token will be listed on major cryptocurrency exchanges from January 1, 2022.
About LYOCREDIT
LYOCREDIT is the utility token of LYOPAY, a cryptocurrency payments application. It is a token to be used on the LYO ecosystem, which is a collection of different products spanning several services.
LYOCREDIT allows users to stake, receive discounts and rewards, and use it for transaction fees while buying and selling products and services.
In the current and final phase, one LYOCREDIT token is priced at €0.75, which gives the users a 33% bonus on each token. Once the ICO is over, the price of each LYOCREDIT token will be €1 and then subject to market demand.
LYOCREDIT has been able to garner quite a lot of confidence in the public. In the previous phase, 81% of the 5 million tokens available were sold.
Tokenomics
The total supply of LYOCREDIT tokens is 250 million, out of which 30 million tokens are being sold in the ICO. This makes up only 12% of the entire supply of the tokens. After the ICO, the token will be available on different exchanges, and the rest of the tokens will be put up for different purposes which you can see in the chart.
1 Tokenomics
The maximum number of these tokens are intended for the use of Cloud Minting & Social Minting. These are two new and unique ways of minting tokens that LYOCREDIT is using which allows users to collect and earn tokens through their own actions. Through Cloud Minting users can rent hardware on the cloud to mint LYOCREDIT tokens. Social Minting is a service where users will be able to mint LYOCREDIT tokens by performing actions online such as watching training videos.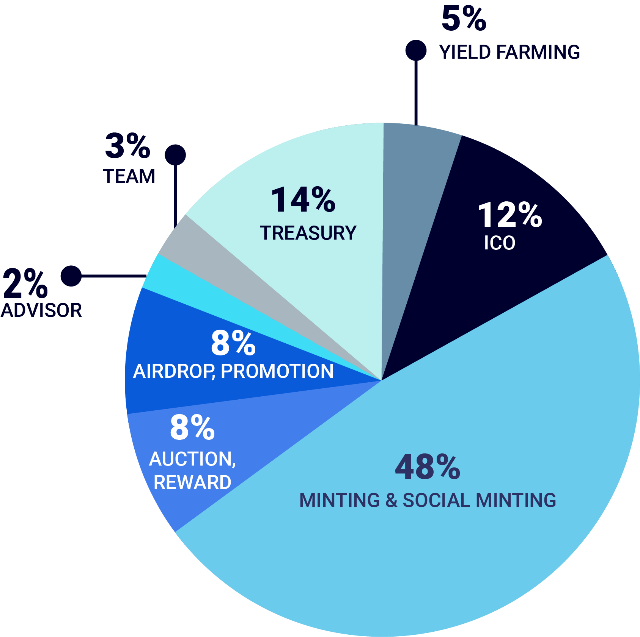 In the ICO, the funds collected will be divided for different purposes as shown in the chart. Half of the funds are being allocated for User Acquisition, Gifts and Airdrop, making users the top priority for LYOPAY. The next most important purpose is for the development of the platform, followed by marketing, legal and security.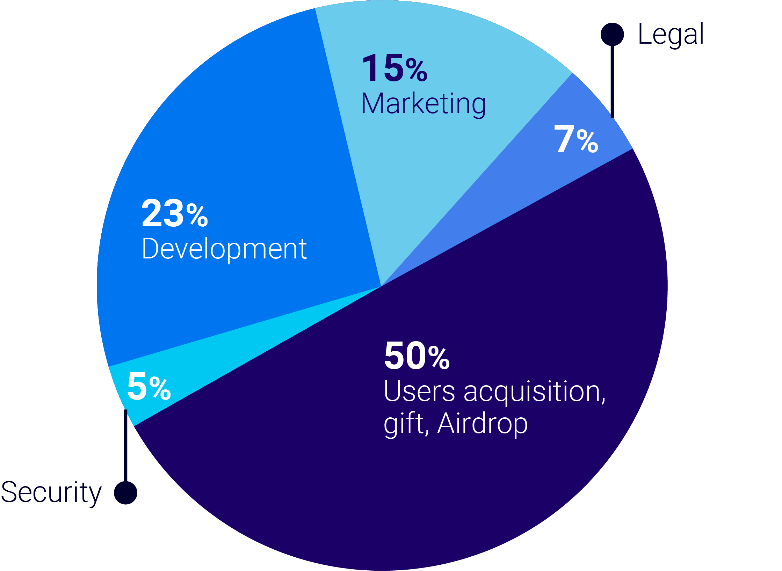 2 ICO Fund Usage
Purpose of LYOCREDIT
The purpose of LYOCREDIT is the token that fits into the LYO ecosystem. LYOCREDIT tokens can be used to pay commissions and promote a community of users of the platform through currency rewards.
Many new tokens are launched every day, but only a few survive. The value of any currency depends on its utility, and LYOCREDIT is a utility token that is linked to the LYOPAY project. Therefore, what sets LYOCREDIT apart from others is its connection with a large platform already operating in 82 countries, with its own users and market.
What is LYOPAY?
LYOPAY is a cryptocurrency payments application where you can store, exchange, buy and sell cryptocurrencies. It is the connection point between fiat and cryptocurrencies, to exchange traditional money into cryptocurrencies and vice versa.
On LYOPAY, you can open up your own bank account based in Europe, create a proxy account, open your crypto wallet, get a branded offline wallet by CoolWallet S, exchange in over 20 cryptocurrencies, or get your own physical card by Mastercard to use for transactions.
Where Will LYOCREDIT Be Available?
After the end of the ICO, LYOCREDIT will first be listed on LYOPAY's very own professional cryptocurrency exchange — LYOTRADE. LYOTRADE boasts one of the highest number of tokens available on any exchange, and has some of the highest liquidity since it is connected to the top 300 cryptocurrency exchanges in the world. LYOCREDIT will also be listed on other exchanges like PancakeSwap.
Where to Buy
The only way to purchase LYOCREDIT tokens currently is to buy it on the LYOPAY app, through their Exchange function. Download the LYOPAY app and buy LYOCREDIT using either BTC, ETH, USDT or SEPA transfers.
The last phase of an ICO is an exciting time for any token. By this time, how a token will perform can be seen according to the sales of the token. So far, LYOCREDIT has been doing very well in the five phases of its ICO and reaching commendable marks. This shows that there is quite some confidence and demand for LYOCREDIT in the market. Being linked to such an ambitious project such as LYOPAY, it's easy to see that there is a lot of utility for the token.
To learn more about LYOCREDIT, be sure to read the technical paper on the website. Also, have a look at the whitepaper detailing the LYOPAY project as well as a section on the tokenomics of LYOCREDIT.
Stay up to date on social media to find out about all the new products and services as they launch.
Twitter | Facebook | Instagram | LinkedIn | Telegram | YouTube
Disclaimer: This is a sponsored press release, and is for informational purposes only. It does not reflect the views of Crypto Daily, nor is it intended to be used as legal, tax, investment, or financial advice