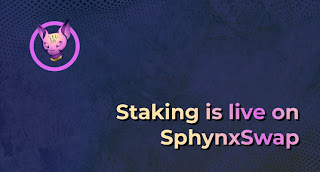 13 Nov 2021, New Zealand -- SphynxSwap, the Binance Smart Chain-based all-in-one decentralized solution for trading, staking, farming, and holding has announced that staking on its platform will go live on Saturday, November 13th at 1 PM UTC. Sphynx Swap aims to make the crypto experience simpler, smoother, and faster by integrating all services into one platform.
The Sphynx ecosystem has a comprehensive list of products including SphynxSwap, an automated market maker that allows users to trade any combination of two tokens on the Binance Smart Chain, and soon the Ethereum Network. Upon the launch of the staking platform SphynxSwap will offer more utility to the users with the ability to stake $SPHYNX with $BNB.
The first trading pair to go live on the staking platform is SPHYNX/BNB which will offer an APY of 14,000%. The details of staking platform launch are as follow:
Details of the Launch:
Date and Time: 13 November 2021 at 1 PM UTC
First Trading Pair: SPHYNX/BNB
APY: 14,000%
After the staking on SphynxSwap goes live, the platform will add more tokens and staking pairs with liquidity and APYs. SphynxSwap has established its presence in the crypto space quickly because of its active community and robust services, which include, the lowest fees on the Binance Smart Chain and a Certik Audit.
As the staking goes live on SphynxSwap, the Sphynx platform will become a step closer to its goal of making the crypto space more rewarding and accessible for new users.
About SphynxSwap
SphynxSwap is a decentralized exchange that lives on the Binance Smart Chain, designed to allow investors to be able to trade in under 10 seconds. This is achieved by the automated configurations of user experience on the Sphynx platform, offering the quickest swap in the industry, with the lowest fees in the industry.
SphynxSwap aims to provide an all-in-one solution for trading, farming, staking, and holding. This includes one single platform with a consolidated wallet to always have a birds-eye view of your assets, dynamic charts, farms, and staking portals so users never have to leave the Sphynx platform.
Website | Twitter | NFTs | Telegram | Discord
Disclaimer: This is a sponsored press release, and is for informational purposes only. It does not reflect the views of Crypto Daily, nor is it intended to be used as legal, tax, investment, or financial advice