On Friday, November 12, Slovak cryptocurrency exchange Eterbase received 600,000 MATIC returned to its wallet. This sum was part of the recovered crypto that was stolen during the Eterbase hack in September 2020. It was returned by swap exchange and crypto processing service ChangeNOW, as confirmed by its blog post.
Having filed for bankruptcy, Eterbase is looking to similar returns from Binance and Huobi, Robert Auxt, the exchange's co-founder, said in his recent Tweet.
Many thanks to ChangeNOW. Wonder why big players like Binance and Huobi cannot do the same. @cz_binance @HuobiGlobal https://t.co/Xe50yEf0tb

— Robert Auxt (@AuxtRobert) November 15, 2021
Eterbase Hack: Timeline of Events
On September 7, 2020, Eterbase's hot wallets were compromised, as the exchange itself announced on the next day. However, it was likely the hackers gained access to the exchange some days prior to the funds being stolen to retrieve the private keys. The aggregated amount of the stolen funds was approximately $5.4 million across Bitcoin, Ethereum, and other altcoins at the time of the hack.
Eterbase said that it detected the attack but it was unable to block it. The stolen crypto, which was stored in hot wallets where the private keys didn't require multiple signatures by the exchange to sign outgoing transactions, went to several addresses, as reported by the exchange.
According to an investigation conducted by Zero Friction, a US-based cyber and blockchain security consulting company, the tokens associated with the stolen crypto were liquidated through several decentralized finance services and exchanges.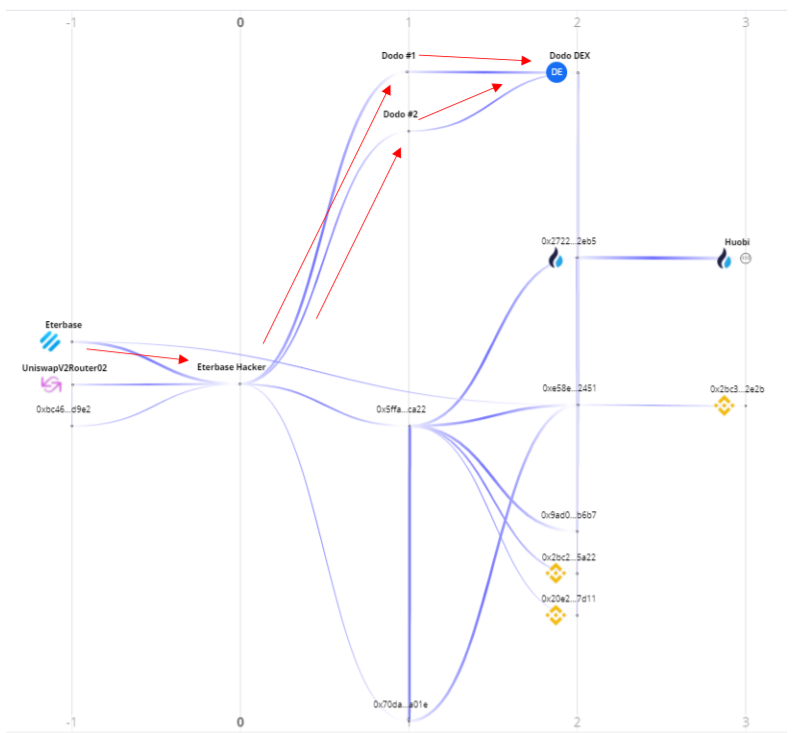 The key money flows indicated by the red arrows. Source: https://www.zerofriction.io/
Zero Friction said it is very unlikely for the exchange to recover the funds that were sent to decentralized services.
Source: https://www.zerofriction.io
Eterbase reached out to law enforcement authorities in hope of recovering some of the stolen crypto. It entered maintenance mode on September 9, 2020. On April 8, 2021, Eterbase said that it was forced to stop all its operations and asked its clients to withdraw all their funds. The exchange filed for bankruptcy last month.
Here's What Happened At ChangeNOW
According to ChangeNOW's blog post, its AML system detected the MATIC-BTC exchange worth 600,000 MATIC from a reported address and blocked it. Funds were frozen by ChangeNOW to prevent their conversion and further transfer. The swap service stored the funds for a year according to its policies, waiting for the request, before displaying the initiative and reaching out to Eterbase.
After the close cooperation with Eterbase and the Slovak Police called to validate the funds' recipient, ChangeNOW returned the stolen MATIC coins to their legitimate owner.
Crypto Daily™ reached out to ChangeNOW for additional comments. Head of PR Mike Ermolaev had this to say:
"Being at the forefront of the crypto industry, we are always here to deal with any case that casts a shadow on crypto's good name. We believe that one day the industry will be a truly safe place for everyone, and we are making our best effort to make this happen."
Noteworthily, the current exchange rate makes 600,000 MATIC worth more than $1 million, with Polygon's value having skyrocketed greatly since the hack took place.
It remains to be seen whether ChangeNOW's recovery could spark other returns as well as if it might save Eterbase from bankruptcy.
Disclaimer: This article is provided for informational purposes only. It is not offered or intended to be used as legal, tax, investment, financial, or other advice.