A recent Q2 financial report issued by the KuCoin exchange revealed overall growth across the board, including such key metrics as trading activity, accounts registered, and mobile users.
The report indicates that the exchange's registered users has increased significantly, with Q2 of 2021 having added over 2 million users, showcasing quarter-over-quarter growth of 1144%, and a year-on-year increase of 709%.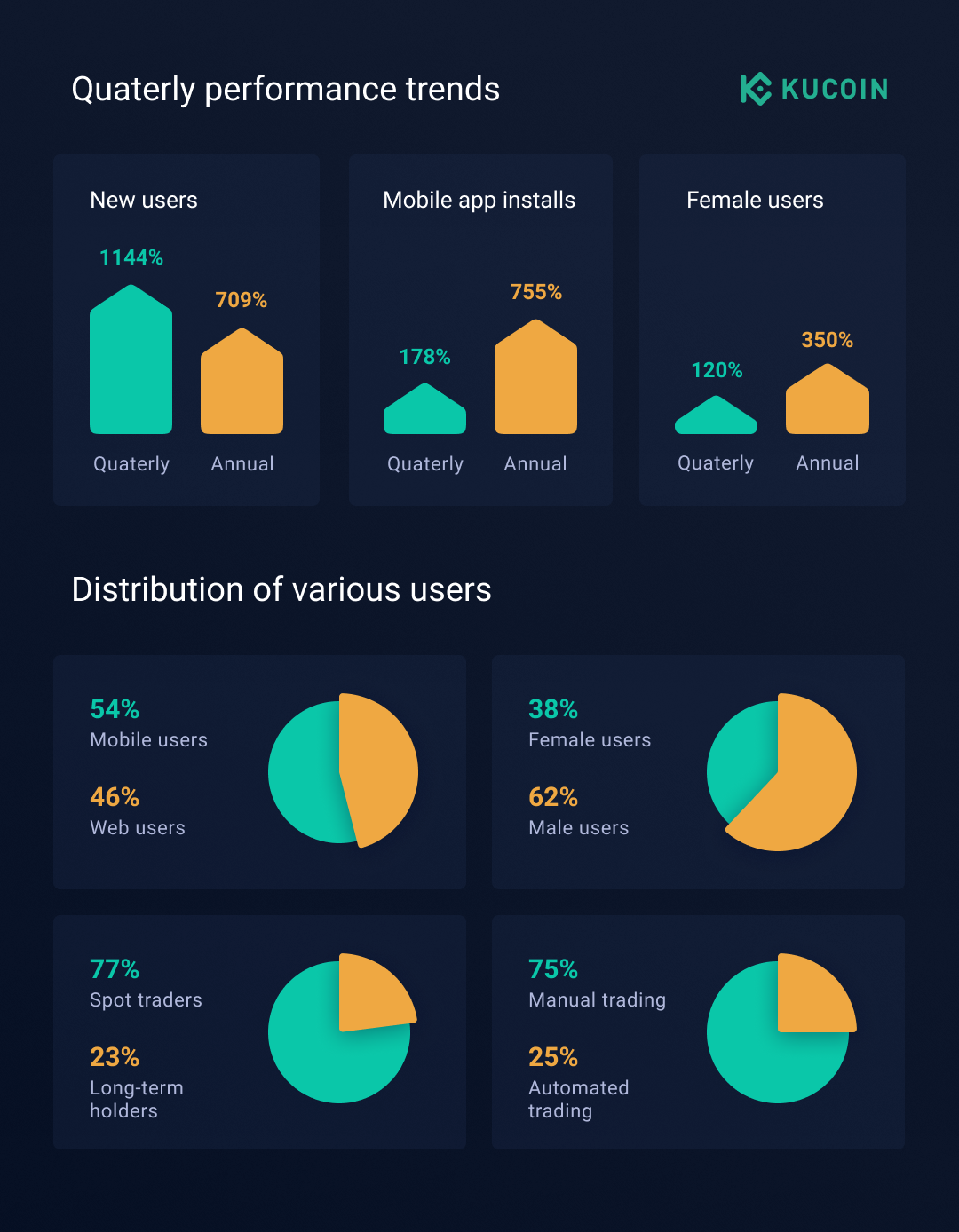 KuCoin boasts an accumulated transaction volume of over $400 billion, with average daily trading volumes growing by 791% since last year to $4.3 billion at present. This ranks the exchange s 5th among spot trading platforms. Over 1.2 million weekly visits and a total number of listed coins exceeding 400, with a total number of 827 trading pairs, have contributed to such stellar results.
As stated in a company's report, mobile adoption has been one of the leading factors contributing to the growth of KuCoin user activity, with installs of the exchange's application showcasing a 755% increase over a year. Q2 of 2021 brought over 1.07 million installs to the exchange's impressive track record, a 178% increase quarter-over-quarter. KuCoin reports 54% of its users are now mobile users.
The exchange has also noted a considerable increase in its female audience with quarterly growth of new female users ranking up 120% and 250% annually. Current statistics indicate that 38% of digital asset traders on KuCoin are female, as opposed to 12% merely a year ago.
Technological shifts in trader behavior have also been identified in the report, indicating that over 25% of users of the exchange rely on trading bots. The number is a 2% increase over the values of last quarter and a 10% increase over last year. 2.8 million KuCoin trading bots are currently operational on the platform and analysts are confident that the numbers will continue to increase as the technology becomes more accessible and convenient for users.
Globally, KuCoin is spearheading its spread into new and emerging markets with Latin America, Africa, and Asia showing 171.93%, 130.16%, and 67.5% growth in user numbers quarter-over-quarter respectively. High-inflation states, such as Africa, are leading in terms of user engagement, showing twentyfold values.
CEO of KuCoin Johnny Lyu has commented on the report's findings that the exchange will be focusing on underdeveloped countries in the coming years to alleviate the issues of the unbanked and promote the adoption of digital payment solutions. He added:
"We are impressed by the spread rate of KuCoin in underdeveloped countries. The number of users who joined our platform from these regions significantly contributed to increased financial and user statistics. F

ocusing more on developing digital payments solutions could stimulate economic growth, with billions of unbanked people around the world accessing new financial opportunities."
Disclaimer: This article is provided for informational purposes only. It is not offered or intended to be used as legal, tax, investment, financial, or other advice.