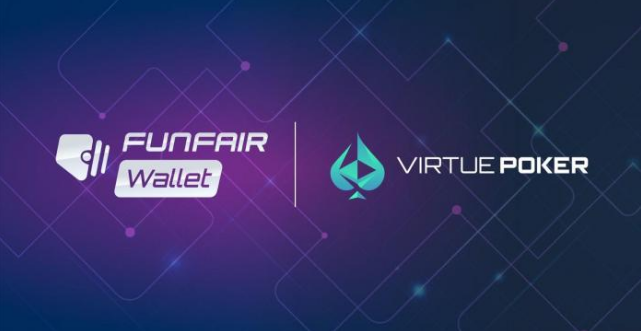 Virtue Poker is an ethereum-related decentralized poker platform that adds the FunFair Wallet, the FunFair technologies non-custodial wallet solution to offer a new MGA licensed poker decentralized application (DApp).
Through the wallet integration, users can sign up to the Virtue Poker platform easily without offering the Virtue Poker DApp. In addition, the FunFairs solution allows users to develop their digital wallet where they can convert fiat to VPP and vice versa effortlessly. Notably, VPP is a Virtue Poker's ERC20 token used to play. However, offering customers simple, safe, honest, and fun experiences.
Recently, Virtue Poker completed its strategic investment round of $5 million. More so, this partnership will enable a successful DApp launch later this year.
COO of FunFair Technologies Lloyd Purser said "We're thrilled that Virtue Poker is one of the first dapp developers to complete integration of our solution."
Added to this Lloyd explained that they have experienced pitfalls of DApp development. This helps them to know the importance of DApp developers, and importantly their customers. This is the reason that caused them to build and run their own DApps, supporting partners like Virtue Poker in their endeavors.
Virtue Poker Co-Founder Ryan Gittleson added that on looking at feasible partners for this undertaking, they knew that they needed a solution that made sure customers never left the Virtue Poker environment. Even more, they need the solutions to be customisable, secure, and offer all the blockchain benefits.
Ryan also adds FunFair technologies offer this in spades. Like Amazon, Facebook, and other sites users expect a sign-up process. Moreover, it is a non-starter offering anything much less than a smooth onboarding experience. They are also looking forward to working with their new partners for the benefit of their players.
Moreover, the FunFair Technologies group has been forward-thinking about the development of blockchain technology. In addition, with the aim to enable a decentralized gaming world through their Wallet, Games, and Labs solutions. More so, their non-custodial wallet provides DApp developers a free, customizable, and secure solution for users of their DApp. However, enabling integration with xDai, Optimism, BSC, and the latest blockchain tech, the wallet enables DApp developers to provide a web 2.0 experience built on their own web 3.0 tech.
On the other hand, Virtue Poker is a decentralized poker firm that utilizes Ethereum blockchain and peer-to-peer networking to offer an online poker site that is safe, honest, and fun. However, it was founded in 2016 within Consensys. More so, Consensys is the leading full-stack Ethereum software engineering firm and incubator founded by Ethereum co-founder Joe Lubin in 2014. Even more, Virtue Poker is on aim to make blockchain-related betting mainstream.
Disclaimer: This article is provided for informational purposes only. It is not offered or intended to be used as legal, tax, investment, financial, or other advice.