The Facebook CEO may have inadvertently revealed he is a Bitcoin owner following a photograph he shared on facebook of his pet goat - puzzlingly named Bitcoin. The photo posted simply states "My goats: Max and Bitcoin".
While Zuckerberg doesn't directly admit being a bitcoin owner (and has never discussed his views on Bitcoin publicly), his post is being interpreted by the crypto community as a sign that the billionaire CEO is a bitcoin holder; some suggesting that his post is a cryptic message to the Bitcoin community.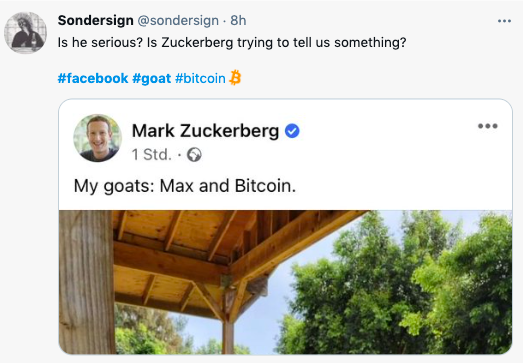 As GOAT is a popular abbreviation for 'Greatest Of All Time' in the sporting world, the reference to a goat and Bitcoin has been interpreted by some as being a message from Zuckerberg about his support of the cryptocurrency.
Of course, the post by Zuckerberg could simply be taken at face value as a photo that the Facebook CEO shared of his beloved pet goats Max and Bitcoin. Alternatively, and much in the same way that Elon Musk has characteristically done on Twitter, it could be a joke from Zuckerberg at the expense of the Bitcoin community, a joke that Zuckerberg well knows could send the market into a frenzy.
Revelations of Bitcoin holdings or support by CEO's of major companies has almost always resulted in a boost of support and uptick in Bitcoin. Elon Musk has famously used his influence on Twitter to showcase his support of Bitcoin, and in particular, Dogecoin. Jack Dorsey of Square has also been vocal about his support and future plans to integrate Bitcoin into his company, with his company currently being the third biggest corporate holder of Bitcoin.
The jury is out on whether there is any factual evidence behind the images posted by Zuckerberg, however with the Facebook Shareholder meeting coming up this month, it will be interesting to see if the CEO reveals any Bitcoin holdings on Facebook's balance sheets.
Disclaimer: This article is provided for informational purposes only. It is not offered or intended to be used as legal, tax, investment, financial, or other advice.