Ten weeks on from Elon Musk and his company Tesla deciding to add Bitcoin to the balance sheet, and they are already $1 billion up, as the number one cryptocurrency has nearly doubled in price since the purchase.
Since making a purchase of bitcoin worth $1.5 billion back in January, the electric car manufacturer Tesla has nearly doubled this original position. Tesla used the sum from its cash reserves to buy bitcoin when it was worth between $30 to $40 million.
As Bitcoin hit new all-time-highs earlier this week of nearly $65,000 the Tesla position was worth more than $3 billion. Currently Bitcoin is hovering around $60500. Possibly a cool-down before continuing its upward trajectory.
When the news first broke back on the 8th of February, the Bitcoin price spiked nearly 15% within the first few minutes of the announcement and led to quite a rally over the next few days.
Tesla also announced that it would accept bitcoin in payment for its cars. Elon Musk has said that the bitcoin received would not be liquidated into fiat currency, and that it would remain as bitcoin held by the company.
Other major institutions have already started to use Bitcoin as a form of payment/added it to balance sheets/have started funds with it etc.
Michael Saylor of MicroStrategy, who have purchased even more bitcoin than Tesla, recently tweeted what appeared to be a typical thought process for large institutions before they bought bitcoin: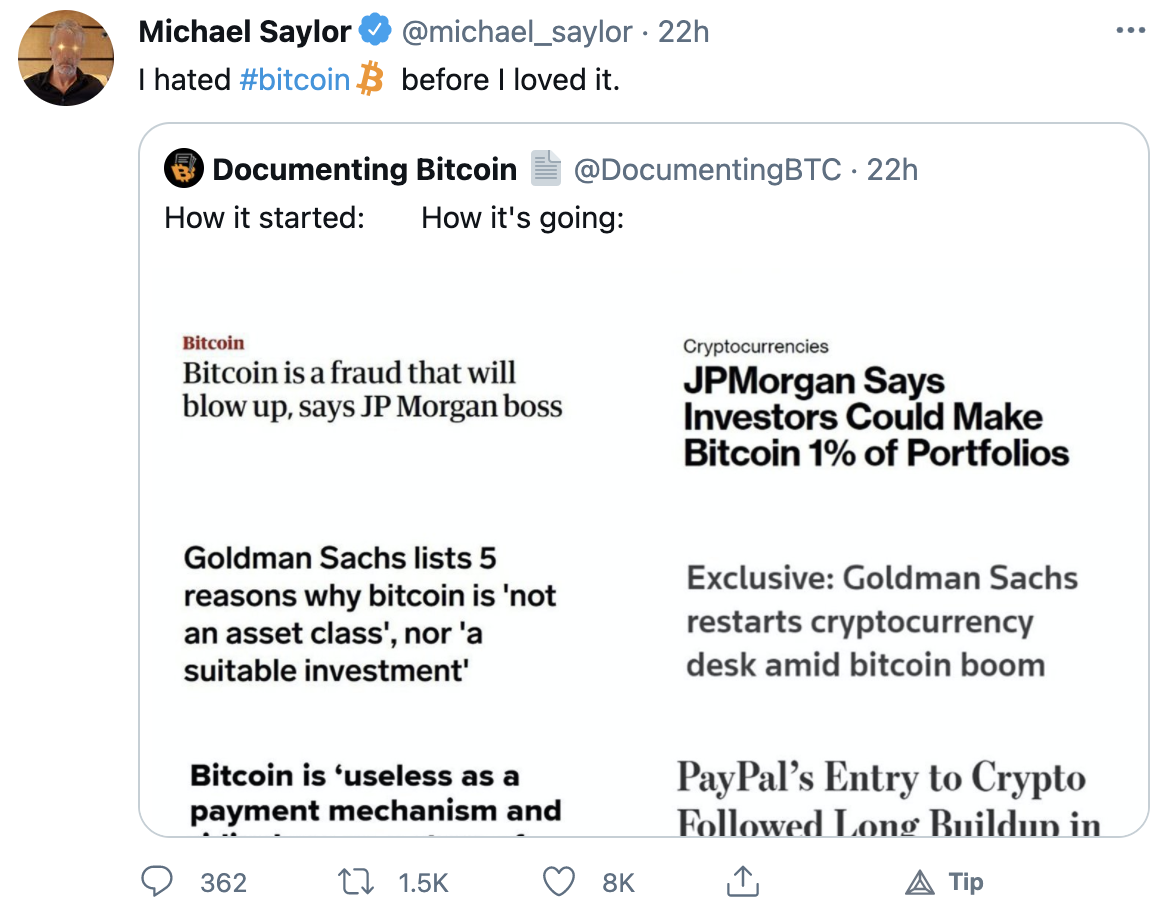 Michael Saylor has been quoted as saying:
"We will continue to pursue our strategy of acquiring bitcoin with excess cash."
It can be wondered just how many more large companies and institutions will come to use this same strategy over the coming months and years. Time will tell.
Disclaimer: This article is provided for informational purposes only. It is not offered or intended to be used as legal, tax, investment, financial, or other advice.