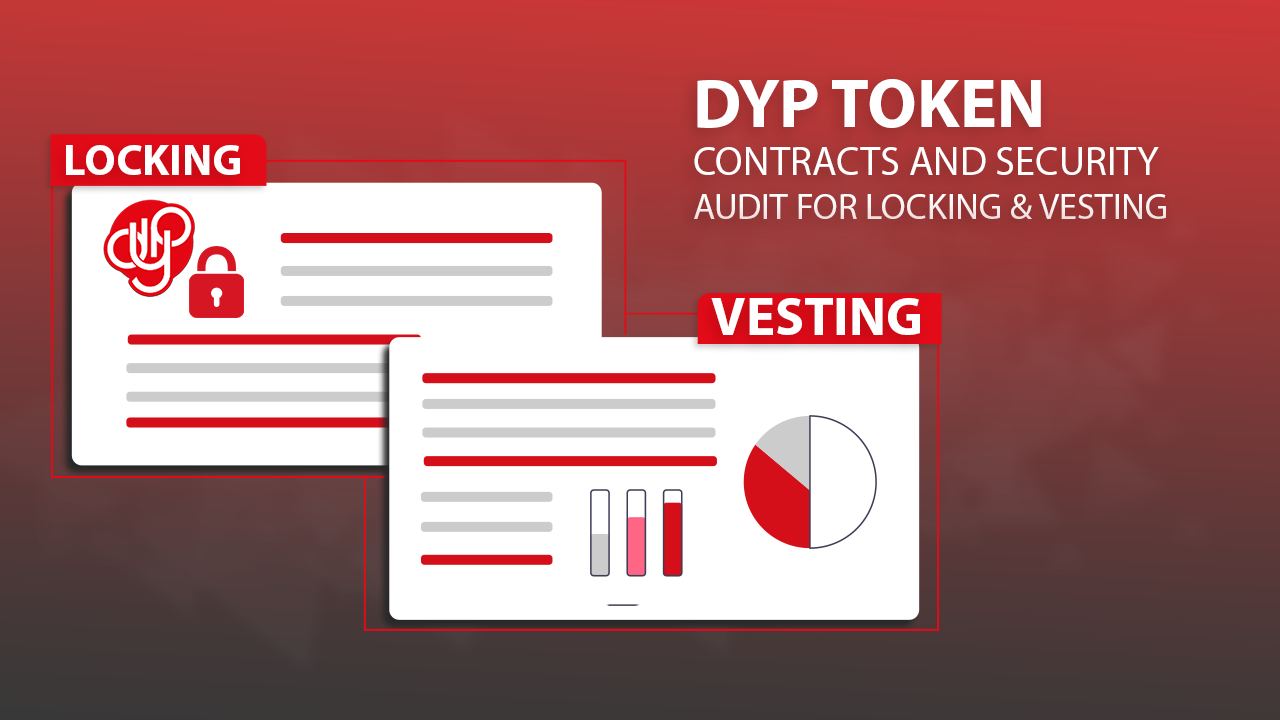 The growth of the cryptocurrency space has been remarkable in the past decade with more products being developed daily. Decentralized finance is another area within the crypto sector that has witnessed growth in recent years. Currently, over $14 billion in digital assets have been locked across various DeFi protocols.
Investors are attracted with the prospects of generating yields from their stakes and yield farming is rapidly gaining prominence in the crypto space. In this review, we'll be taking a look at DYP finance, a farm yielding defi protocol that is looking to distinguish itself from the myriad of defi protocols in the market.
DYP Finance Overview
DYP Finance was launched in the third quarter of 2020 and is headed by a team with extensive experience in financial services. DYP finance, like other farm yielding platforms, enables users to provide liquidity for the protocol and get rewarded for staking tokens.
In the case of DYP Finance, liquidity providers are rewarded in the form of DYP tokens and Ethereum.
DYP Finance Features
Anti-Manipulation System
The most prominent feature offered by DYP is its anti-manipulation feature. The DeFi protocol proposes a different system of yield farming that prevents the manipulation of its blockchain network by crypto whales.
The anti-manipulation system automatically converts all pool rewards from featured tokens (DYP/ETH, DYP/USDC, DYP/USDT, and DYP/WBTC POOL) to ETH every day at 00:00 UTC daily.
After the conversion is completed, DYP finance smart contract distributes rewards to liquidity providers in the form of ETH.
This system implemented by DYP Finance seeks to eliminate price manipulation and offers price stability and security to DYP token holders.
The smart contract only converts the maximum DYP amount that does not affect its price by more than 2.5% when swapped with ETH. The remaining amount is added to the next day rewards. If the rewards are undistributed after seven days, a governance vote is held on whether the remaining DYP tokens are distributed to token holders or burnt.
Also, the anti-manipulation features conduct frequent security audits of the smart contracts that make up the defi protocol for breaches and bugs.
DYP Staking
DYP Finance offers staking in four participating pools which include DYP/ETH, DYP/USDC, DYP/USDT, and DYP/WBTC. The staking pools are up and running and offer different rewards for stakes depending on the amount staked and the time duration for staked tokens.
Users are able to stake on the dApp through the smart contract that is integrated with Trustwallet and Metamask wallet. All users are required to do is to connect their wallets to the platform and begin staking for rewards.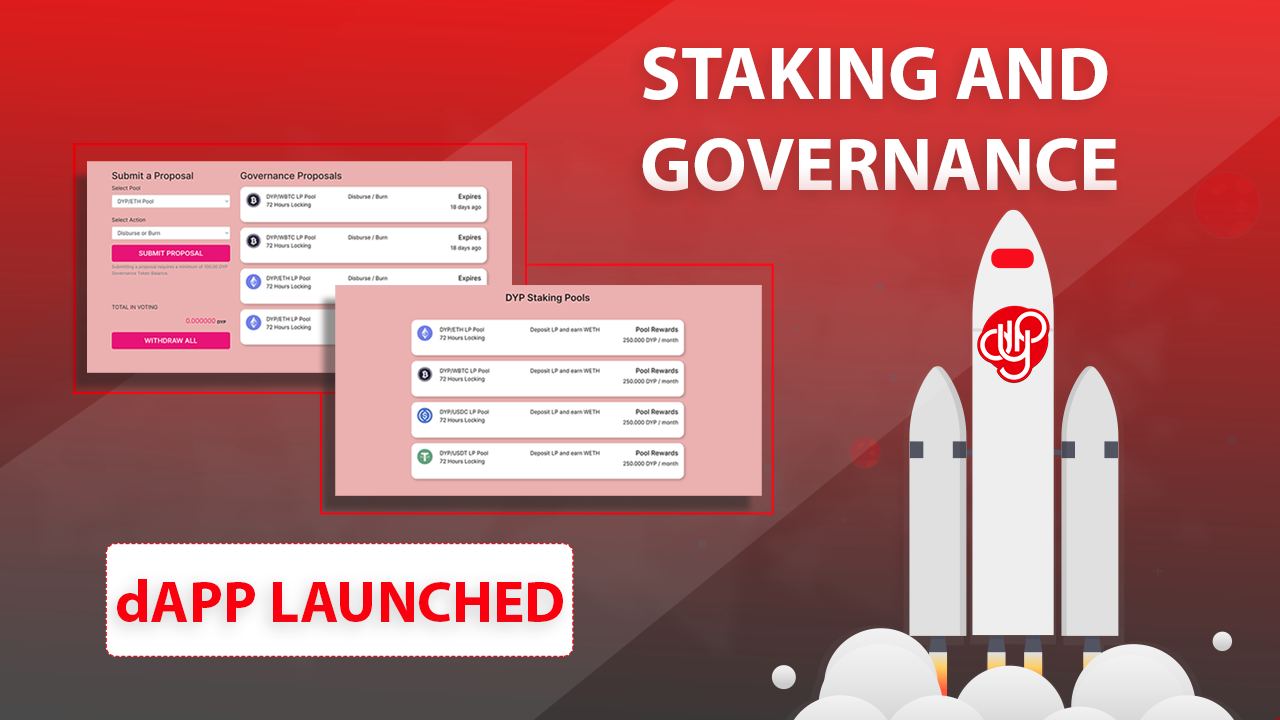 Ethereum Mining Pool
Apart from staking and yield farming, DYP offers users access to their Ethereum mining pool. Users are able to join the mining pool for free and are offered a 10% monthly bonus from DYP mining pool profits.
According to the DY Finance, its Ethereum mining farm has a 35 GH/s hash rate which means that the mining pool earns between 60 ETH – 160 ETH depending on mining difficulty and average transaction fees.
DYP has invested about $1 million on their mining farm and plans to offer five million in DYP to miners as a form of incentive to join and grow the pool.
Miners can also automatically provide liquidity for DYP supported pairs and earn more ETH from DYP rewards.
DYP Earn Vault and Governance
DYP Finance offers a vault within its protocol for users to make deposits for potential rewards. The vault works by distributing 75% of profits to liquidity providers while the remaining profits are kept to increase liquidity and maintain price stability by buying back excess DYP tokens.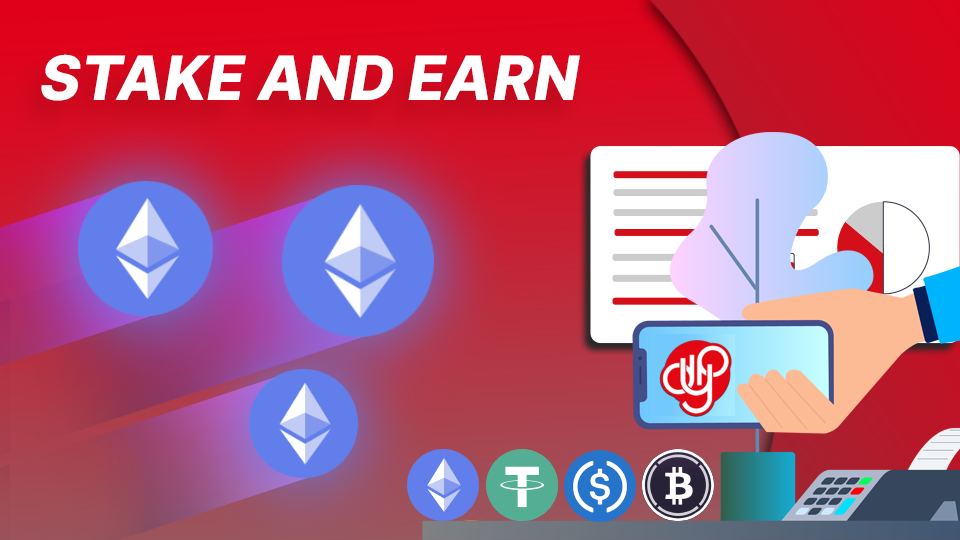 DYP Finance also has a governance Dapp where users are able to use DYP to vote for additional features on the platform. The governance requests include the addition of liquidity mining pools, votes to burn tokens or allocate excess DYP tokens to community projects.
DYP Token
DYP Finance is powered by its liquidity token DYP, an erc-20 token. DYP tokens are used to staked for yield farming rewards on the platform and liquidity providers are rewarded in DYP which is then automatically converted to ETH daily.
The DeFI protocol has mined 30 million DYP tokens and will become accessible over the course of 2 years. The 2-year allocation is as follows:
Initial Circulating Supply: 958,984
75.30% to DeFi Yield protocol community members:
12,000,000 DYP distributed for pool rewards over the next 12 months
5,000,000 DYP distributed to Ethereum mining pool after launch (Q1/2021) - locked on smart contract
5,181,152 DYP reserved for other staking pools - locked on smart contract
200,000 DYP locked for one year to Uniswap liquidity on token launch
8.03% to team members and future employees: 2,411,200 DYP vested for 24 months, released monthly
16.67% to investors: 5,000,000 DYP - 4,348,469 already BURNED & REMOVED from the total supply
No Additional Tokens Can Be Minted!
Verdict
DYP Finance is a cryptocurrency project with an interesting proposition. It is bold with its anti-manipulation system which it intends to mitigate against currency manipulation. The existence of an ETH mining pool suggests that the protocol caters to users that are interested in crypto mining.
DYP finance seems to have commited massive resources towards building its ecosystem which is always a plus.