Table of Contents
The Sologenic ecosystem will enable traders to tokenize any stock from more than 30 stock exchanges worldwide. Built on the ultra-fast XRP Ledger, the ecosystem is capable of processing 1500 transactions per second.
Given the decentralised nature of the Sologenic DEX, investors from anywhere in the world, immaterial of their wealth or financial status, will be able to buy stocks and to have total control over these assets without any government or other third-party intervention.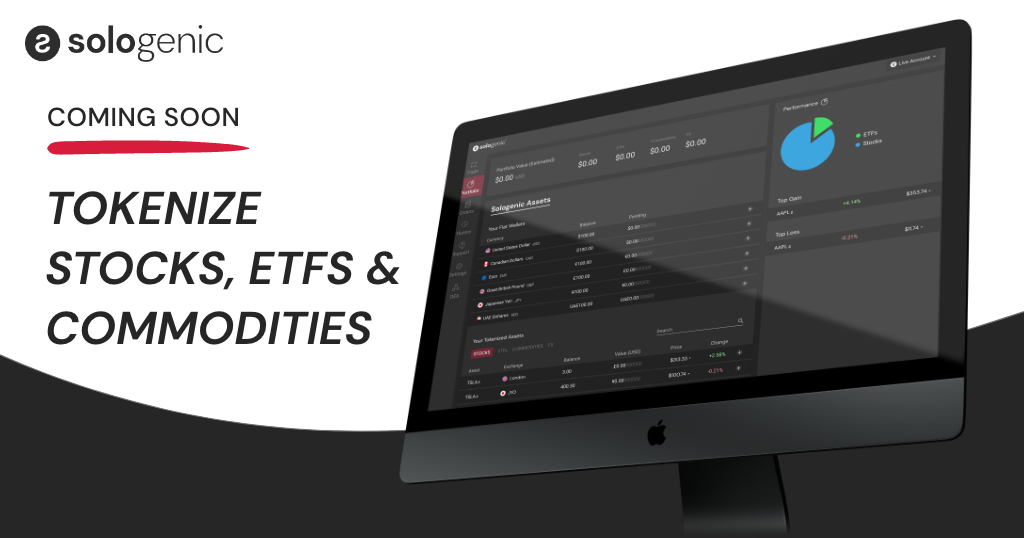 A future internet of finance
Traditional finance is waking up to the vast possibilities offered by crypto and blockchain and SEC Chairman Jay Clayton went as far as to say that he believed "all stocks could be tokenized one day". Adding to this tone of positivity, Brian Brooks, Acting Comptroller of the Currency, affirmed that blockchain networks are the future "internet of finance" and that they present "a mind-blowing challenge to the banking model".
Why dencentralised finance?
DeFi is undoubtedly the buzzword in the world of Cryptocurrency today, and projects only have to launch with the acronym 'DeFi' somewhere in their white paper in order to precipitate an inordinate amount of excitement among interested investors.
However, many projects are seeking to usurp the traditional world of finance by innovating on areas where traditional finance is cumbersome, inefficient, cost prohibitive, or just not available for the average Joe.
The first area where DeFi is a real success is by serving the unbanked of the world. We all know that poverty is widespread and that millions of people have no access to banking or other financial institutions. Their 'shortcoming' is that they may not have a fixed or recognised address or perhaps not have enough funds to open and maintain an account.
Providing cross border services for payments and loans is another area. Uncensored access to financial services gets around the typical barriers imposed by the traditional finance sector such as in the case of capital outflow and foreign exchange controls.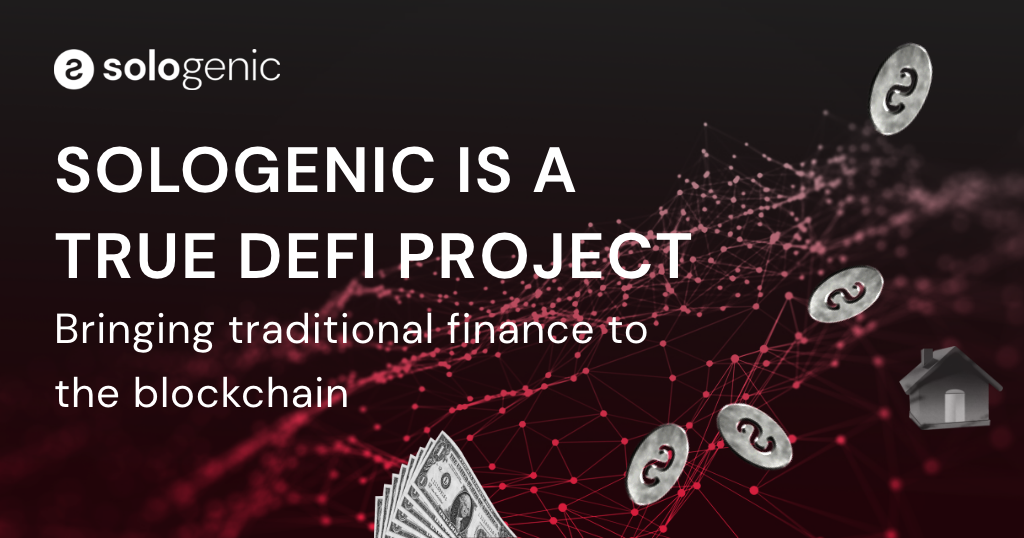 Sologenic decentralises traditional finance
All the equities such as stocks, ETFs, commodities etc. that are available on stock exchanges worldwide can now be traded by anyone in a decentralised manner at any time of any day on just one platform!
By tokenizing any traditional asset, it can be backed 1:1 by a token that exactly represents the 'real-world' asset behind it. The token also signifies ownership of the underlying asset. These tokens then live on the blockchain and can circulate freely, securely and transparently.
Once tokenized, each asset gets the suffix 'ƨ' affixed to the normal stock ticker symbol. So, therefore, Tesla (TSLA) would become TSLAƨ when tokenized.
Once an investor has bought the asset, they can then keep it in their own on, or offline digital wallet. In this way, they keep their private keys and have full custody of the asset without trusting any third party.
Just as in the real-world, dividends on assets are still paid whether you have your assets on the Sologenic platform or in your wallet. If the company of an asset you hold does something like merge, or announces a buyback, Sologenic will notify you and provide a 30-day window for you to swap your tokenized assets to updated ones.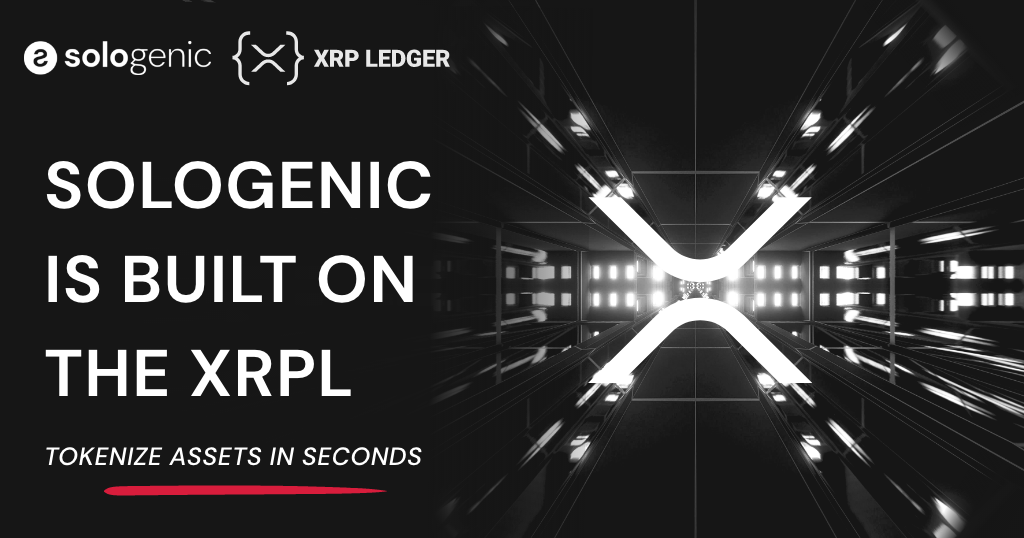 Why the XRP Ledger
It can be said that the crypto community regards the XRP Ledger as a 'banker's' blockchain (we won't argue here whether it is a blockchain or not). And with the Sologenic platform sitting atop the XRP Ledger, how can this have anything to do with the term 'decentralisation'?
Well, the Sologenic platform is a DEX, and it is based on the XRP Ledger for various advantageous reasons. Probably the principal among these is speed. The XRP Ledger is one of the fastest worldwide networks, allowing users to transfer assets almost instantaneously.
Scalability is another very important consideration. We've all heard about the scaling problems besieging the Ethereum network and of all the clogging and bottlenecks that are a daily occurrence. This just doesn't happen on the XRP Ledger and will not be an issue.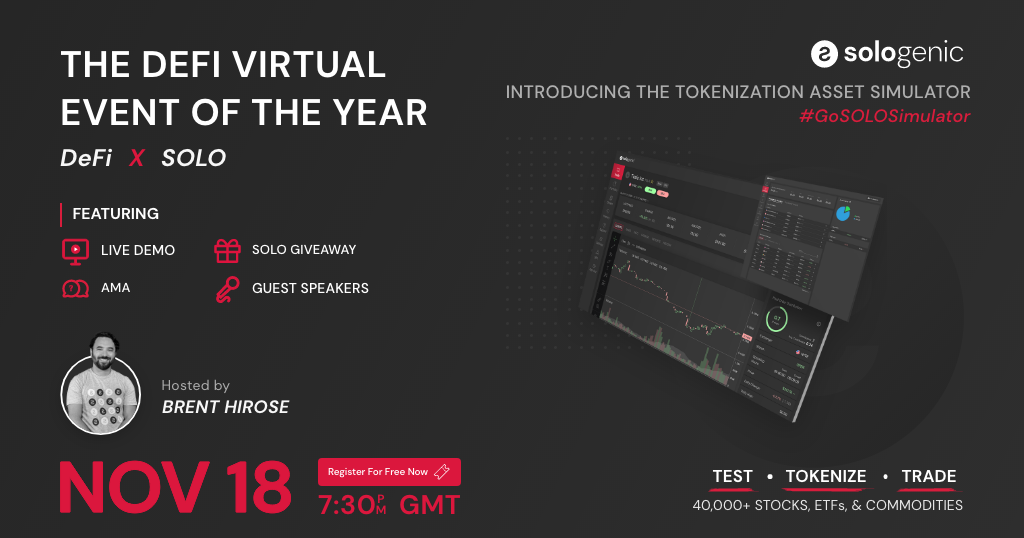 The DeFi virtual event of the year
On November 18th Sologenic will be hosting DeFi x SOLO. This is a much-anticipated event that will bring together key experts from Cryptocurrency, Blockchain and Traditional Finance. The encompassing theme is "How DeFi is shaping the global economy".
This free-to-register event will also feature an AMA with members of the Sologenic team and an introduction to how the 'tokenization' process takes place using the 'Tokenization Asset Simulator'. Here attendees will be able to practise tokenizing assets without using real money. There will also be SOLO giveaways to some of the fortunate participants.
Conclusion
A whole new world of decentralised finance available to all is on a fast-approaching horizon. The hallowed portals of the traditional finance market, with all its barriers to entry for the many minnows among us, can now be circumnavigated thanks to Sologenic and its DEX (Decentralised Exchange).
Tokenising assets is the future of finance and opens up a myriad of possibilities that will bring together the traditional finance world and crypto. The platforms that can create this bridge and be able to be first to market will form part of a new finance era. Sologenic hopes to be among the first to do so.
© 2020 CryptoDaily All Rights Reserved. This article is provided for informational purposes only. It is not offered or intended to be used as legal, tax, investment, financial, or other advice.