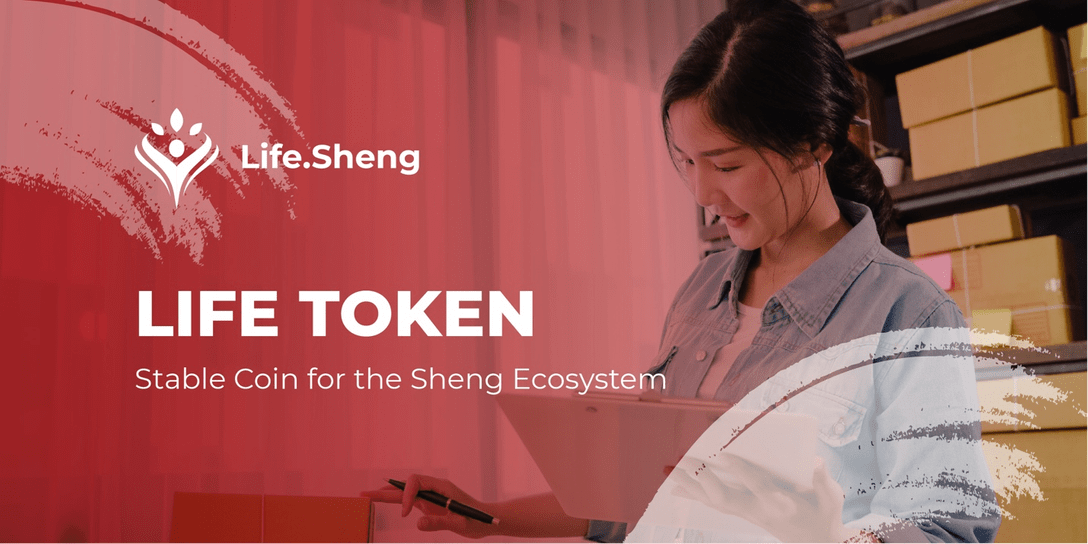 In line with its roadmap leading to the Sheng platform's implementation, ShengWorld today announces that it has successfully created and tested the LIFE token, a digital coin representing fiat currency, for instantaneous transfer of payments between merchants and users of its Sheng Ecosystem. The LIFE stable coin combines the United States dollar's stability backed by audited assets with the efficiency of blockchain technology to achieve a seamless, frictionless digital economy for its ecosystem.
LIFE is a digital dollar created exclusively as a payment currency for the Sheng Ecosystem. Like other crypto assets, it can be transferred instantaneously, anywhere in the world, any time of any day, and Unlike other crypto assets, LIFE is stable without price volatility. It has a stable backing of USD, with the value as 1 LIFE to 1 US Dollar, and its reserve value is carefully protected, audited, and regulated by an independent party monthly. Consequently, LIFE will retain the same value as the underlying asset and are not subject to sharp price fluctuations.
The LIFE token plays a crucial role in the SHENG Ecosystem. It allows consumers from any part of the world to access the benefits of wellness and healthcare services on the SHENG platform, without the risk of sharp price fluctuations, thereby ensuring that one will always receive the quality of the services they have paid for.
The diagram below is a simple representation of how the process works.
How Does It Work?
In step 1, a Sheng user commits deposits to a designated account and receives an equivalent LIFE Coins amount.

In step 2, these LIFE Coins are used for transactions over a blockchain network with other SHENG merchants or in peer-peer transactions (e.g., money movement, payments for services).

Finally, in step 3, holders of

LIFE

Coins redeem them for USD thru the Sheng platform.
How Does LIFE Stable Coin Differs From Other Stable Coins In The Market?
As LIFE is designed exclusively for the Sheng ecosystem, it will be loaded with significant price savings, rewards, and special privileges for users and merchants who use it to transact within the ecosystem. The LIFE token will also be fully integrated to work alongside SHENG, ShengWorld's native token currently listed on Probit Exchange with plans to list in other exchanges shortly.
At its pre-launch, SHENGWORLD has affirmed that it has already secured the commitment from at least six merchants for a total amount of United States Dollars Three Hundred Thousand (US$300,000) in which 300,000 LIFE would be distributed to these merchants.
About ShengWorld
ShengWorld is the first-ever blockchain-based B2B4C for the lifestyle and wellness industry. It comprises of two main elements i.e., for Consumer (4C) SHENG Marketplace and the Business-to-Business (B2B) SHENG Eco-system. ShengWorld harnesses the power of blockchain, AI, and Smart Contracts to create an entire ecosystem surrounding health and wellness products that enrich the mind, body, and soul, allowing users to celebrate life and rejuvenate from the grind of daily life. More details can be found on their website, i.e. https://sheng.asia
Important Links:
Life Website: http://life.sheng.global
Sheng Website: https://sheng.asia
ShengWorld Marketplace: https://sheng.global
Sheng on Probit Exchange: https://www.probit.com/app/exchange/SHENG-USDT