The Linux DApp operating system, Cartesi, has recently announced the launch of its incubation program which will be offering $80k+ in prizes to the best three DApps (decentralized applications) built upon its infrastructure.
In partnership with Gitcoin, Cartesi is currently taking in all applications between September 14 - October 12, 2020, and will be looking to incentivise talented developers to build upon their infrastructure which purports to provide a solution to the current restrictions and limitations found within blockchain, whilst still benefiting from the immutability and security of the latter. So given how the DApp industry still suffers from a shortage of developers (meaning that hackathon participation is still reliant upon funneling talent from the existing blockchain community), this latest initiative is a real breath of fresh air, and is sure to peak the interest of many developers around the world.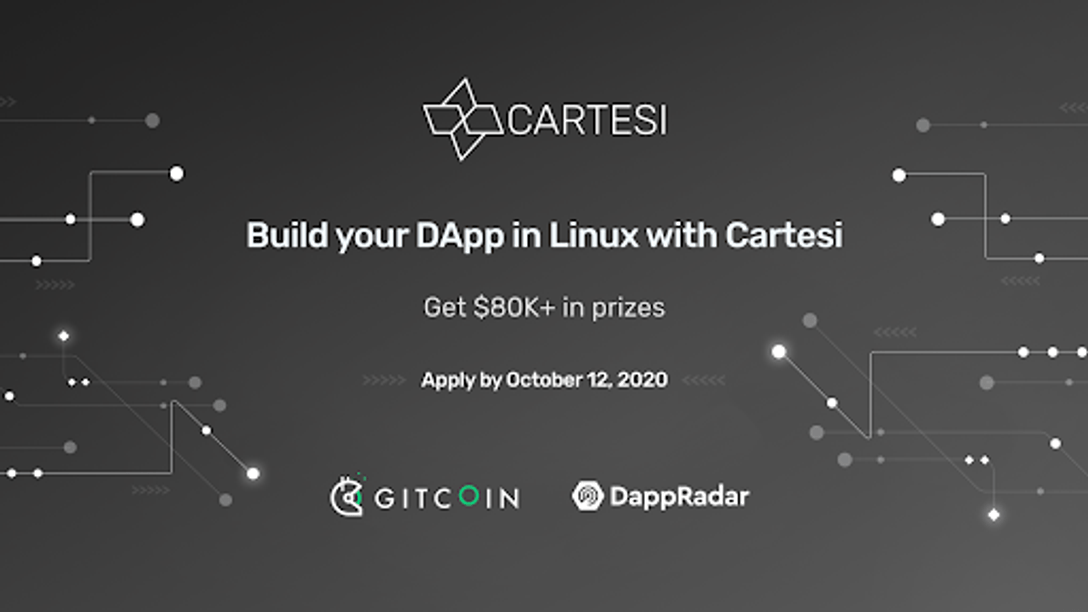 Furthermore, overseeing the incubation period will be a stellar team of industry titans, including the likes of Serguei Popov (Co-Founder of IOTA), Edward Thompson (Web3 Foundation), Arjun Krishan Kalsy (VP Growth at Matic Network) and other leading individuals, so contributing participants will also have a wealth of expertise to tap into during the building process.
This incubation program therefore provides a great opportunity for talented developers to build a diverse range of innovative DApps which have the potential to bring great value to an ever increasing decentralized world.
Bringing a tangible solution to the drawbacks of Layer 1 blockchains
Founded in 2018, the Cartesi team has set their focus on developing a versatile Layer-2 Linux infrastructure in order to overcome the problems of scalability, computation, and infrastructure for DApps. It is important to note, however, that these problems are not entirely new revelations.
Whilst blockchain technology is still upheld as a solution for decentralization, immutability, security, and transparency, there is a strong subsection of the industry who not only have vocalised their concerns regarding drawbacks with current blockchain infrastructure, but have also taken matters into their own hands. This response can perhaps best be exemplified through the emergence of Layer-2 solutions to traditional Layer-1 infrastructure, and this has seen the likes of Plasma, state channels (the Lightning Network) and TrueBit offer up interesting solutions. But what is particularly interesting about Cartesi, is that rather than solely focusing on addressing these issues (which it does as well), the project has gone a step further by offering a solution to an often forgotten and intrinsic requisite for further blockchain experimentation - creating a developer friendly infrastructure which uses already-established and familiar operating systems. In the case of Cartesi, they have opted to build around Linux, and the potential of this needs little explanation given the huge popularity of the operating system.
In 2019, the largest online developer community, Stack Overflow, conducted a large survey which found that 83.1% of developers chose Linux as their most prefered operating system. Now combined with the fact that the demand for blockchain engineers and developers continues to soar, and how the salaries of blockchain developers are amongst the highest alongside AI developers, it wouldn't be far-fetched to view Cartesi as having the potential to be THE go-to infrastructure for developers looking to build DApps.
It is also important to note that the Cartesi team has also been open to collaborations to further enhance their offerings, and a notable example can be seen through their mutually beneficial partnership with Matic Network back in April, in which the well-known Indian based Layer 2 scaling solution is enabling greater responsiveness, faster transaction processing and lower transaction fees for DApps created on Cartesi. Moreover, partnerships like this will also be bringing the Linux runtime to other scaling solutions, and the successful deployment of Cartesi's Creepts integration on Matic's Testnet is a prime example of this.
The question that must now be asked, is how exactly does Cartesi bring the Linux experience to DApps?
Introducing Cartesi's Descartes SDK Portal
Back in June 2020, the Cartesi team announced the release of 'The Descartes SDK' which provides an all-in-one onramp for Linux developers to build with, and one which also allows for computations to be less burdensome and cheaper. So what has traditionally been an expensive and restrictive development experience appears to be no more, and the following benefits are what developers can expect to get when using the current version of Cartesi's Descartes SDK:
Use mature and mainstream 'Zero-knowledge — Zk' libraries that compile for Linux.

Give smart access to a file system: readopen, modify, process, compress and decompress files, etc — all in a decentralized way among DApp participants, while retaining the security guarantees of Ethereum.

Move off-chain complex computation and save on GAS fees.

Process massive amounts of data that are made available by reputable and trusted data sources, all in a fully decentralized way among the DApp participants.

Give their smart contracts the ability to verify if a complex computational problem has been solved correctly. Evaluate neural networks, solutions to NP-complete problems, and more.
As can be seen with the aforementioned benefits, Linux developers are now able to access everything they need in order to have a much easier, cheaper and more diverse development experience, and this marks an important development in the quest to bring more flexibility, transparency and security to the current technological landscape. In other words, there is now very little in the way for talented Linux connoisseurs to start building DApps, and Cartesi are further adding to this through an incentive structure found within the CTSI token.
Incentivising honesty and efficiency
Powering Cartesi's infrastructure is the CTSI (ERC-20) token which has been designed to incentivise Cartesi Node operators to engage with the system in an honest and efficient manner, and compromises some very interesting use cases.

Firstly there is Cartesi Core which relies on an arbitration mechanism that uses CTSI as collateral to enforce honest behavior. There is then the Cartesi Side Chain which uses CTSI to pay for temporary data storage for Cartesi dApps, and block generators will also receive CTSI block rewards and the fees paid by users adding data to the Side Chain. CTSI is used to participate in the Side Chain's Proof-of-Stake consensus system, where miners with the highest stakes have a higher probability of being selected to generate the next block. Last but not least, CTSI powers a data availability protocol to aid with the transfer of large data blobs used for machine snapshots.

In addition to this, CTSI also has an attractive tokenomic structure.

Following Cartesi's IEO on Binance's Launchpad initiative back in April (in which the project successfully raised 1,500,000 USD), the following information also provides an attractive value proposition for both node operators and traders alike:
Cartesi is listed on Binance for CTSI/BTC, CTSI/USDT, CTSI/BUSD & CTSI/BNB




Cartesi is listed on 16 other exchange markets





Cartesi's current market cap is ~

$8,209,897 USD





Cartesi's total unlock for 2020 will amount to less than 25% of the total supply, and for the remainder of 2020, the Cartesi Foundation will conclude with one other acquisition of tokens in the amount of 31,900,000 CTSI (3.19%) on October 23rd, 2020.





Total Supply: 1,000,000,000 CTSI





Cartesi ROI: 175.87%
As can be seen, Cartesi has very solid fundamentals on both technological and economic fronts, and this combination will further motivate people to look further into the project moving forward.
Incubation program further examined
The upcoming Cartesi incubation program will be broken down into three phases:

Phase I presents the application period which is currently in progress until October 12, 2020, with developers being encouraged to submit their applications now. Applicants are allowed to request a budget (up to 20K USD) which they deem will be enough to fund their projects for three months, and are also able to set their own milestones along with delivery deadlines. After each milestone is achieved, a portion of the total amount requested will get unlocked and paid out.

In terms of Phase II, three teams will be selected out of all the applicants to build their Cartesi DApps, and the deadline for their creations will be February 1, 2021. During the building process, teams will also receive mentorship from top experts in the field, including some of the industry's most respected names, and given the vast experience and expertise of these experts, even developers who have limited experience within the industry will have all the necessary support in order to maximise their efforts.

Last but not least, Phase III will be between February 8-19, and an additional award will be determined by a Quadratic Funding system from Gitcoin. Cartesi will invest an additional 20K in a matching pool (plus any extra amount raised by the community) to be distributed across the three projects in accordance with the number of votes each one has gathered.
Concluding thoughts
Whilst hackathons and incubation programs are nothing new in the world of DApp development, Cartesi's up and coming initiative is truly revolutionary as in the future it will allow many more developers from outside the blockchain community to build decentralised applications. As mentioned previously, there is currently a real shortage of developers building DApps, so any solution which helps to streamline the building process should be taken seriously.

Expect to see great things coming from Cartesi in the near future.
© 2020 CryptoDaily All Rights Reserved. This article is provided for informational purposes only. It is not offered or intended to be used as legal, tax, investment, financial, or other advice.