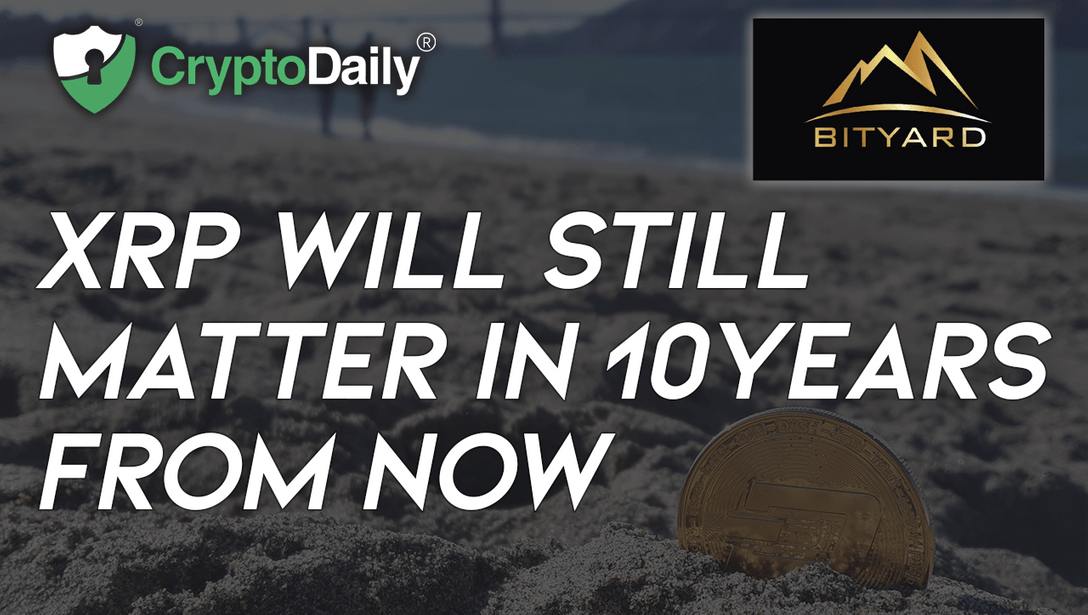 Last week, the CEO of Pantera Capital, Dan Morehead, claimed that XRP will be one of the Cryptos that has potential for long-term sustainability. In an interview with Thinking Crypto, Morehead explained that Ripple's contribution to the digital currency has been crucial in helping with its growth.
2020 has seemingly been a year to forget for XRP, with it performing significantly worse than the other large-cap Cryptocurrencies, but the asset isn't necessarily in any trouble.
Pantera Capital's CEO made a comparison between XRP and central bank-backed Cryptos, saying that despite their centralization, they will still be used universally. He believes that only a small number of digital currencies will be of any significance in a decades time and XRP will be one of those few.
Morehead also claimed that setting your sights on one Cryptocurrency is not the way to go, he states that each of the few currencies that will still be around in 10 years time will each be doing something different, so keeping an eye on all of them will be more beneficial. He also believes that there's no reason for these cryptocurrencies to fight amongst each other and that there is more than enough of a platform for each one to succeed.
These are the words of the man himself:
"I don't have the view a lot of people do in our space… like there's only one and only true heaven and it has to be whatever it is, Ether or Bitcoin or whatever it is. They do different things and it's kind of like in the early 90's being a Yahoo! maximalist. Yeah, Yahoo is good, but there were 30 really important companies and a portfolio should have had a little bit of all those. And that's the way I feel about cryptocurrencies. Each one of the eight or ten that are going to exist in ten years are going to do its own thing."
Before also saying:
"I always like to remind people, it's not like XRP and ETH are fighting each other. We're fighting the Argentine peso. To put it another way. We're fighting these paper currencies and there's plenty of room for each of the cryptos to work."
Do you agree with him? Let us know in the comments below.
Bityard
Now let me tell you about Bityard, the world's leading cryptocurrency contract exchange platform.
Bityard, unlike their competitors, has created a platform which is easy to understand and use. Their slogan, 'Complex Contracts, Simple Trade', perfectly reflects what their system is all about as they aim to take as much stress and hassle away from trading as possible. Bityard's simple and user-friendly interface allows traders with any type of experience to use it with ease and is the perfect platform for beginners to learn the ropes.
Bityard's reputation precedes them and has earnt them valuable partnerships with some of the biggest names in the business such as CoinMarketCap, Binance and Coinzilla.
So why should you choose Bityard? Well, they have low transaction fees, with a leveraged position at x 0.005%, the lowest in the Crypto Market, as well as a Safety Net Margin at 90%.
You can leverage anywhere from 10x to 100x and can start trading with as little as 5USDT.
Bityard's system uses real-time data from 3 of the worlds largest cryptocurrency exchanges; OKEX, Huobi and Binance. This is to ensure the fairest K-Line Weighted Average possible.
They also offer OTC services, giving users the opportunity to purchase USDT and deposit Fiat currencies.
Users can trade using a multi-screen view with TradingView integrated charts. Up to four screens are available for you to view multiple time and price charts simultaneously.
They also have their very own Wallet with Locally Encrypted Data and allows for multiple transactions. For added security, the wallet has multiple signatures to keep your coins safe and secure.
At this present time, you can recharge your account with a choice of 6 mainstream digital currencies, including BTC, ETH and XRP. The ability to deposit Fiat currency is only available in Vietnam, Indonesia and Mainland China but is set to be available elsewhere in the near future.
Opening an account with Bityard is simple, and can be done in under a minute using either a mobile phone number or an email address. Upon registering, each user can claim free BTC, ETH, EOS, Tron and more digital currencies up to the value of 258USDT.
As previously mentioned, you can start trading with as little as 5 USDT and a demo account is provided for those who would like to get to grips with the system before getting into the real thing.
Bityard also has a fantastic rewards programme and an affiliate system for all users. Their rewards system gives customers BYD coins through registering and trading, which can then be used to pay for transaction fees or increase the income they receive during trades.
The accompanying affiliate system gives people the opportunity to make a commission on sales using their own referral code.
The referrer must share their code with their social media following or even friends and family in order to generate income via the referred signups and completed trades.
Bityard is a fantastic platform for any level trader and we highly recommend!