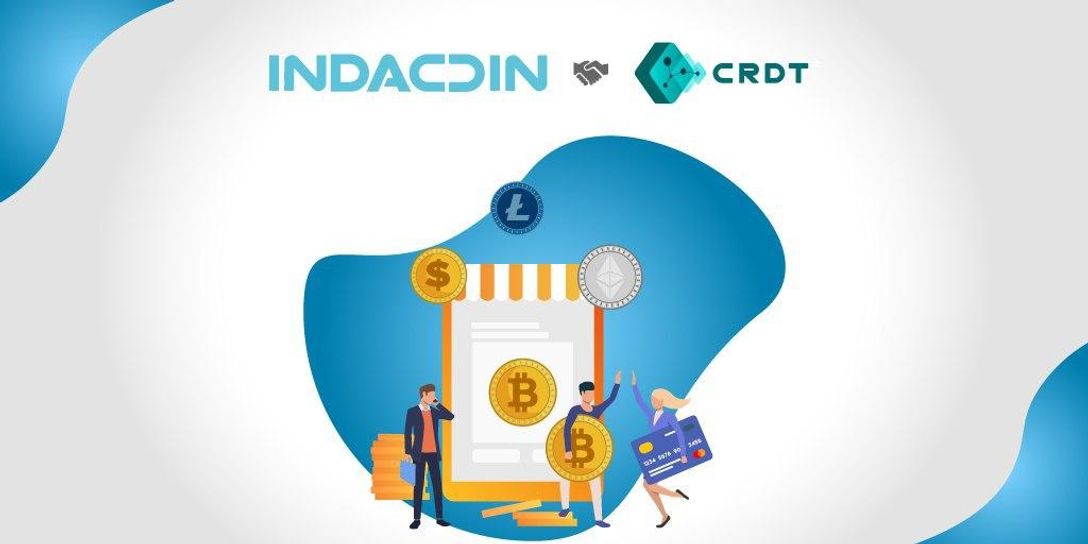 Indacoin, the London-based leading fiat-to-crypto exchange, expands its strategic alliance with CryptoDaily, a top-tier blockchain media platform.
Indacoin and CryptoDaily have similar goals and core business principles - they are dedicated to keeping their platforms transparent and focused on developing products responding to true clients' needs. The newly formed alliance between CryptoDaily and Indacoin will enable the community to keep informed about the latest news, innovative digital marketing, the newest fraud detection technologies, and fiat-to-crypto exchange methods.
Using Indacoin, the clients can become CRDT token holders in a couple of minutes and support CryptoDaily in the most profitable way possible. This collaboration creates an excellent opportunity to invest in CRDT from almost anywhere. Indacoin is popularly known for its anti-fraud system with implemented AI and machine learning, which is a crucial point for any finance operations, and especially for the crypto market. Speaking of advantages, one of the essential factors for fiat-to-crypto transactions is speed. This partnership will allow buying CRDT with a bank card in 15 minutes, which is the exact level of convenience expected from market leaders.
Aside from the essential functions of CRDT, it's also a key element of the new CryptoDaily's program. The token will be used as a reward for content contributors, which not only will lead to growing CRDT demand but also eventually grow CryptoDaily's traffic. Their website already has over 1 million users per month, so the benefits of implementing CRDT loyalty program are simply incalculable. The alliance with Indacoin makes CRDT even more attractive and trustworthy.

CryptoDaily aims to ensure its position on top of the crypto media industry. It makes CRDT launch and partnership with Indacoin vital steps in CryptoDaily's ambitious growth path. "We could see a big ambition to grow the cryptocurrency business. CryptoDaily's continuing to succeed in providing accurate, relevant, and timely information on the most important matters of the community," said Guilherme Jovanovic, Chief Business Development Officer at Indacoin. "Our team is thrilled to support independent media because it's one of the core elements of a healthy crypto community."
We have every reason to believe that this partnership will make a great impact on the crypto industry. CryptoDaily will provide a platform for publishing unbiased opinions on a wide variety of crypto topics, while Indacoin will contribute to CRDT mass adoption with advanced technologies.
About Indacoin
Indacoin is a digital currency exchange and iOS/Android app that offers a unique ability to buy over 100 digital currencies with Visa & Mastercard credit and debit cards. Operating in the UK since 2013, its primary focus is to provide secure bank card payments and enabling other projects to accept Visa and Mastercard instant deposits through a fully branded gateway. Indacoin services are available in 180+ countries.
About CryptoDaily
CryptoDaily was founded in 2017 and has become one of the fastest-growing sources for cryptocurrency news discovery globally. The company is striving to expand its reach in the blockchain news industry, rapidly broadening its readership. CryptoDaily's additional services integrate contents in different languages, for instance, its Chinese- and Japanese-focused content is gaining popularity with each passing day.