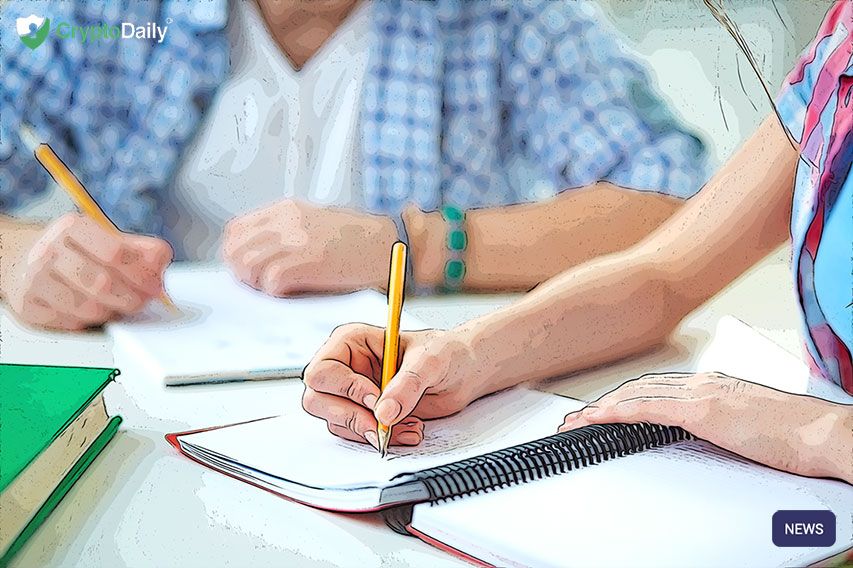 The Genesis Vision platform looks lovely, it works a treat and quite a few of the funds are making gains that are eclipsing most traditional market funds.
Hedge funds returned a rather mediocre 6.96% on average over the course of last year according to Eurekahedge. Add to that the bottom dropping out of the stock market and just about all other financial instruments then you get the picture that the financial landscape is going through a period of intense change — and this change is going to see the re-emergence and consolidation of certain asset classes.
So where on earth can you put your wealth in order to protect it and keep it growing in these times of deep financial uncertainty?
I spend a lot of time listening to many experts on the economy such as Jim Rickards, Ray Dalio, Peter Shiff, and Jim Rogers. Obviously their opinions do differ widely but most do acknowledge the importance of hedging a part of your wealth into precious metals.
There are also a growing number of generally younger and perhaps more tech-savvy experts such as Raoul Pal, Andreas Antonopoulos, who are espousing a hedge into Bitcoin and other cryptocurrencies.

Now, Bitcoin and cryptocurrencies are still regarded as 'risky investments' by the old guard in traditional finance and prophecies of 'it's going to zero' and 'it's nothing but digits on a computer' are the cries from the traditionalists. It could be said that fiat currencies have similarities in that respect given the impressive amount of noughts the Federal Reserve is adding to their balance sheet at an ever more rapid rate.
Ok, I'm not really here to argue the toss over these views. I think it has to be acknowledged that Bitcoin has made the most spectacular gains in the history of all asset classes and cryptocurrencies have the potential to match this and more.
Here is one small area where very strong gains are being made in comparison to your typical stocks, bonds, treasuries, etc. and I want to highlight the advantages that can be found here.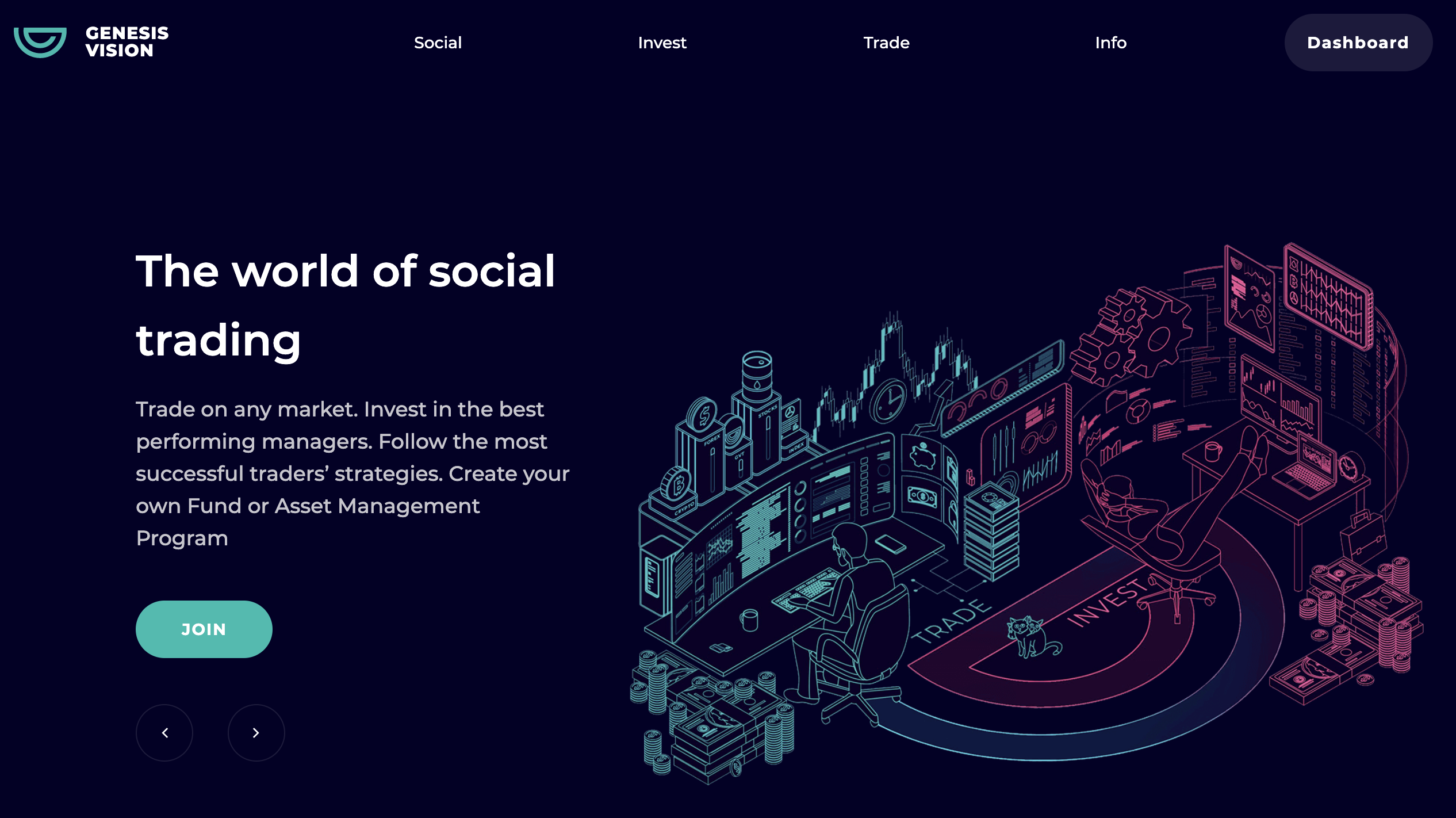 The Genesis Vision Platform
Genesis Vision came into being through the foresight and industry of young Russian fin-tech wizards. The hype for this project reached a frenzy just after the Bitcoin rise to its all-time high of $20,000. However, as happened with the vast majority of cryptocurrencies, the hype died down and prices fell drastically. Some projects were to crash and die and some hunkered down and just carried on furiously developing the tech.
The Genesis Vision team is among the latter and they have performed miracles in a very short amount of time. My aim isn't to talk about the platform as a whole because that would require a lot more articles and I don't have the expertise that this would require. However, I do want to give my perspective on the 'Funds' element of the platform.
The UI of the Genesis Vision Platform is really gorgeous and simple to understand. There appear to be 4 areas of interest for a user — copy trading, programs, funds, and a trading terminal. For myself, my trading skills are not accomplished enough and I'm wary of the possible large losses that can be incurred by following other traders or investing in programs where high volatility abounds.
Instead, I've discovered that I have the steady temperament and low-risk appetite that fits nicely into Genesis Vision Funds.
Genesis Vision Funds
Within Genesis Vision Funds there are two things you can do. You can invest in a fund manager or you can be your own fund manager. When I started in Funds I invested into 3 or 4 different managers and made some quite amazing gains. In fact one of these funds made about 200% or so over a period of about 6 months!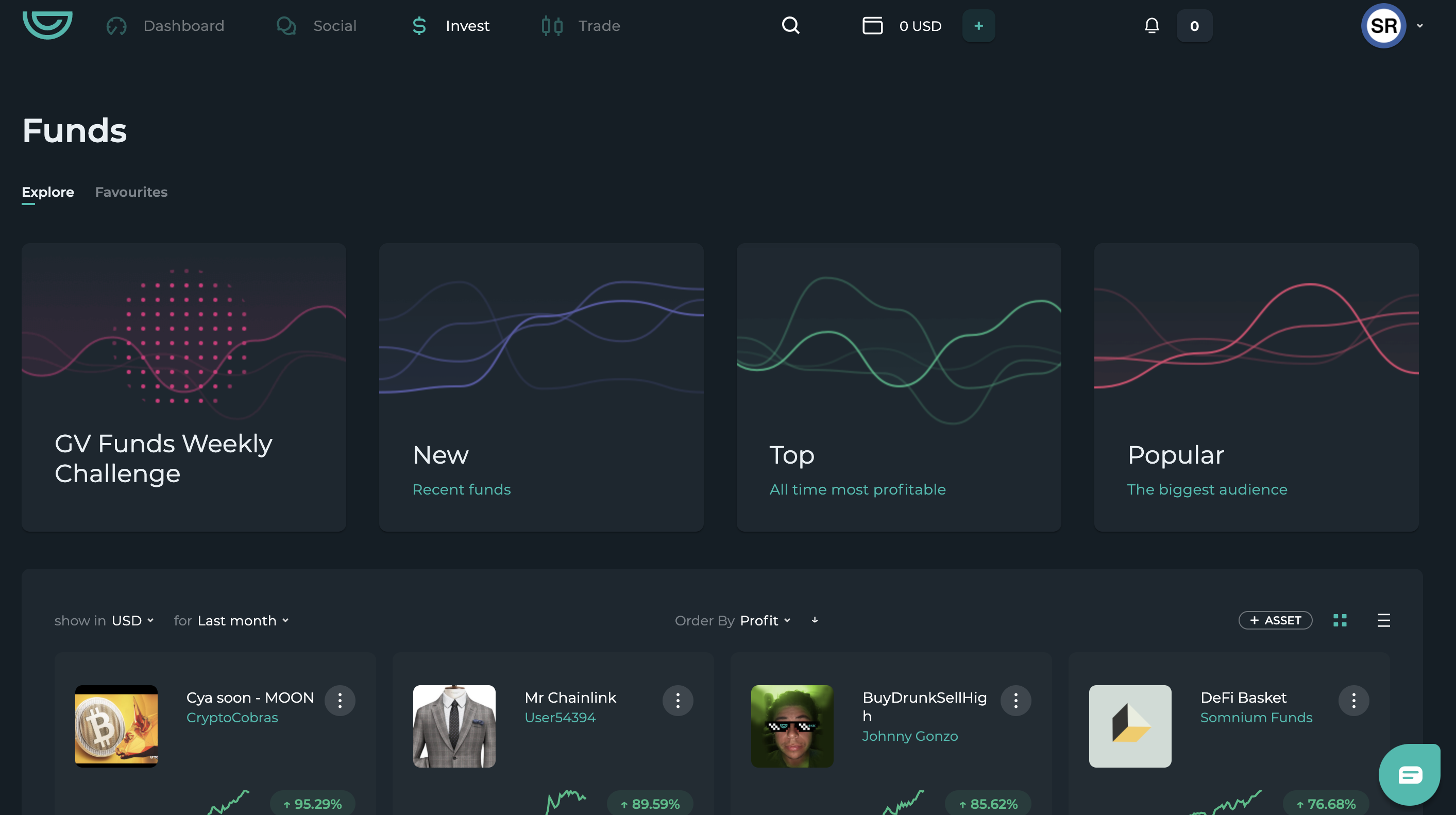 It was when I was looking again at this fund and the structure of its invested assets that I realised that it was far from a perfect choice of cryptos. After almost 3 years in the Cryptosphere, I kind of knew my cryptos, and I thought to myself, "I can actually do quite a bit better than this". So I pulled my money out of this fund plus the others that I was invested into.
Fantasy Football
Ok, so this is where the Fantasy Football comes into it. For those of you who are unaware of the concept, as a Fantasy Football Manager, you need to pick 11 players from any of the Premiership teams. Each player has a value which has been decided based on that player's ability to be a striker, midfielder, defender or goalkeeper.
When the Premiership matches take place you get points for each of your players who have either scored a goal, assisted a goal, or saved a goal, etc. You can also lose points for goals scored against your players and the awarding of yellow or red disciplinary cards.
Now, I see quite a strong correlation between being a Fantasy Football Manager and being a Genesis Vision Fund Manager. At this stage, some of my readers might be starting to rue the time they have wasted on reading this — wondering how on earth these two seemingly, utterly different concepts could possibly be related.
Ok, as a Genesis Vision Fund Manager you start with the funds that you have personally decided to invest into each of your Management Funds. Next is to choose a name for your fund and to also outline the strategy that you will be following so that your investors will have an idea of what they are going to be investing in. You also need to set the joining and withdrawal fees — the lower the fees, the more investors you may potentially get to join your Fund.
The next bit is the most important — you select the cryptocurrencies that you believe will perform the best over any given time frame. So just like picking in-form football players, you are picking in-form cryptocurrencies that are going to rise in value. Depending on your strategy will depend on whether you pick these cryptos for the short, medium, or long term.
Since I launched my first Funds in February I have come to the conclusion that the best managers are those who are able to predict the best performing cryptos over each month. There are some managers however who prefer to make their picks and leave them to make their gains into the medium and long term.
Anyway, back to the selection process. There are a wide variety of cryptos available — certainly, most of the major cryptos can be chosen on the platform. However, new cryptos and a lot of the lower market cap cryptos don't appear to be available at this point in time.
You select your cryptos and assign each one a percentage of your investment portfolio. For example, a more cautious manager might pick BTC and assign it 40% of their portfolio. They may then pick ETH and give it 20% and then assign the remaining 40% to other large-cap and potentially safer cryptos.
This kind of strategy looks to replicate the hare and the tortoise but obviously this depends on the future of the crypto market. I personally believe that reallocating a fund little and often is arguably the best way to proceed.
Reallocating? In Fantasy Football you have a certain number of transfers that you can use during the season. The idea is to substitute a player who is out of form or injured with a player who is just coming into form and is starting to score goals. In the same way, Fund Managers can reallocate the cryptos in their portfolios. You can do this by shifting the percentages from one crypto to another or by taking certain cryptos out and replacing them with better-performing ones.
The Genesis Vision Platform allows Managers to reallocate up to 3% of their portfolio every day. This is cumulative so you can make up to 30% of changes after 10 days.
How I manage my Funds
My first Fund was conceived at the beginning of February this year so I am a grizzled and hardened Fund Manager of some 6 months or so. I spend most of my day watching videos and reading about cryptocurrencies and researching new developments. Then every few days or so I look at my Funds and decide if I need to make any tweaks to them.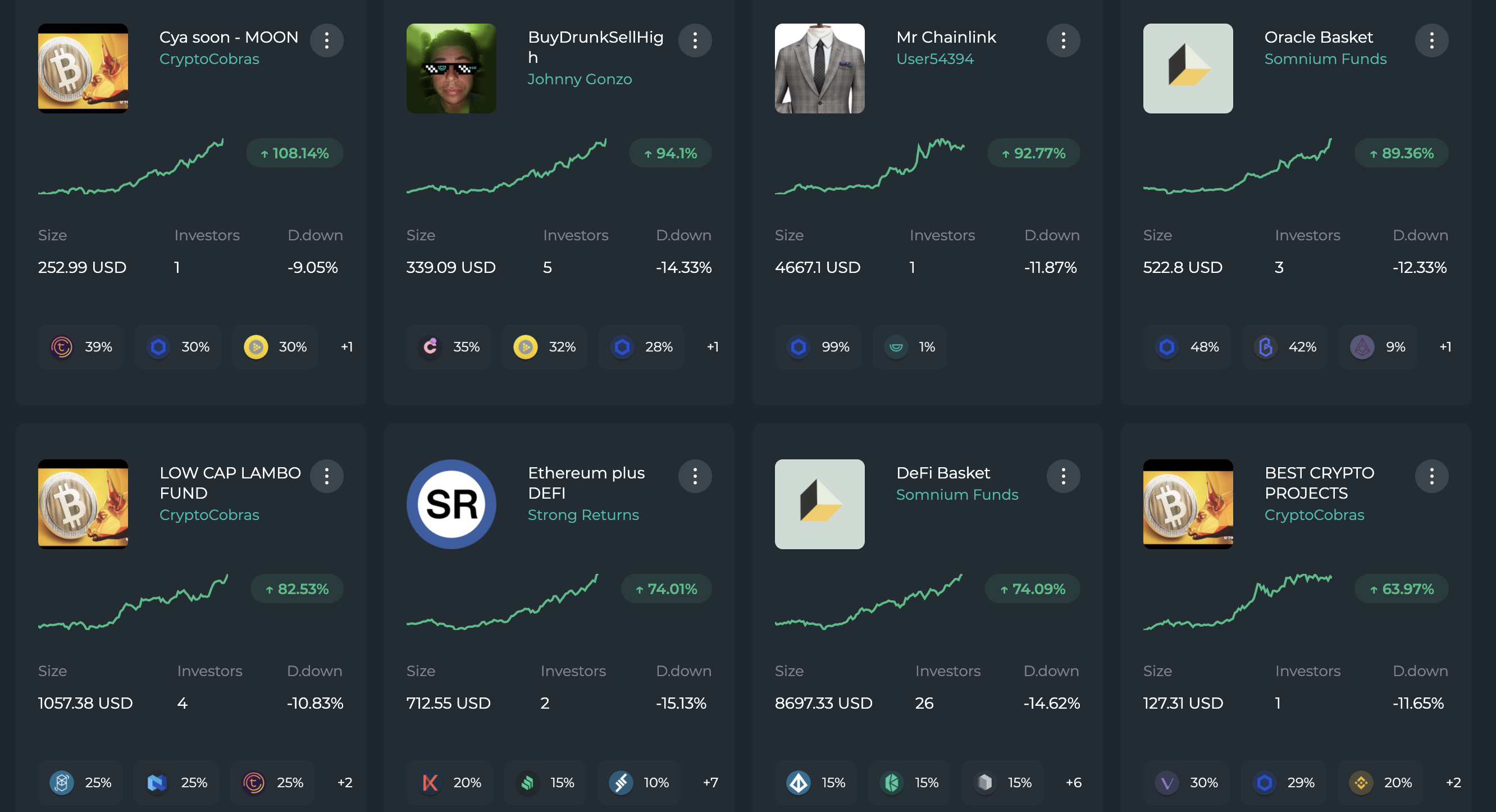 Obviously, tweaking them all the time can be counter-productive because often you just need to wait for your picks to make the maximum gains over their own particular price cycle. Certain niches within cryptocurrencies become 'hot' from time to time so it is important to gain some exposure to them at the right time. Decentralised Finance, a real hot trend currently, is a very good example of this.
At the time of writing this, I have 4 Funds. The top 3 are in 6th, 9th, and 12th places respectively in the top-earning Funds for the month. They have made 73%, 63%, and 60% respectively so far this month. My other Fund is in a lowly 42nd position of around 200 Funds. This fund is currently returning 28% — not too shabby considering your bank might give you up to 0.01% on your money!
The potential
When you consider, most hedge funds are even struggling to stay in the black in these uncertain financial times. Also, how much in fees would they charge their investors? Most also tie their investors in for a particular amount of time. You then have to pay a large fund withdrawal fee to get out.
Now, I would caution that while cryptocurrency is really taking off at the present moment, all must bear in mind that the potential wrecking ball of Bitcoin can throw a spanner into the works, quite possibly in the very near future. If this happens then every GV Fund Manager will have to make changes to their portfolios in order to minimise losses. Those who are on the ball and can hedge into stable coins or such will be able to protect their investors far better.
After investing in GV Funds and more recently becoming a GV Fund Manager, I have come to the conclusion that this particular facet of the Genesis Vision Platform has the most wonderful potential. For instance, if you wanted exposure to a basket of Defi cryptos then you could find a few managers on the platform who are following that exact strategy.
However, as I said, the most exciting and rewarding thing is to actually be a Fund Manager yourself. This isn't for everyone and I would certainly advise newbies to the crypto scene to go away and get themselves a thorough education on technicals, fundamentals and just gather a wide knowledge of this space.
If you are a relatively experienced trader or you do have a lot of knowledge in the Cryptosphere then why not put this to good use and become a Genesis Vision Fund Manager? The top managers since the launch of the GV platform have over-performed to an absolutely ridiculous level!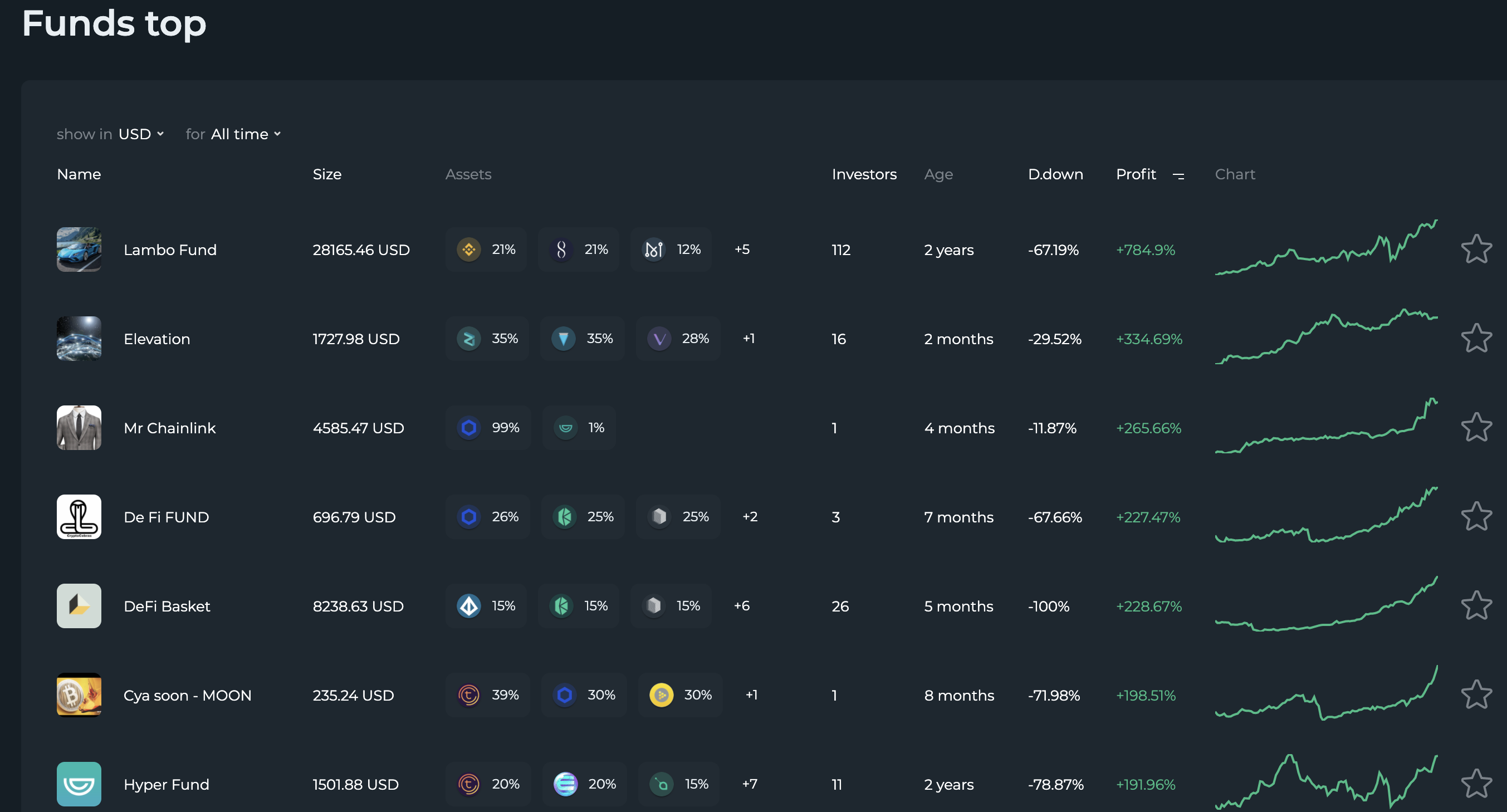 For example, the Lambo Fund has been operating for 2 years now and has racked up no less than 785% gains for its investors! Defi Basket is in 4th position with 230% in only 5 months and Elevation is in 2nd position with 334% after only 2 months!
If you've played Fantasy Football and you have an excellent knowledge of crypto as a trader or investor then the Genesis Vision Fund Manager Platform is for you. The financial world is being turned on its head as traditional financial investment platforms such as hedge funds are being out-gunned by successful and motivated individuals who are putting them in the shade.
The opportunities and possibilities are out there. Those who think ahead and think big will take advantage of them. Will this be you?
Disclaimer: I am not a financial advisor and therefore do not seek to give financial advice — I am only giving my personal opinions. Those who seek to invest in the Genesis Vision Platform — whether as investors or Fund Managers should properly research the suitability for doing so.