Table of Contents
In an unstable market, futures (especially Bitcoin) are one of the most popular tools for earning money without leaving your home. They have a number of advantages and with a well-built strategy are considered to be low-risk compared to other trading instruments.
Among the underlying assets that futures can be based on are fiat currencies, indexes, stocks, debt instruments issued by governments, precious metals, oil and other commodities or cryptocurrencies. Beyond each of the assets above, there are 2 types of contracts to be settled: physical, backed by an asset that is physically delivered to the futures buyer; and cash settlement standing for trading cash-based contracts according to the market performance of the underlying asset.
Bitcoin futures allow investors to access bitcoins without having to own the cryptocurrency itself. Like a commodity or stock index futures contract, Bitcoin futures allow market players to speculate on the future price of an asset.
Undeniable Advantages Of Bitcoin Futures
Trading bitcoin futures has several advantages: contracts are sold on an exchange regulated by the Commodity Futures Trading Commission, which possibly can give large institutional investors some confidence in participation. While Bitcoin remains unregulated, Bitcoin futures are traded on regulated exchanges - this factor also contributes to the increased involvement of financial market participants in the cryptocurrency industry); Futures are settled in cash, so investors do not need a digital wallet in some cases. One more consequence is the opportunity to speculate on the Bitcoin price even in areas where trading Bitcoin is banned.
An increasing number of exchanges are introducing the ability to trade futures contracts. Such trading differs from the usual marginal in a number of conditions, the main ones being leverage management, expiration date and specification.

Moreover, the futures can be quite unusual, that is, not just cryptocurrency futures, but its various variations for more experienced traders. Examples of such futures can be viewed on the FTX exchange that offers innovative products including industry-first derivatives, options, volatility products and leveraged tokens. For instance, there are futures that Bitcoin will rise/fall. There are even futures for the popularity of various famous people like Trump.
Another example is a new tool of the Binance exchange - quarterly Bitcoin futures. The first futures from this category are already presented on the Binance Futures derivative platform under the name "BTCUSD Quarterly 0925". The expiration date is the last Friday of every three-month period.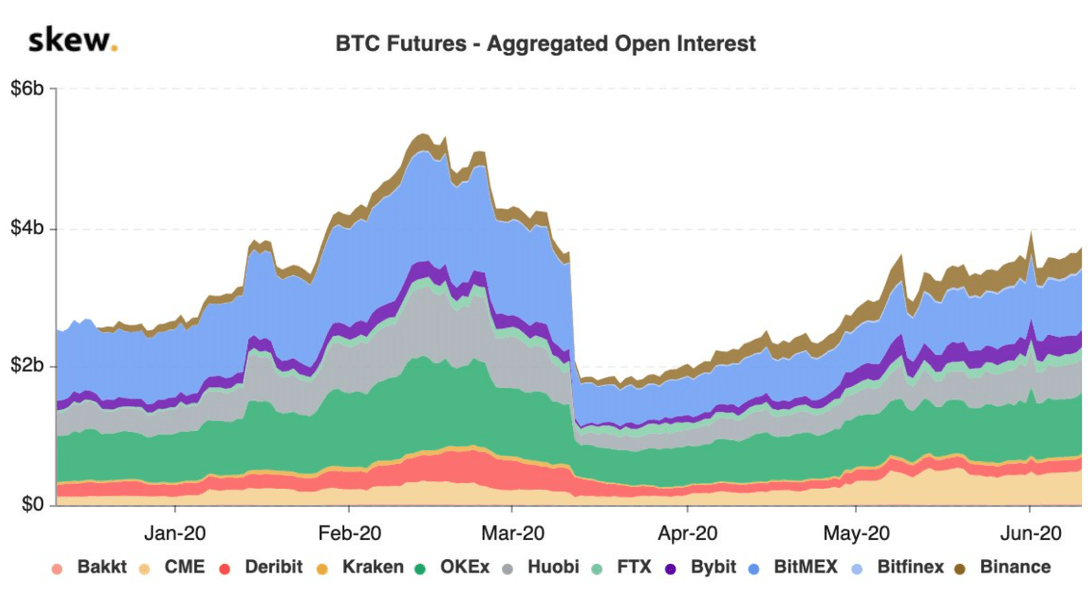 Source: Skew
According to the crypto analytical firm Skew.com stats, at the moment Bitcoin futures are at the pre-crash level: "It took three months for bitcoin futures open interest to retake its pre-crash level," the researchers noted on June 11, 2020. The maximum daily trading volume of $45 billion was achieved in the middle of March and at the moment this figure is ranging between $15 billion and $20 billion. These are indicators of only Bitcoin futures, at the same time there is a demand and supply for other crypto futures.
The Most Important Points In Futures Trading
When choosing an exchange, traders consider its fees (a deposit fee, a withdrawal fee, and a commission or brokerage fee) and payment methods, the range of available assets and features.
Among the main features of trading is leverage that allows traders to potentially realize a big return on their holding without the need of making an equal deposit upfront. With the possibility of a big return, the risk of carrying big losses comes along. The maximum leverage applicable varies depending on the issuing platform: For instance, CME has a 3.33x leverage, BitMex supports up to 100x leverage, and OKEx has a 20x leverage. Cryptology exchange, as well as BitMex, supports up to 100x leverage and sets a minimum deposit limit of $ 25, so traders can buy or trade contracts worth $ 2,500 with a deposit of only $ 25.
One more feature is hedging. It provides traders with an opportunity of taking out contracts opposite to the current position: it's possible to bet on a big price increase/decrease and then hedge risks by taking out a new bet for a price decrease/increase in the same timeframe.
It's worth noting that entering Bitcoin futures makes sense in long-term trading rather than day trading. When choosing the type of Bitcoin futures contract to enter, traders usually look at the cryptocurrency supply and demand dynamic, upcoming events such as fork, changes in regulation, worldwide crypto conference and so on.
New Futures Trends
Cryptocurrency futures are much more diverse than just Bitcoin futures offered by CME. For instance, Deribit offers ETH futures as well. Bitcoin Cash and EOS are offered by OKEx. The variety of crypto futures is increasing every day. So, recently, a European cryptocurrency exchange with deposit fee-free for futures and simple trading interface for trading several futures on one screen, Cryptology immediately launched 9 futures contracts for cryptocurrencies from the top20 among which are BTC, ETH, BCH, XRP, EOS, LTC, TRX, XLM and ZEC. There are perpetual futures contracts for all of the above assets whose validity does not expire on any date: the contract holder can hold the position for as long as he wants.
Everything goes to the fact that futures contracts for the most popular cryptocurrencies will be offered in the near future. The more likely scenario is that the strongest altcoins might follow in the footsteps of Bitcoin and become tradeable as futures once interest from investors become strong enough.