The smart cities of the future will need to exist in harmony with our environment. Cities that do not pay meaningful heed to the quality of air that we breathe, and other factors, as regards dust particles, humidity, CO2-levels, and temperature, are not going to be ideal places to live in.
IBM has developed the technology to make the measurement of pollutants and other environmental elements a reality. Their sensors will be placed across cities in order to gather this information. Blockchain will also be used to verify the data and the Dutch blockchain company V-ID will be working in tandem with IBM to guarantee the integrity of the data, thereby ensuring that there is no commercial influence and that the data has not been tampered with in any way.
What is the Internet of Environments?
The IBM Think Digital Summit takes place on the 12th of June. Among other technologies in this conference, IBM will demonstrate its vision for the smart cities of the future and how it plans to make the Internet of Environments a central focus in order to make these cities comfortable and safe places to live in.
The Internet of Environments is also very much to do with agriculture and animal protection. Sensors can detect changes in the environment that affect crops, livestock, and protected species. It's about making efficiencies in how much water is used, regulating temperature, and avoiding waste.
In the same way, these parallels exist in our cities. A constant drive for energy efficiency is the only way we are going to achieve the balance needed to exist in harmony with our environment. A network of sensors in and outside of buildings across cities can provide a plethora of data on pollution and energy usage and enable it to be analysed and therefore facilitate efficiencies.
Process and technology
The process starts with the placement of sensors at all the participating entities. The data from the sensors is then gathered and sent to the IBM Cloud. As an example, here is an explanation of the process behind measuring air quality data.
In the IBM Cloud, a service called 'Cloud Foundry application' has been developed. This is a 'node-red' application providing an endpoint that sensors can connect to. From here the data is sent to several other points such as the 'asset monitor application' where it is stored and analysed.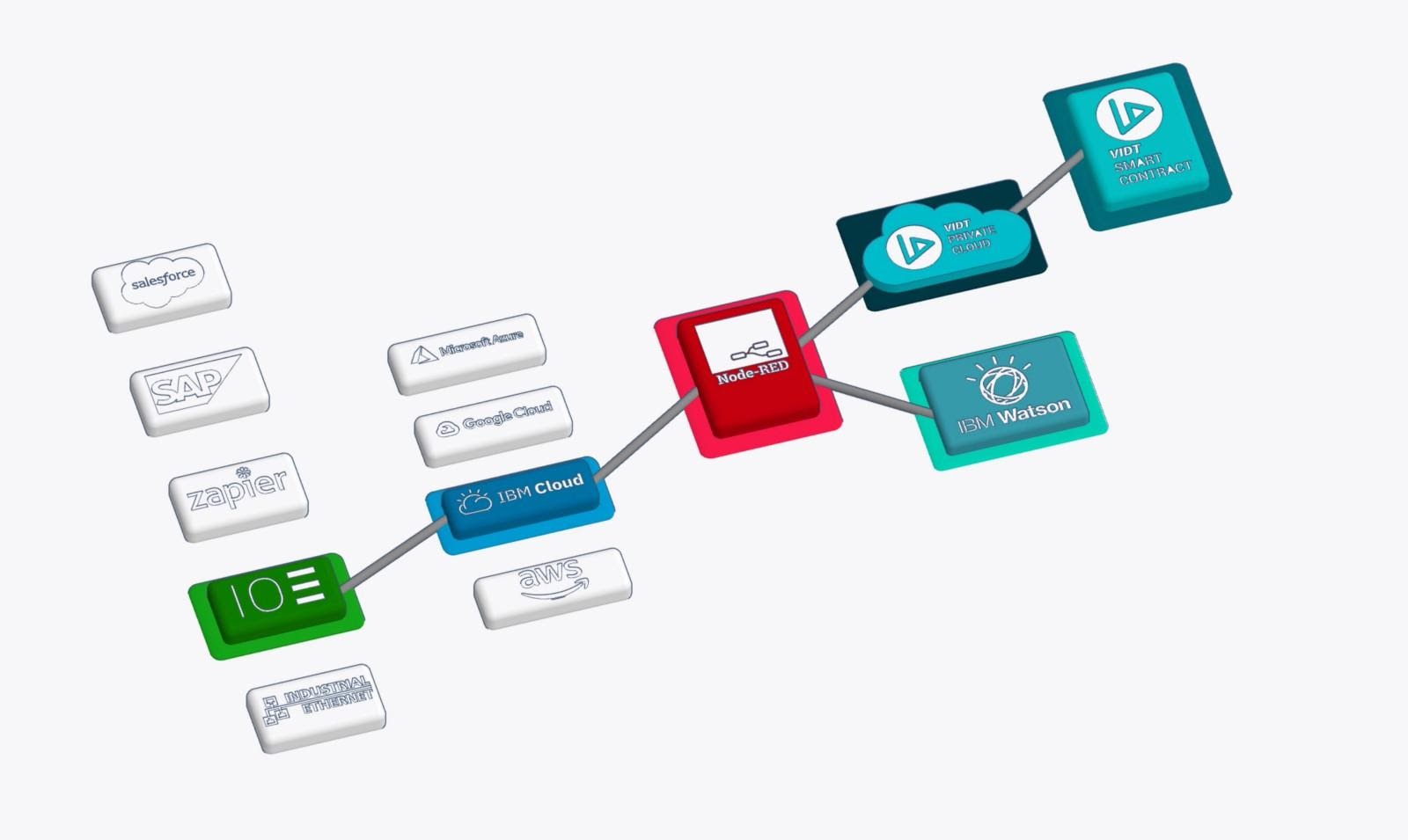 The asset monitor application enables us to see each connected device. Data from each device appears in the form of graphs that present trends in an easily understandable form. For example, one particular sensor currently gives 4 analytical read-outs on types of fine dust, plus humidity and temperature levels.
As the data is received by the node-red application it is also compiled and sent to the IBM Watson supercomputer where predictive analysis takes place and reports are generated.
The data is also sent to the V-ID Cloud where it can be anchored on several blockchains including IBM Hyperledger. The VIDT smart contract proves that this data is the original that was sent from the sensor. In addition, any further verification can be obtained by the use of the V-ID online Verification Terminal, which provides this verification in a matter of seconds.
Potential for future growth
Even while the Internet of Environments is in such a nascent stage, it can be seen that IBM has the vision, clout, and technological resources to make this a reality. An initial sensor has already been placed on the roof of the IBM headquarters in the Netherlands and the data it collects is already being assessed and its authenticity is being verified by IBM's chosen blockchain partner V-ID.
Once the IBM publicity machine cranks into gear, many other companies and government institutions would look to follow. As the rollout of thousands of further sensors begins, the potential for additional investment and growth can only be imagined.
V-ID - a trusted player making its mark on the blockchain scene
With a market cap a shade under $5 million V-ID has a long upward growth curve stretching ahead of it. It already has huge clients such as IBM, Airbus Defence and Space, and Amspec together with a host of other companies paying for services, plus further clients in the pipeline.
Only recently V-ID added two more clients to the fold. SoftTech Automation will be working with V-ID to guarantee the authenticity of published information. In addition, Trivire, a Dutch housing corporation, will be using V-ID technology to protect and authenticate all their data and documentation.
Not every sector or business is entirely appropriate for blockchain but V-ID has certainly proved a compelling use case. Completely trustless verification of data and certification is an absolute necessity in just about every single business where data is used and certificates are issued. Endless use cases are just awaiting discovery therefore once V-ID is able to expand its team and ramp up its operations the future should be rosy indeed.