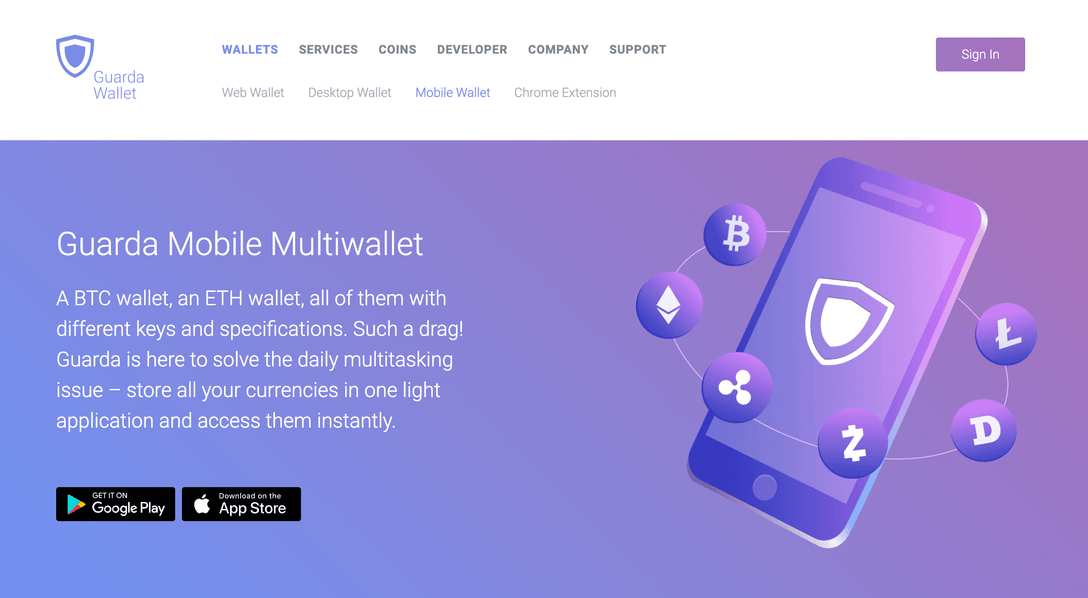 Top crypto wallet Guarda has now made available the beta version of redesigned mobile apps, bringing a slew of exciting new features to crypto users.
Guarda Wallet is a non-custodial, multi-currency wallet that supports 45 blockchains and over 10.000 tokens based on standards, including ERC-20, ERC-721, BEP-2, TRC10, TRC20, WAVES, OMNI, and EOS. Considering its wide range of supported assets, it is the best wallet for ERC20 tokens and other coins, allowing for easy asset management from one place.
Guarda has so far developed applications for different operating systems and devices. The wallet can be accessed via web browser, installed as a Chrome extension, used on desktop operating systems (MacOS, Windows, Linux), and it is also compatible with IOS and Android devices.
Exchange and Fiat Gateway
The functionalities of Guarda are not limited only to storage solutions, as it features a built-in trading option that allows users to exchange cryptos between them. They can also buy crypto directly from within their wallet by using their Mastercard or Visa bank card. Moreover, users can buy, sell, or trade Bitcoin, Ethereum, and many others without ever leaving their wallets.

Mobile Wallet Properties
Private ZEC Transactions
Guarda's Private Zcash Wallet mobile app for Zcash now supports the generation of private Zcash transactions. As Zcash has two types of addresses, private and public, Guarda, in collaboration with the Zcash Foundation, has created a lightweight, non-custodial Shielded Wallet specifically for ZEC to support both t and z-addresses.
Easy Cross-Platform Synchronization
Whether you have a mobile or a desktop wallet, all versions can be synchronized between each other. This allows you to access all your funds and manage them regardless of the app or device you are using.
Ledger Compatibility
From Guarda's interface, you can easily connect to your Ledger wallet, import your accounts, and manage the crypto funds stored in the hardware wallet. You can still get the security of an offline wallet, but also have the flexibility to manage and make trades via Guarda.
Multisig Functionality
Another recent implementation includes the addition of Multisig functionality for BTC, making it the first multi-currency wallet to have this feature. This is why Guarda is the top wallet for BTC.
Staking Functionality
The wallet also includes staking functionality for a number of assets, including Callisto, Tezos, Komodo, Cosmos, Tron and EOS (stake CPU and NET). Not many multi-crypto wallets support staking, but Guarda makes things convenient for crypto owners, as they do not have to own multiple separate wallets to be able to stake their favorite cryptos.
Create Your Own ERC20 Token
Customers are able to issue their own ERC-20 tokens through the wallet's Token generator service, which will be supported in the mobile wallet.
Easy to Memorize Addresses
As the wallet features Unstoppable Domains, FIO protocol, and ENS integration, it is able to support human-readable addresses. Instead of trying to memorize long strings of numbers, wallet owners can use names (like in email addresses), which makes it much easier to remember.
The New Implementations
Guarda Wallet is launching the beta version of its revamped iOS and Android mobile apps, adding new features that will better the process of wallet management and make things much more convenient for the user.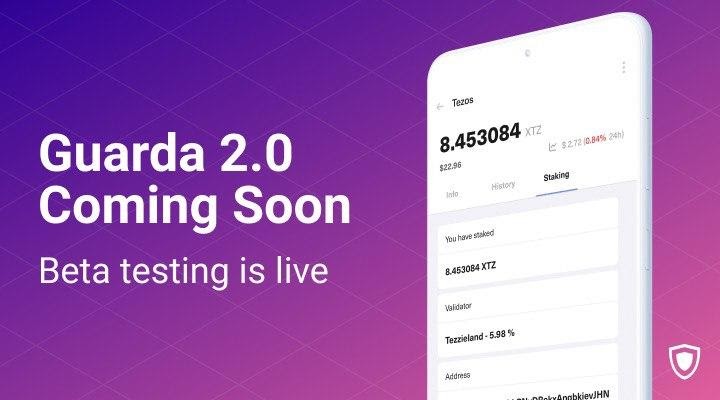 Here are some of the new features of the beta release:
Improved and clear graphics that allow users to view the cryptocurrency price and price changes.

Efficient filtering system that enables users to hide any wallet, such as those with zero balance.

A new sorting system for transactions, where you can filter the transaction either by its type, wallet, or currency.

Added search function that enables users to find a transaction in the transaction history via its hash.

Guarda has extended the list of fiat currencies with which users can buy crypto. The new added currencies are RUB Russian Ruble, AUD Australian Dollar, KRW Won, CHF Swiss Franc, CZK Czech Koruna, DKK Danish Krone, NOK Norwegian Krone, NZD New Zealand Dollar, PLN Polish Zloty, SEK Swedish Kronor, TRY Turkish Lira, ZAR South African Rand, HUF Hungarian Forint, ILS Israeli New Shekel, INR Indian Rupees, HKD Hong Kong Dollar, MYR Malaysian Ringgit, SGD Singapore Dollar, BGN Bulgarian Lev, BRL Brazilian Real, MXN Mexican Peso, AED Dirham, NGN Naira, TWD New Taiwan Dollar, MAD Moroccan Dirham, RON Romanian Leu, UAH Hryvnia.

There are now more fiat currencies against which users can estimate the price: USD US Dollar, EUR Euro, AED Dirham, AUD Australian Dollar, BGN Bulgarian Lev, BRL Brazilian Real, CAD Canadian Dollar, CHF Swiss Franc, CNY China Yuan, CZK Czech Koruna, DKK Danish Krone, GBP Pound Sterling, HKD Hong Kong Dollar, HKR Croatian Kuna, HUF Hungarian forint, IND Indonesian Rupiah, ILS Israeli New Shekel, INR Indian Rupees, ISK Icelandic Krona, JPY Japanese Yen, KRW South Korean won, MAD Moroccan Dirham, MXN Mexican peso, MYR Malaysian Ringgit, NOK Norwegian Krone, NGN Naira, NZD New Zealand Dollar, PHP Philippine Peso, PKR Philippine Peso, PKR Pakistan Rupee, PLN Polish Zloty, RON Romanian Leu, RUB Russian Ruble, SEK Swedish Kronor, SGD Singapore Dollar, TWD New Taiwan Dollar, THB Thai baht, TRY Turkish Lira, UAH Ukrainian Hryvnia, ZAR South African Rand.

Online chat support can now be contacted.

The added Masked balance tool can be turned off.

Tezos staking has also been implemented.

Users can claim Gas tokens from the NEO network.
Guarda is also hosting a bug bounty for developers willing to help improve the code by testing the new mobile app for bugs. Those who detect any vulnerabilities will be rewarded by the wallet for their efforts.
Important: Before you update the app to its latest version, you MUST download the backup file so that you do not lose access to your funds. If you do not save the backup before the upgrade, you will not be able to recover your stored cryptos.
The new Guarda 2.0 is eagerly awaiting for users to test out its new features!