"The Dash Investment Foundation's first gold buys were recently triggered on Vaultoro, which means that in a manner of speaking, the Dash cryptocurrency is now backed by gold!" - Amanda B. Johnson, Dash Investment Foundation Supervisor
The Dash Investment Foundation (DIF), the first ownerless and memberless investment fund in the world, recently purchased physical gold on the crypto to gold trading platform Vaultoro as part of the fund's Dash to gold rebalancing strategy.
What is the Dash Investment Foundation?
The Dash Investment Foundation (DIF) is an investment fund that was incorporated on March 21st, 2019 as a Cayman Islands foundation company limited by guarantee and is completely controlled by Dash's decentralized Masternode network. The foundation creates a bridge between the network protocol and the legacy of financial and legal systems. This opens new possibilities for the Dash network to invest and own equity from the funding available through the Dash networks decentralized self-funding and self-governing treasury system that is allocated 10% of Dash's block rewards.
Who Manages The Dash Investment Foundation?
The Dash Investment Foundation has two directors, six supervisors and one investment consultant. The directors run the day to day business of the foundation while organizational and operational decisions are bestowed upon the supervisors with analysis, strategy and research provided by the investment consultant. The Dash masternode operators elect six supervisors on an annual basis that oversee the foundation.
What Is The Dash To Gold Rebalancing Strategy?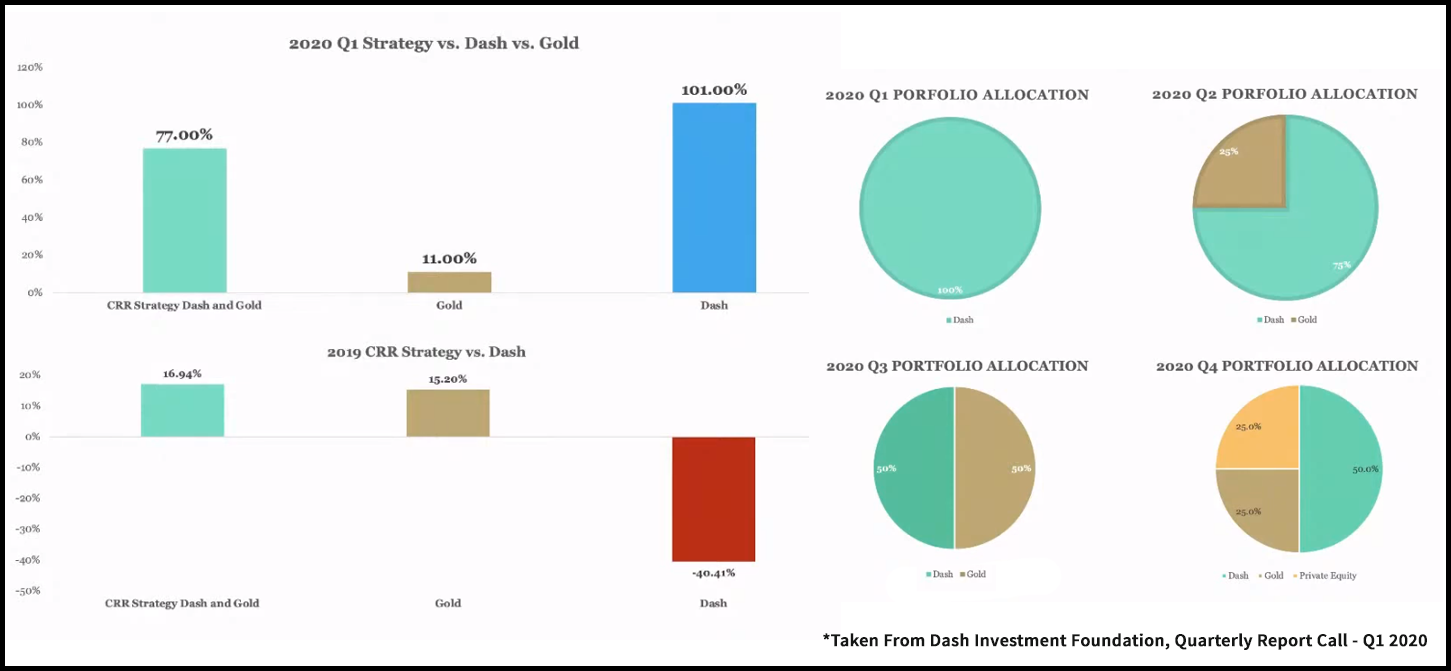 Source: Dash Investment Foundation
Dash Investment Foundation's investment consultant and Forbes 30 under 30 Demelza Hays from the Crypto Research Report devised the rebalancing strategy to explain how it works:
"The goal of the Dash Investment Foundation's strategy is to accumulate more Dash and more Gold by rebalancing between the two uncorrelated assets. The main idea is to sell Dash for Gold when Dash breaches 50% of the portfolio and to sell Gold for Dash when Dash falls below 10% of the portfolio. This ensures a countercyclical trading strategy that sells assets high and buys assets low. In addition to the passive rebalancing strategy, the foundation aims to actively invest in blockchain venture capital funds and startup equity."
The first buy order has been completed from the initial tranche of 6 buy orders on Vaultoro's platform. 75 Dash was sold in exchange for 120 grams of gold for an average price of 0.718 Dash per gram minus a 1.9% maker fee that Vaultoro charges. This is just the first gold trade for the long-term actively managed rebalancing strategy that uses buy and sell triggers. The Dash Investment Foundation's most recent monthly fund fact sheet dated 31st May, 2020 shows that the investment fund currently has $271,520 assets under management held in Dash.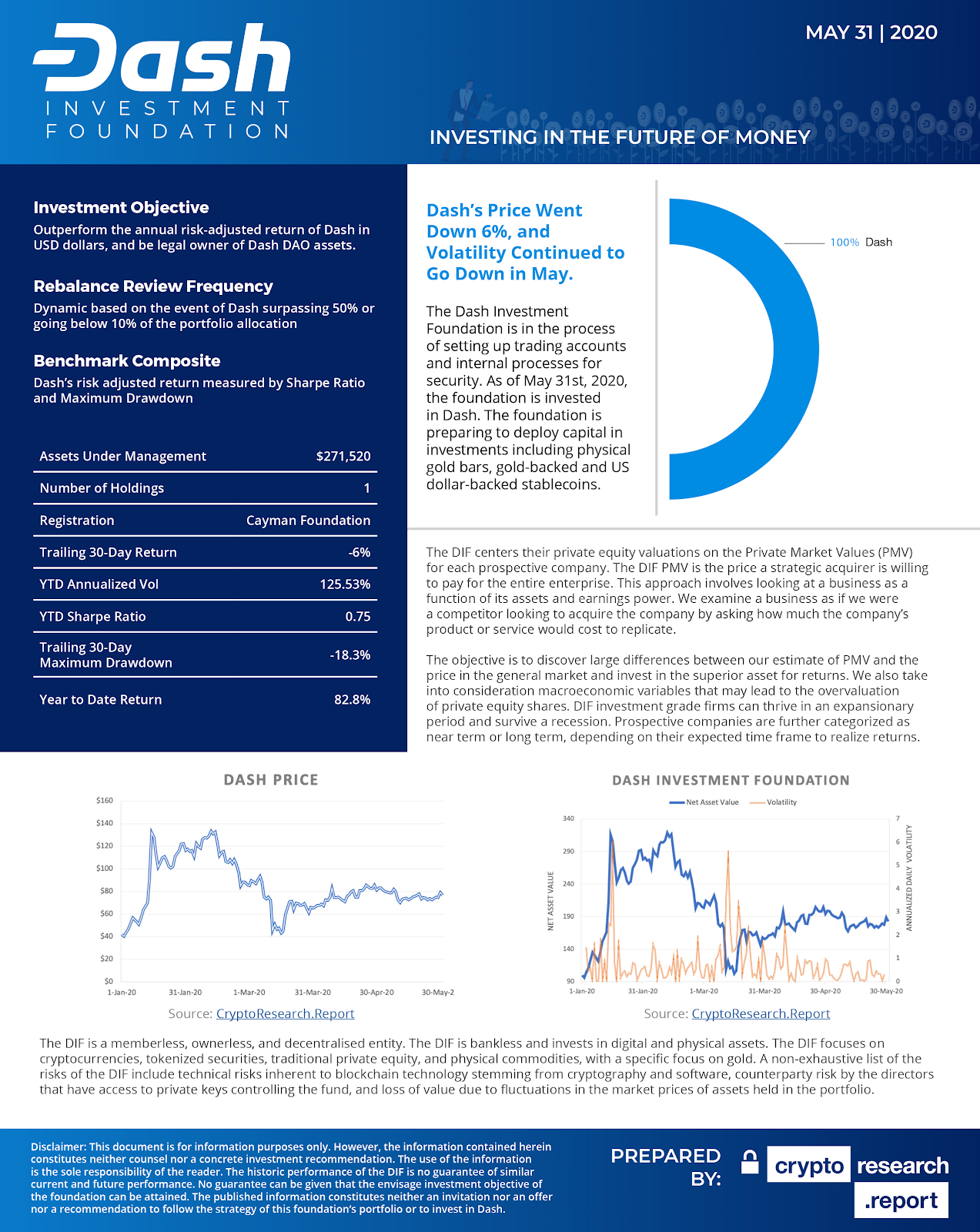 Source: Cryptoresearch.report
Mark Mason, Public Relations and Communications Manager for Dash shared his thoughts about the strategy and presented the following chart and statement:
"As a long-term precious metals and cryptocurrency advocate I agree and support the DIF's hedging and rebalancing strategy into hard assets rather than fiat currencies that are having their purchasing power destroyed by central bank economic stimulus. As Dash and Gold are uncorrelated assets it can present great swing trading opportunities if timed correctly to increase original holdings by moving between the two assets. The average number of Dash required to buy 1 ounce of gold between January 1st 2019 and today is 18.08. We are currently above the average at 21.60 Dash required to buy one ounce of gold, so if we assume mean reversion then the price of Dash should go up or the price of gold should come down. This strategy is part of a bigger vision that will allow the DIF to hedge and increase its assets under management giving the Dash DAO the ability to invest and take equity in projects that add value to the Dash ecosystem."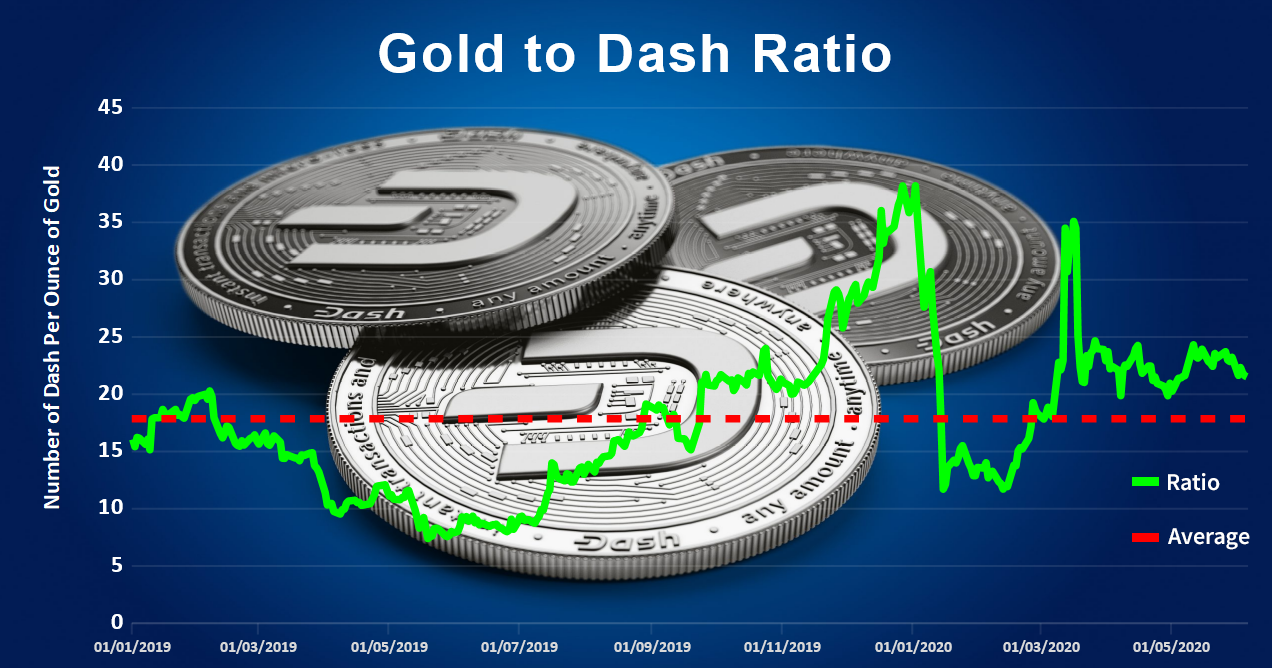 Source: Dash
Trading Dash For Gold On Vaultoro
Vaultoro is a venture capital-backed cryptocurrency exchange enabling people to trade between crypto and physical allocated gold bullion. Vaultoro supports crypto trading for Dash and Bitcoin. All gold is secured in top tier Swiss vaulting facilities. Since Vaultoro launched in 2015 they have traded over 100 million euros worth of physical gold making and is the largest gold retailer in the crypto industry claiming to have over 20,000 users across 95+ countries.
In a recent video interview, Vaultoro CEO Joshua Scigala commented about the Dash Investment Foundation's first gold purchase.
"I thought that was the perfect thing to do and now that the DIF is hedging a portion of its holdings in physical rare assets in physical gold that's been around for over 5,000 years, held value through thick and through thin, through every war in every nightmare that the human condition has thrown at Gold, it's come out through the other end holding value. This is why I think it's such a great thing to do for a blockchain project is to hold value in that as well as other things, but diversify that holding and then be able to invest in great projects in this space. While feeding all back into the Dash blockchain, project, and community."
Sound Money Meets New Money, The Economics of Scarcity
Both Dash and gold are scarce assets. One asset is physical, yet the other digital, yet both still champion the principles of sound money fundamentals. Gold has global historic and monetary significance as a store of value whereas Dash is a cryptocurrency solution that was founded in 2014 that is dedicated to borderless and permissionless payments. Dash currently has 9,533,029 coins in circulating supply with a max total supply capped at 18,900,000 which makes Dash more scarce than Bitcoin.
Gold Bugs And Cypherpunks Unite?
To be clear, this is an investment fund rebalancing strategy utilizing two assets priced in fiat currency. However, it is not only designed to grow the fund, it can also act as a reserve balance which up until this point is very uncommon for blockchain projects to date to incorporate gold excluding stablecoins. The Dash Investment Foundation is also unique in the respect that the fund is decentralized that is operating independently outside the realm of traditional banking and finance channels without the involvement of fiat currencies. This may serve as the perfect vehicle to pique the interest and curiosity of gold-bugs yearning to return to a gold-standard but are missing the key piece of the puzzle on how to enable payments in the modern digitally connected world. Dash enables borderless secure transactions with the instant settlement and its transaction fees cost less than a cent which makes Dash ideal for international payments and remittances and perfect for everyday purchases as digital cash.
A common trend shared amongst cryptocurrency and gold advocates is a mutual dislike for central banks, fiat currencies and the debt-based monetary system. Physical gold has stood the test of time for wealth preservation but in a borderless digital age isn't ideal or practical as a medium of exchange for cross-border payments or e-commerce. It could serve as a golden opportunity for gold advocates to form a holy-union bridging the gap to work in tandem with cryptographic payments. With Dash hedging and rebalancing into gold, it may help entice precious metal advocates who are yet to delve into the crypto sphere. Maybe this is the perfect marriage for those who wish to opt-out of traditional banking and legacy payment methods. It will be interesting to see how the gold community reacts to this news and rebalancing strategy.
A solution like the Dash Investment Foundation's gold rebalancing strategy may even be able to convince cryptocurrency skeptics like Peter Schiff.
Is Dash A Sleeping Giant?
This has the potential to be the beginning of something big. The Dash Investment Foundation is well suited to not only invest but acquire private equity on behalf of the Dash network and has the ability to invest in various funds such as gold funds, bonds and more. They have the structure and setup to start buying into blockchain startups and even the ability to acquire other cryptocurrency assets. They are open to business and currently reviewing investment pitch-decks. It seems the only limitation for the Dash Investment Foundation is that it is dependent on requesting funding from the Dash network via treasury proposals which comes from 10% of Dash block-rewards. So Dash's valuation and purchasing power will largely dictate the success and scale of the investment opportunities that the Dash Investment Foundation can undertake. They have to apply to the Dash network for funding on a monthly basis and it's up to the masternode operators to vote and approve funding proposals. If a cryptocurrency bull market was to take place and Dash was to return to its all-time high of $1,642.22 USD (Dec 20, 2017) the Dash Investment Foundation could become a real force to be reckoned with as that would result in Dash's monthly treasury cycle having over $5 million to be potentially allocated to investments.