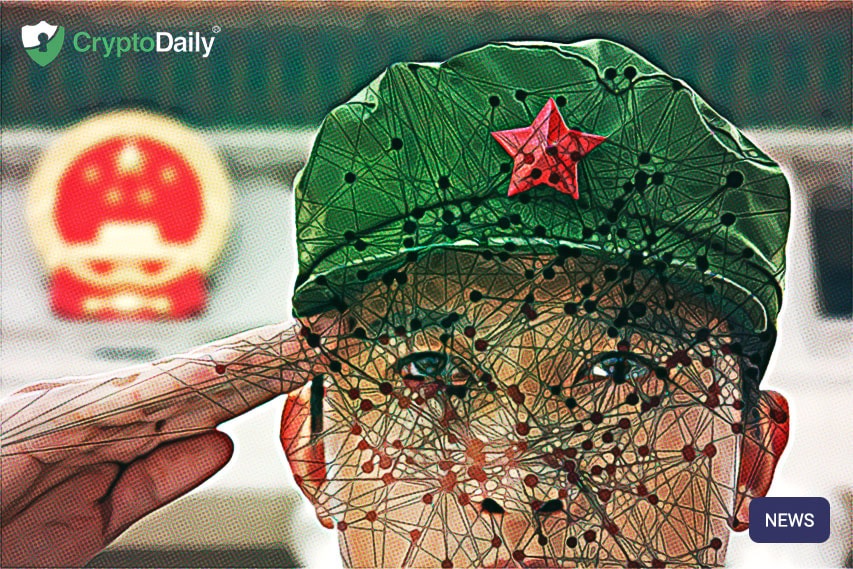 Increased tensions between President Trump and China over the coronavirus pandemic are threatening to complicate a recovery from the worst global economic downturn in decades.
Amid the coronavirus, the countries'relationship has hung over the market - In the past several months, US politicians proposed to delist Chinese companies from US stock exchanges with different criteria, and cap Americans' exposure to the Chinese market. On Friday, China is once again attempting to assert authority over Hong Kong, sparking another bout of protests from concerned HK citizens. This seems to signal that previously easing tensions between the US and China will begin growing again, potentially having implications for the recently passed trade deal and the economy as a whole.
Tensions are rising again between U.S. and China may confirm the safe haven status of BTC and push its price rising.
What to Expect for Bitcoin Price?
From the fundamental analysis:
In coincide with the bitcoin halving, lower supply with steady demand usually leads to higher price. The coming economic decoupling and a potential cold war between America and China, people are seeking a safe haven asset to preserve the valuation of their funds.
From the technical analysis:
In the 4-hour chart, we can see Bitcoin's price marching along the gradient of the ascending channel trendline by reaching higher lows. The price continues to meet resistance at the 20-day MA of the Bollinger Band indicator. In the MACD histogram has performed a uptrend movement. The RSI is also below the neutral zone (50), now hitting 45. In these situations, purchasing volume is the key signal to watch.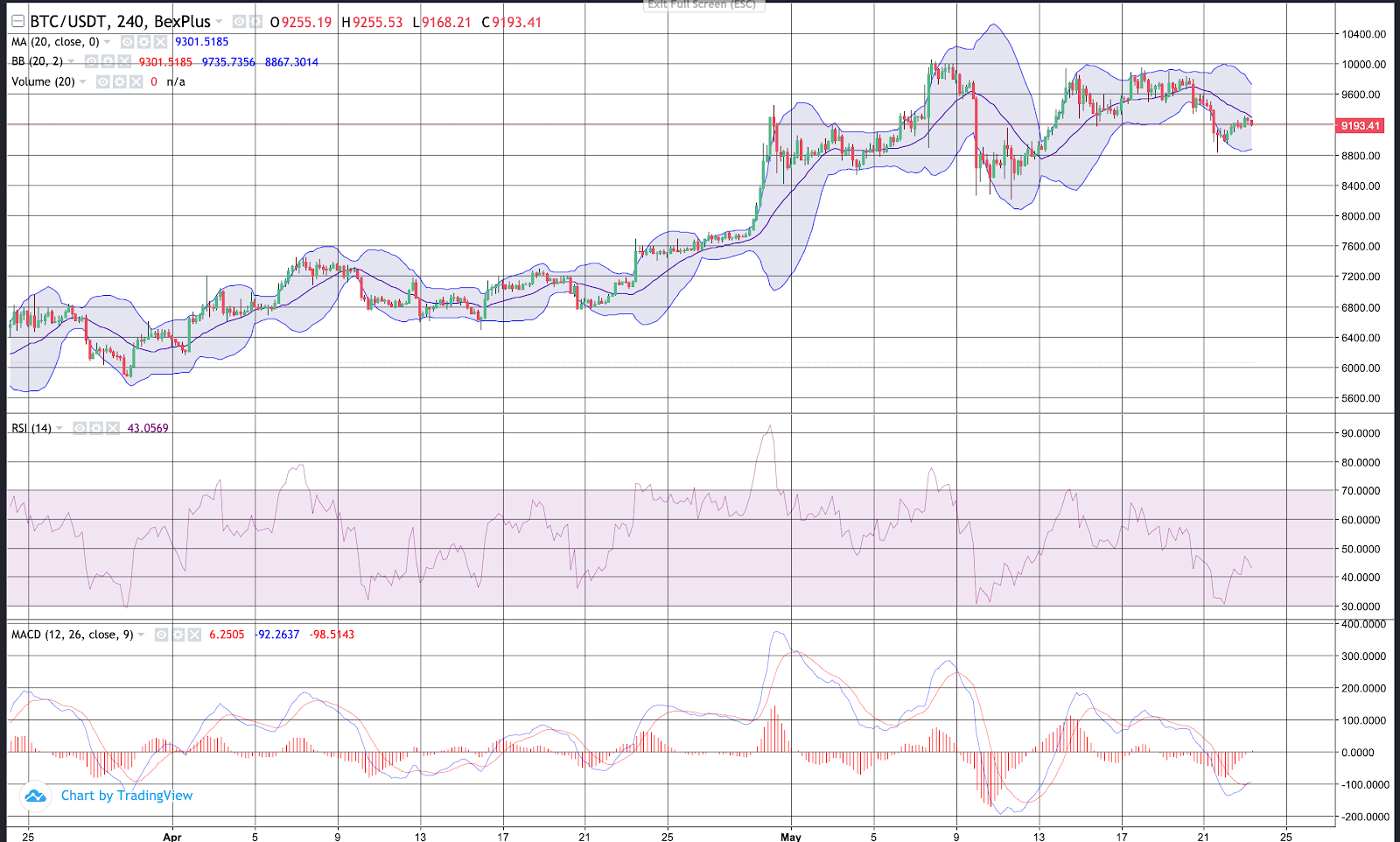 To conclude it, Bitcoin price may continue the consolidation movement between $9,000 and $9,900. It's suggested to place short positions at around $9,700 and long positions around $9,100.
Profit from Bitcoin Fluctuations with 100x Leverage Futures Trading
Bexplus is one of the most popular futures exchanges in cryptocurrency market. It provides a variety of trading pairs including BTC/USDT, ETH/USDT, EOS/USDT, LTC/USDT and XRP/USDT with 100x leverage. By using leverage, cryptocurrency traders can increase their exposure to price movements and turn what would otherwise be small gains when spot trading into extraordinary profits.
As an example, opening a position with an initial margin of 0.1 BTC with 100x leverage is essentially equivalent to controlling a position size of 10 BTC. If Bitcoin gains in value by 10 percent during this time period, you would have a profit of $10,000 — all while only risking your initial 0.1 BTC margin. Besides, it allows traders to short the market — allowing them to profit even when the market is down. With BTC being such volatile trading product, margin trading essentially provides much more opportunities to profit compared to one-directional BTC spot trade.
Note: If you deposit 1 BTC in your Bexplus account, you can get 100% deposit bonus reward. Up to 10 BTC is available to new registered users.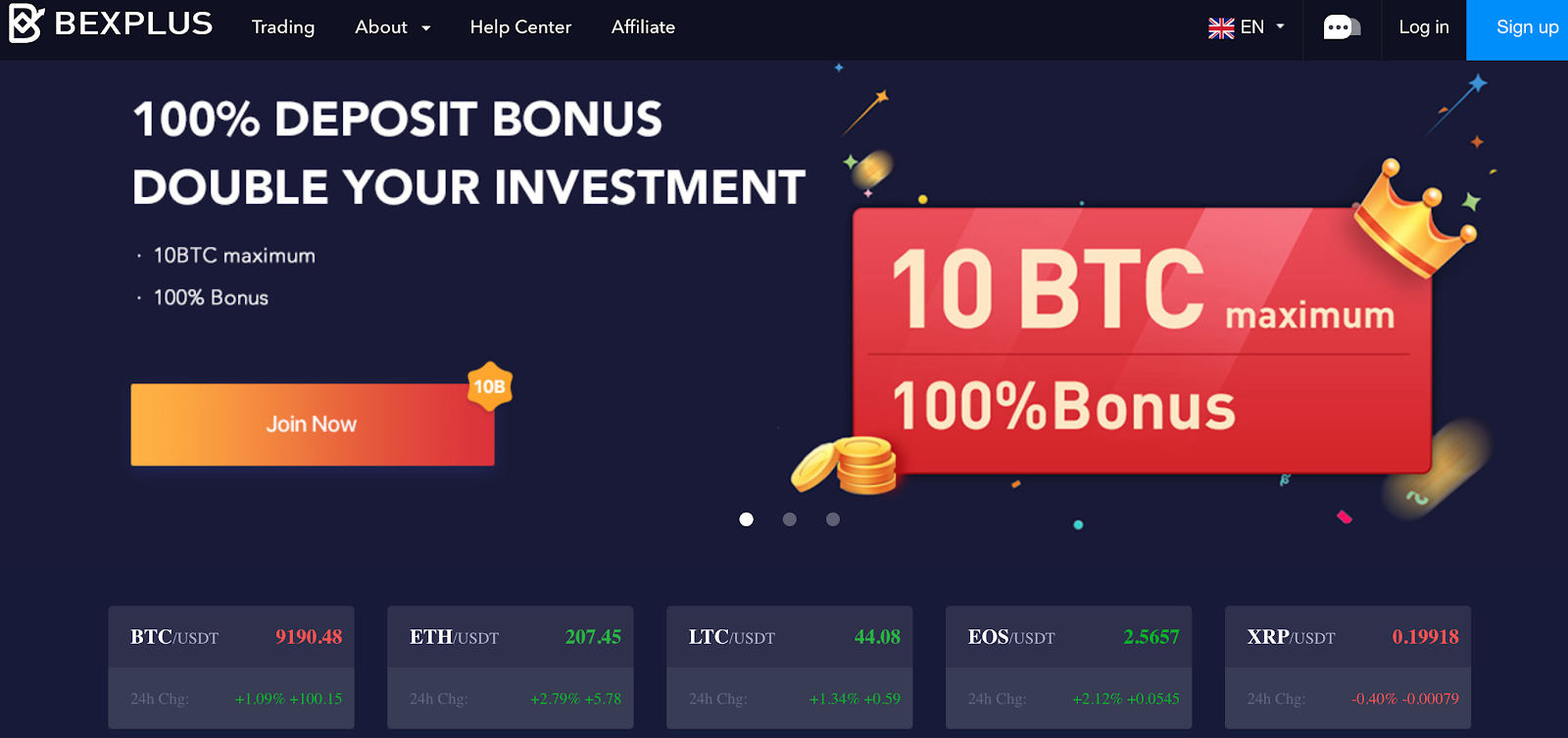 Come to join Bexplus now and make profits with 100x leverage BTC futures trading now!