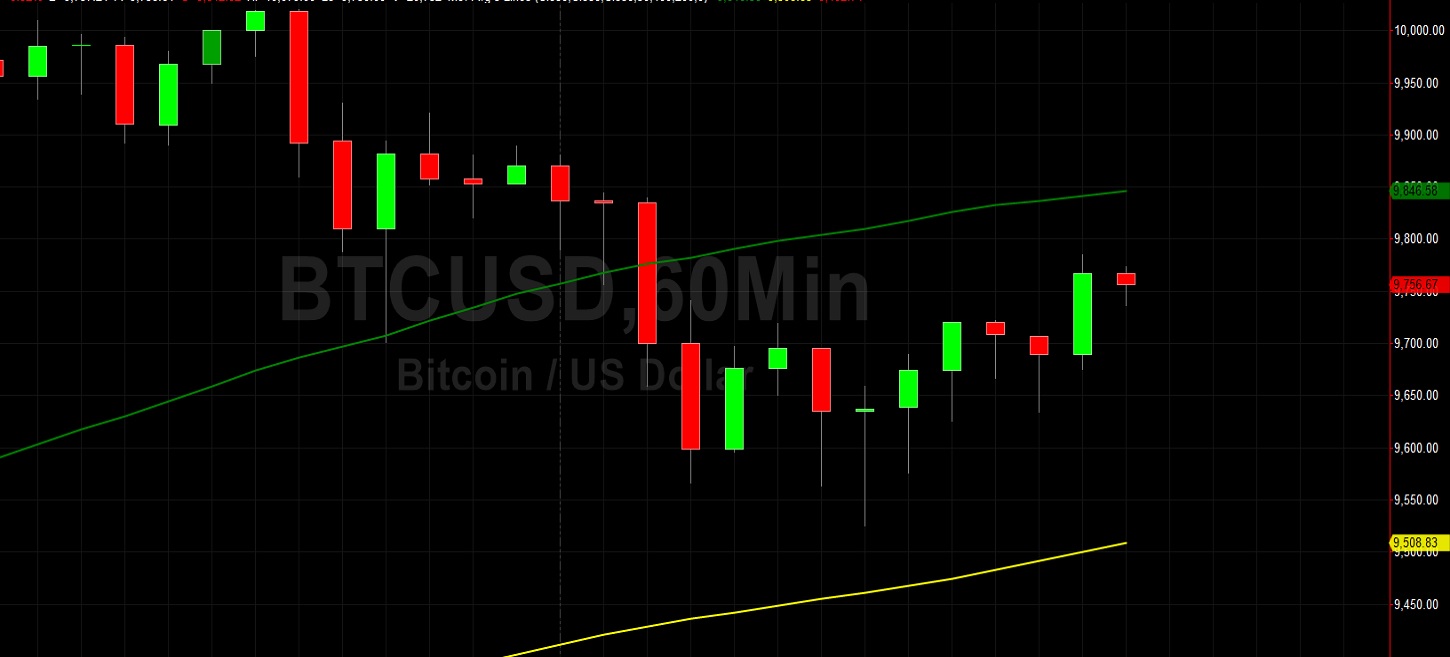 Bitcoin (BTC/USD) remained in consolidation mode early in today's Asian session after the pair came off to the 9525 level during yesterday's European session, its weakest level after trading as high as the 10079 area during last week's breach of the psychologically-important 10000 figure. Some Stops were elected below the 9575.05 level during the pair's depreciation, an upside price objective related to buying pressure that emerged around the 3858 area in March. Bids later emerged around this level during yesterday's North American session and propelled the pair higher. Traders are observing the recent depreciating range of 10079 to 9525 and some corresponding levels of retracement including the 9802.00, 9867.37, and 9948.26 levels. Chartists are curious to see if the pair can remain bid above the 9214.67 area, an important downside price objective related to selling pressure that originated around the 10522.51 area in February.
Large Stops were recently elected above several important levels including the 9362.24, 9214.67, 9082.20, 8763.40, 8405.58, 8162.36, 7832.92, and 7751.67 areas, and traders will closely monitor these levels when they are tested again. If BTC/USD is able to resume its upward trajectory, traders will closely monitor additional upside price objectives around the 10316.39 and 10661.23 levels. When BTC/USD pulls back from current price activity, traders will pay close attention to some additional areas of potential technical support, including the 8324.00, 7967.33, 7610.66, 7423.22, and 7169.35 levels. Chartists are observing that the 50-bar MA (4-hourly) continues to bullishly indicate above the 100-bar MA (4-hourly) and 200-bar MA (4-hourly). Also, the 50-bar MA (hourly) continues to bullishly indicate above the 100-bar MA (hourly) and 200-bar MA (hourly).
Price activity is nearest the 50-bar MA (4-hourly) at 9199.86 and the 50-bar MA (Hourly) at 9841.94.
Technical Support is expected around 9362.24/ 9082.20/ 8324.00 with Stops expected below.
Technical Resistance is expected around 10316.39/ 10661.23/ 11341.05 with Stops expected above.
On 4-Hourly chart, SlowK is Bearishly below SlowD while MACD is Bearishly below MACDAverage.
On 60-minute chart, SlowK is Bullishly above SlowD while MACD is Bullishly above MACDAverage.