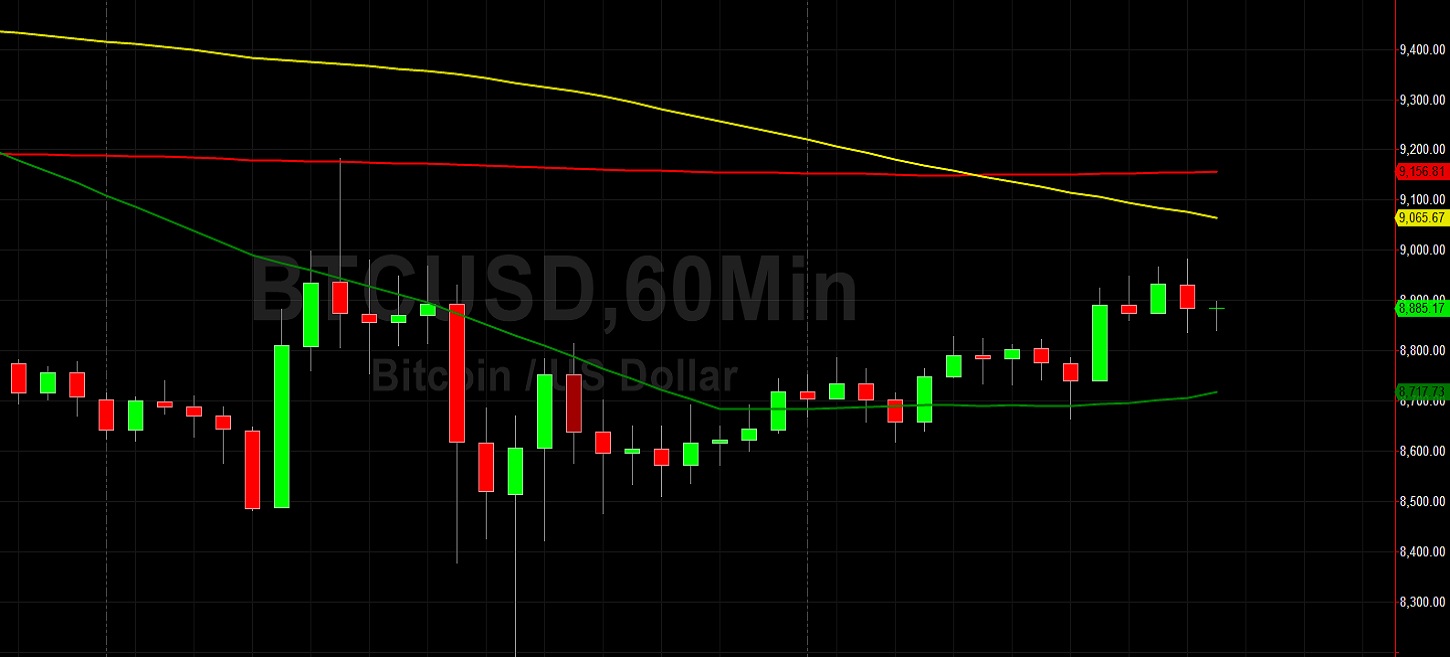 Bitcoin (BTC/USD) continued its movements around the 9000 figure early in today's Asian session after traders elected Stops above the 8860.12 level during yesterday's North American session, a level that represents the 38.2% retracement of the recent depreciation from 10079 to 8106.70. The market steadily climbed higher to the 8982.90 area, and traders await indications as to whether or not BTC/USD has the energy to test upside retracement levels related to the depreciating range, including the 9092.85, 9325.58, and 9613.54 areas. During Monday's North American session, the pair quickly fell to the 8185.00 area, not too far above the 8106.70 area that the market rapidly depreciated to over the weekend. Several Stops were elected during the sharp move lower, including below retracement levels that include the 9223.97, 8695.01, and 8267.50 levels. Additional Stops were triggered below downside price objectives related to the 10079 selling pressure, and these levels include the 9854.42, 8896.80, 8388.32, and 8201.29 levels.
Following the sharp move, longer-term BTC/USD bears are eyeing the 5165.19 area as a downside price objective. Another downside price objective that has become technically significant as a result of the pullback is the 6068.39 level. During the pair's retracement higher, traders will pay close attention to see how the pair reacts around additional key levels including the 9082.20, 9214.67, 9362.24, 9575.05, 9802.00, 9867.37, and 9948.26 levels, areas where Stops were recently elected. Below current market activity, traders will be monitoring the 7967.33, 7610.66, 7423.22, and 7169.35 levels. Chartists are observing that the 50-bar MA (4-hourly) continues to bullishly indicate above the 100-bar MA (4-hourly) and 200-bar MA (4-hourly). Also, the 50-bar MA (hourly) has bearishly crossed below the 100-bar MA (hourly) and continues to indicate above the 200-bar MA (hourly).
Price activity is nearest the 100-bar MA (4-hourly) at 8704.64 and the 50-bar MA (Hourly) at 8898.58.
Technical Support is expected around 7939.99/ 7311.03/ 6456.00 with Stops expected below.
Technical Resistance is expected around 9223.97/ 9575.05/ 9750.91 with Stops expected above.
On 4-Hourly chart, SlowK is Bullishly above SlowD while MACD is Bullishly above MACDAverage.
On 60-minute chart, SlowK is Bearishly below SlowD while MACD is Bullishly above MACDAverage.