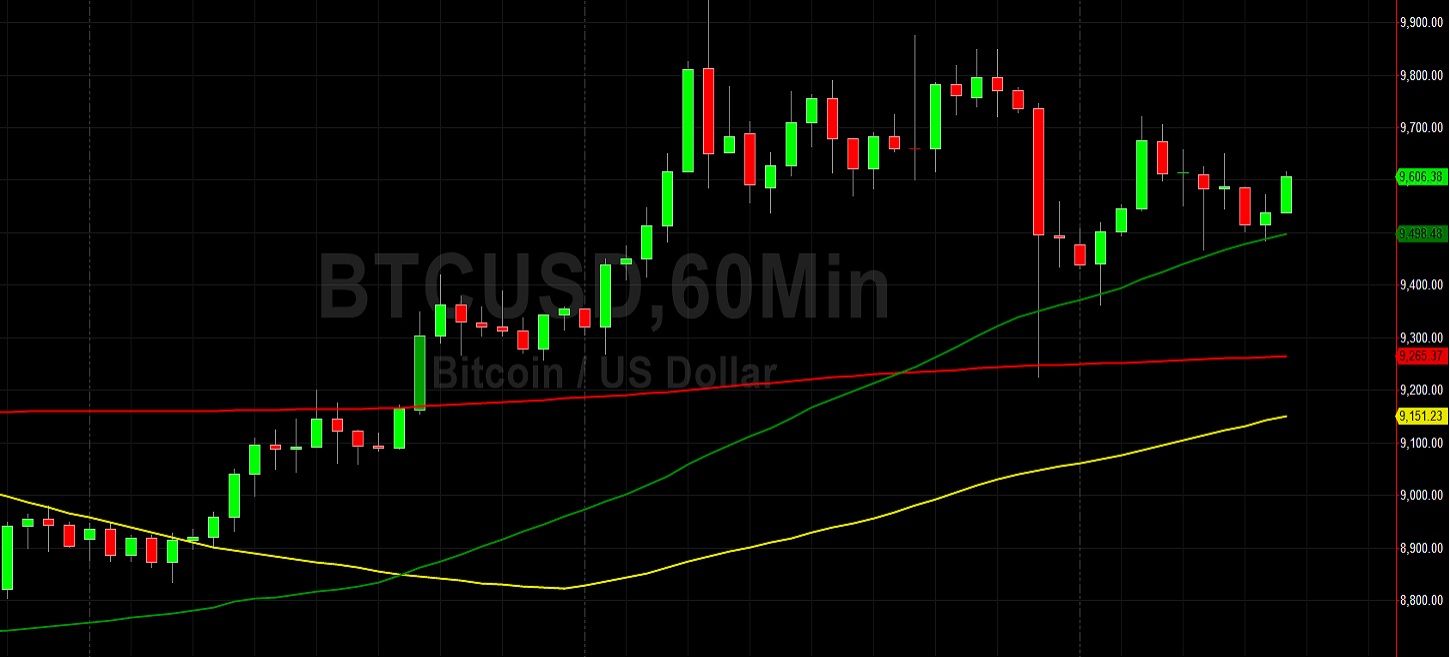 Bitcoin (BTC/USD) remained on the defensive early in today's Asian session as the pair continued to drift further away from the psychologically-important 10000 figure after the pair ran into headwinds around the 9875.00 area during yesterday's Asian session. Traders pushed the pair as low as the 9226.08 area during yesterday's Asian session, just above the 9223.97 area that represents the 23.6% retracement of the recent appreciation from 6456.00 to 10079.00. Thereafter, BTC/USD was bid around the 9363.22 area during the European session, just above the 9362.24 area that represents an upside price objective related to buying pressure that emerged around the 3858 level in March. Above recent trading activity, the pair's next such upside price objective is the 9982.41 area, and additional upside targets include the 10316.39 and 10661.23 areas. Several Stops were elected during last weekend's sharp move lower, including below retracement levels that include the 9223.97, 8695.01, and 8267.50 levels.
Stops were triggered last week below downside price objectives related to the recent 10079 selling pressure, and these levels include the 9854.42, 8896.80, 8388.32, and 8201.29 levels. Traders will continue to pay very close attention to these levels when price activity tests them. Following the sharp move lower, longer-term BTC/USD bears are eyeing the 5165.19 area as a downside price objective. Another downside price objective that has become technically significant as a result of the pullback is the 6068.39 level. Below current market activity, traders will be monitoring the 7967.33, 7610.66, 7423.22, and 7169.35 levels. Chartists are observing that the 50-bar MA (4-hourly) continues to bullishly indicate above the 100-bar MA (4-hourly) and 200-bar MA (4-hourly). Also, the 50-bar MA (hourly) is bullishly indicating above the 100-bar MA (hourly) and 200-bar MA (hourly).
Price activity is nearest the 100-bar MA (4-hourly) at 9073.21 and the 50-bar MA (Hourly) at 9498.48.
Technical Support is expected around 9223.97/ 9028.89/ 8695.01 with Stops expected below.
Technical Resistance is expected around 10079.00/ 10316.39/ 10661.23 with Stops expected above.
On 4-Hourly chart, SlowK is Bearishly below SlowD while MACD is Bullishly above MACDAverage.
On 60-minute chart, SlowK is Bullishly above SlowD while MACD is Bearishly below MACDAverage.