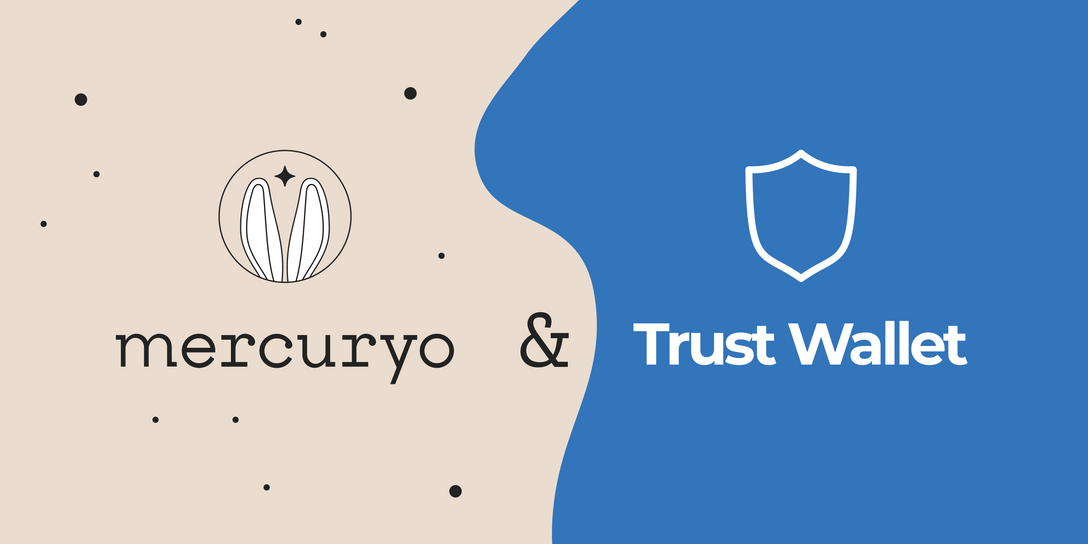 Mercuryo, a cryptocurrency payment gateway, announced an integration with Trust Wallet, a decentralized mobile wallet application and the official wallet of Binance, to offer safe and secure credit and debit card payments to all Trust Wallet users.
Trust Wallet users will have more options when it comes to depositing BTC, ETH, USDT, TRX, ALGO and BAT to their account using a bank-issued card. Users from the UK will benefit from the direct deposits in GBP dismissing unnecessary conversion fees. Mercuryo offers a low and transparent fee, simplified KYC for deposits up to 300 EUR and flexible limits.
Mercuryo is an ecosystem of payment processing solutions that includes a payment gateway for cryptocurrency exchanges along with an acquiring solution for businesses which enables customers to pay for goods and services using cryptocurrencies.
Trust Wallet is a decentralized mobile wallet application with a clean interface and high level of security, designed to facilitate the adoption of cryptocurrencies for users with any level of knowledge of blockchain. Trust provides a secure wallet to send, receive and store digital assets, and its built-in dApp browser can be used to communicate with dApps and trade crypto and collectables directly from a smartphone or tablet. Trust Wallet's native support on Binance DEX allows users to trade its crypto directly on the platform while staying in full control of their digital assets.

"Enabling more fiat onramps is essential for the mass adoption of cryptocurrencies. Easier onboarding, better coverage of supported countries, and a wider selection of assets provide every Trust Wallet user with the freedom to choose the currency he or she wants to own," said Viktor Radchenko, founder and CEO at Trust Wallet.
This is perfectly aligned with the long-term goal of Mercuryo to ease the engagement with cryptocurrency, as stated by Alex Vasiliev, CCO and co-founder. "The whole infrastructure of Mercuryo is built with this principle in mind", explains Gregory Waisman, co-founder and COO.
"Through the partnership with Mercuryo, Trust Wallet users who want to buy crypto with USD, EUR, GBP, RUB, UAH, JPY, TRY, KRW, ARS, IDR can benefit from direct payment with no conversion fees imposed by a regional issuing bank," emphasized Petr Kozyakov, co-founder and CBDO.
Mercuryo is one of the first cryptocurrency services to comply with PCI DSS international information security standards adopted by major payment systems such as Visa, Mastercard and AMEX. This ensures safe card payments and protection of sensitive customer data.
Mercuryo was founded in 2018 in Estonia. Cryptocurrencies related business is regulated by the law and supervised by state regulators - Estonian Financial Supervision Authority and the Money Laundering Bureau.
Mercuryo is also registered in the United Kingdom Financial Conduct Authority as a Payment Service Directive Agent and working towards gaining an Electronic Money Institution license which will allow sharing a wide range of properties with regular banks excluding loan provision.