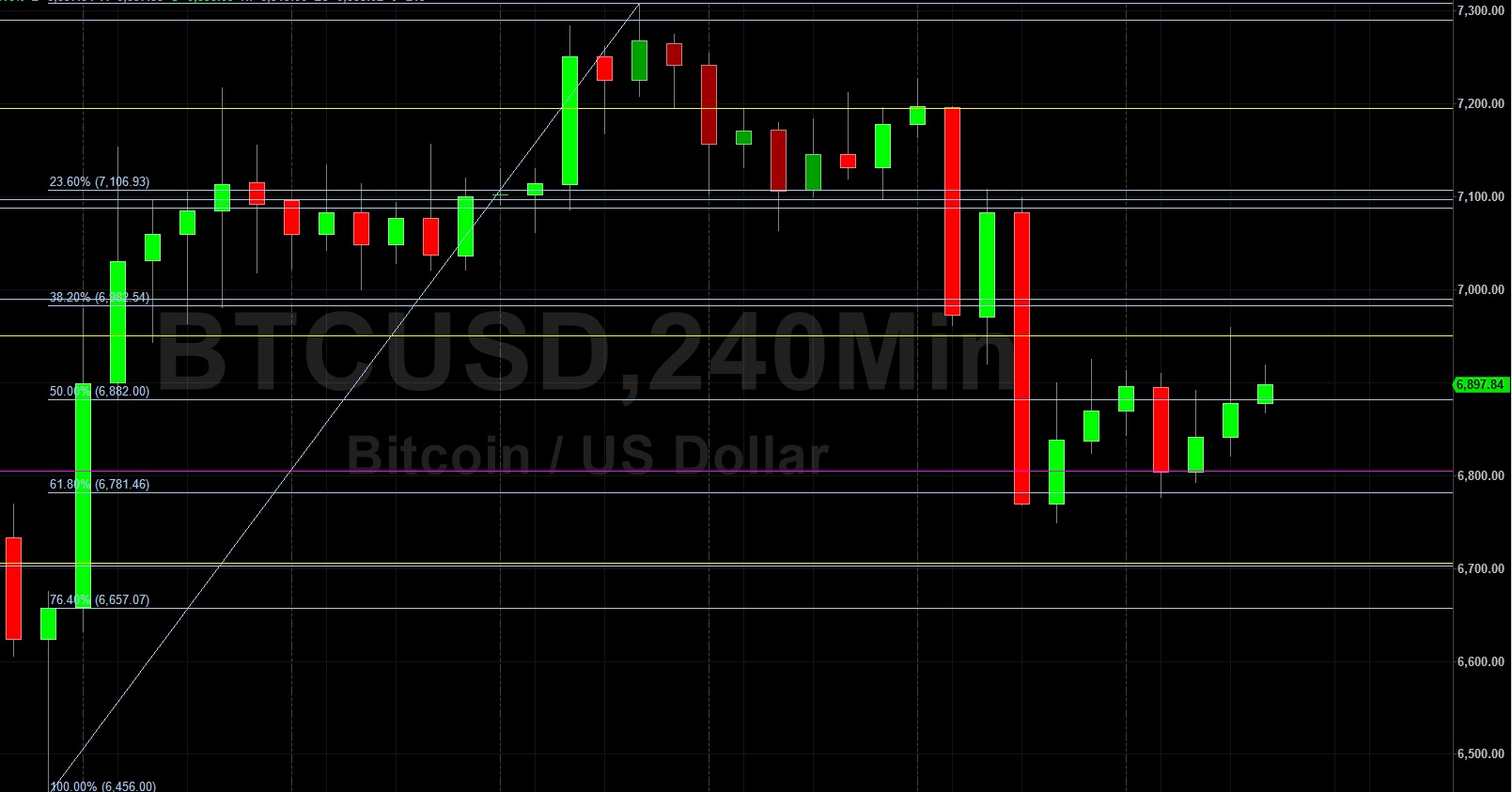 Bitcoin (BTC/USD) gained back some ground early in today's Asian session as the pair moved higher to the 6959.00 level after trading as low as the 6748.72 area during yesterday's Asian session. Notably, BTC/USD was unable to gain much ground above the 6950.47 area during yesterday's North American session, a level that represents a downside price objective related to selling pressure that emerged in March around the 7986.48 area. BTC/USD bulls were also encouraged by the fact the market was able to remain supported not too far below the 6781.46 area, representing the 61.8% retracement of the recent appreciation from 6456.00 to 7308.00. Last week, upward momentum emerged around the 6456.00 area, driving the price back above the psychologically-important 7000 figure. Notably, this buying pressure was right around the 6467.26 level that represents the 61.8% retracement of the appreciation from 5853.00 to 7461.00.
Above current price activity, upside price objectives include the 7414 and 7466 levels. BTC/USD bulls continue to observe the 7411.18 area as an upside price objective, another area related to the 3858 low and one that was tested three times in early April. Some traders are anticipating some Stops above the 7466 area, a recent relative high that could propel BTC/USD higher to the 7561.96 area if it is crossed. Below current price activity, downside price objectives include the 6403, 6383, 6291, and 6122 levels. Chartists are observing that the 50-bar MA (4-hourly) continues to bearishly indicate below the 100-bar MA (4-hourly). Also, the 50-bar MA (hourly) has bearishly moved below the 100-bar MA (hourly), and is bearishly converging with the 200-bar MA (hourly).
Price activity is nearest the 50-bar MA (4-hourly) at 6980.59 and the 200-bar MA (Hourly) at 6979.89.
Technical Support is expected around 6481.88/ 6383.48/ 6250.85 with Stops expected below.
Technical Resistance is expected around 7430.00/ 7561.96/ 7716.85 with Stops expected above.
On 4-Hourly chart, SlowK is Bullishly above SlowD while MACD is Bearishly below MACDAverage.
On 60-minute chart, SlowK is Bearishly below SlowD while MACD is Bullishly above MACDAverage.