The Euro has seen a major decline against the US Dollar just recently. The weekly chart for EUR/USD shows that the pair has now declined below the 200-week moving average. This is a very bearish development, one that points to the strong probability of another bear trend in the near future. This is bad news for Bitcoin and the rest of the cryptocurrency market at a time when investors are already panicking. The reason it is worse for the cryptocurrency market is because the price of Bitcoin is influenced directly by the strength or weakness of the US Dollar. This is a very small market and these effects are therefore very noticeable.

Bitcoin and the rest of the cryptocurrency market risk a major decline in the near future as the bull fail to preserve the momentum. The recent pumps that we see are just attempts to shake out the bears before the next decline. There is no real volume at the moment and a lot of retail traders have already panic sold and are now either waiting on the sidelines or praying that the market crashes again so they can buy at lower prices. Many retail traders have also been buying as the market has been falling thinking they are buying the dips when in fact they have been trying to catch falling knives. We do not know where the floor is. I don't see BTC/USD declining below $3k at this point, but I can't deny that anything is possible at this point as it all comes down to the outlook of larger markets.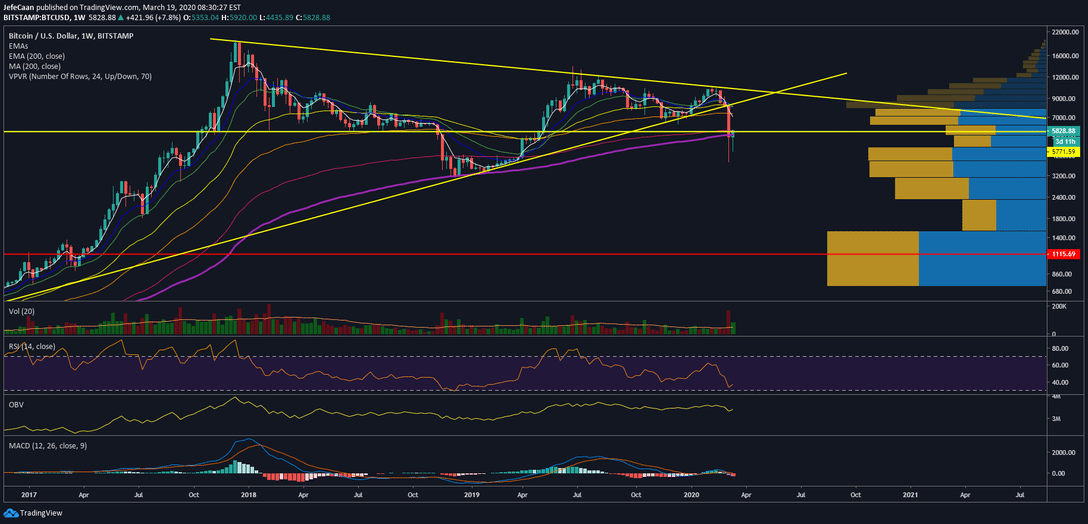 The weekly chart for BTC/USD shows that the price is still trading below the previously broken market structure. It does not have the momentum to rally higher from here and close above the support turned resistance just yet. The most probable scenario is another fall which we are more likely to see this week rather than the next week. Bitcoin and the rest of the market is done for the most part. It is going to be in a heap of trouble during the actual stock market crash which I think is very close.
We could see BTC/USD climb towards $9.2k after declining again. This could be around summer when the Coronavirus outbreak slows down, the stock market recovers for a while and Bitcoin halving approaches closer. This would give the big players the perfect opportunity to cash out before the market crashes in a much more aggressive way. For the last two years I have been saying that BTC/USD could decline down to $1k but now I would not be surprised if it declines even lower than that.