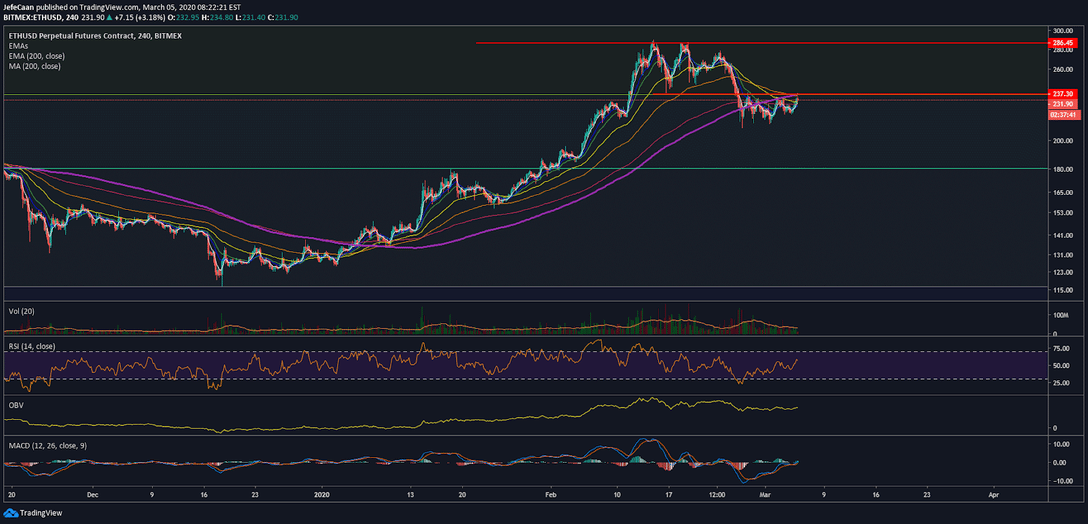 Ethereum (ETH) bulls have failed to push the price higher and spark further buying interest. We saw some bullishness in the market yesterday but the price failed to break the key resistance at $233. This has now increased the probability of a decline in the near future, one that could see ETH/USD decline down to the 61.8% fib level and potentially lower to eventually make a new yearly low. The state of California has just declared state wide emergency due to the Coronavirus situation. This has led to futures declining and as the market opens today, we might some of the gains being reverse.

We have previously noticed that the Coronavirus outbreak led to a massive decline in the stock market which took a toll on the crypto market as well and the altcoin market crashed even harder. This time, things could get a lot more serious as the situation is deteriorating and world leaders are not in a position to address this growing development effectively. The most probable scenario from this point forward is the beginning of a major downtrend in the stock market which would drag the cryptocurrency market down with it. Cryptocurrencies like Ethereum (ETH) and other altcoins would be forced to give up most of their recent gains as they decline more aggressively compared to Bitcoin (BTC).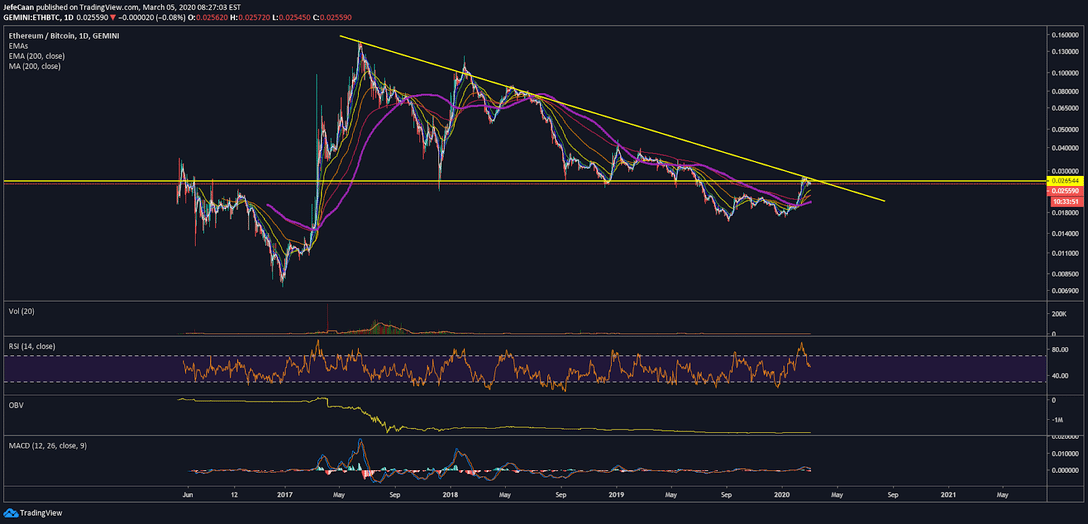 Ethereum (ETH) has run into a major horizontal resistance against Bitcoin (BTC) and now risks further downside. We can see on the daily chart for ETH/BTC that a rejection at this level and the beginning of a downtrend might lead to the pair making a lower low in the near future. This would be a devastating development not only for Ethereum (ETH) but the entire altcoin market. This is why it is not a good time to be thinking about the beginning of a new uptrend from here until it actually happens.
There is not much to lose if the market flips bullish and you are sitting on cash at this point but there is a lot to lose if the market flips bearish. The recent stock market crash due to Coronavirus concerns is a good example. If this can happen in the stock market, it can certainly happen in a much smaller market like the cryptocurrency market and a lot more aggressively. The next potential decline should be a bigger warning to cryptocurrency investors because it could mean cryptocurrencies like Ethereum (ETH) facing rejection at key market structures and the reversal of a multi-year bear trend in Bitcoin dominance (BTC.D).