Ethereum (ETH) risks a major decline as long as it remains below the $120 level which is a strong resistance zone now. The price could keep on trading sideways for a while and even exhibit some temporary bullishness but the most probable scenario is a decline down to a new yearly low. In some of my previous analyses, I have repeatedly discussed how ETH/USD could decline below $100 to reach targets of $80 and subsequently $60 or lower. While I do not expect Ethereum (ETH) to decline below $60 just yet, I would not be surprised if we see a strong crash below $100 in the near future.
The Coronavirus outbreak has taken markets by storm and investors are panicking to cash out their investments even in safe haven assets like Gold. The cryptocurrency market in comparison is a lot riskier. Altcoins in particular are riskier even than penny stocks and therefore remain very vulnerable in times like these. While some investors may be thinking about stocking up on some cryptocurrencies thinking it is a good time to buy when there is blood on the streets, the thing is we do not know where the floor is. The altcoin market is in serious trouble because in most cases, altcoins are just useless tokens that mimic the kind of trust-based relationship we have with fiat currencies but on a much weaker level.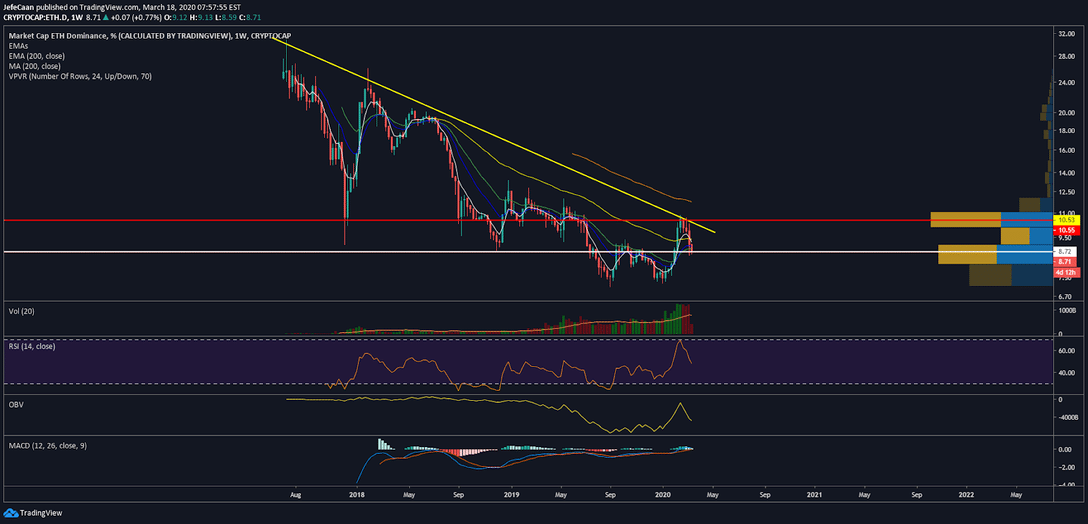 Ethereum dominance (ETH.D) is struggling to stay above a key support at this point but if it falls below it, we would be looking at a major downtrend in the weeks and months ahead. This is not a healthy sign for the altcoin market. We have long discussed the possibility of a trend reversal in Bitcoin and Altcoin dominance, meaning Bitcoin could once again rise to the pre-2016 levels of dominance which would put altcoins like Ethereum (ETH) under a lot of pressure.
Investors are panicking at the moment and so we're seeing everything from equities to commodities decline. However, there are still people that would not mind holding on to their Bitcoin (BTC) even during times of a crisis because of its fixed supply and long-term potential as a store of value. Unfortunately, the same cannot be said about coins like Ethereum (ETH). This is why if a recession hits, I think the altcoin market is going to fall a lot more aggressively than Bitcoin (BTC). In fact, I would not be surprised if a large number of altcoins go belly up.