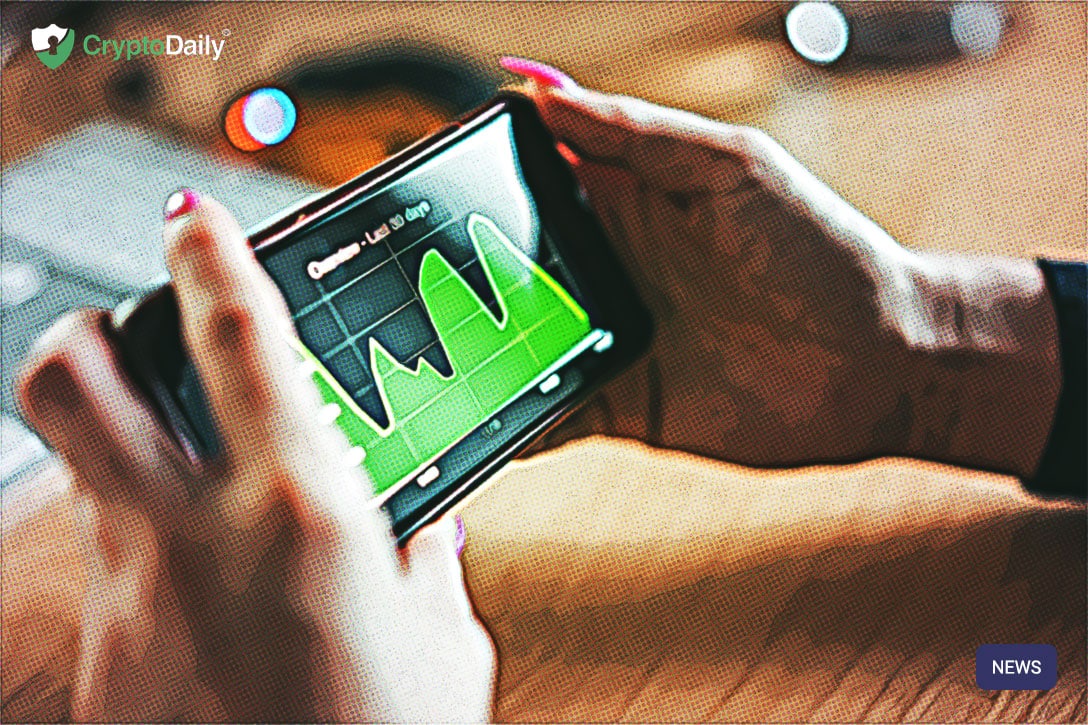 UK's Financial Conduct Authority (FCA) issued a statement that BitMEX is not authorized to operate in the country and warned UK citizens to stay away from it. Deribit and Bybit, would be the next that being issued a similar warning notice against by FCA.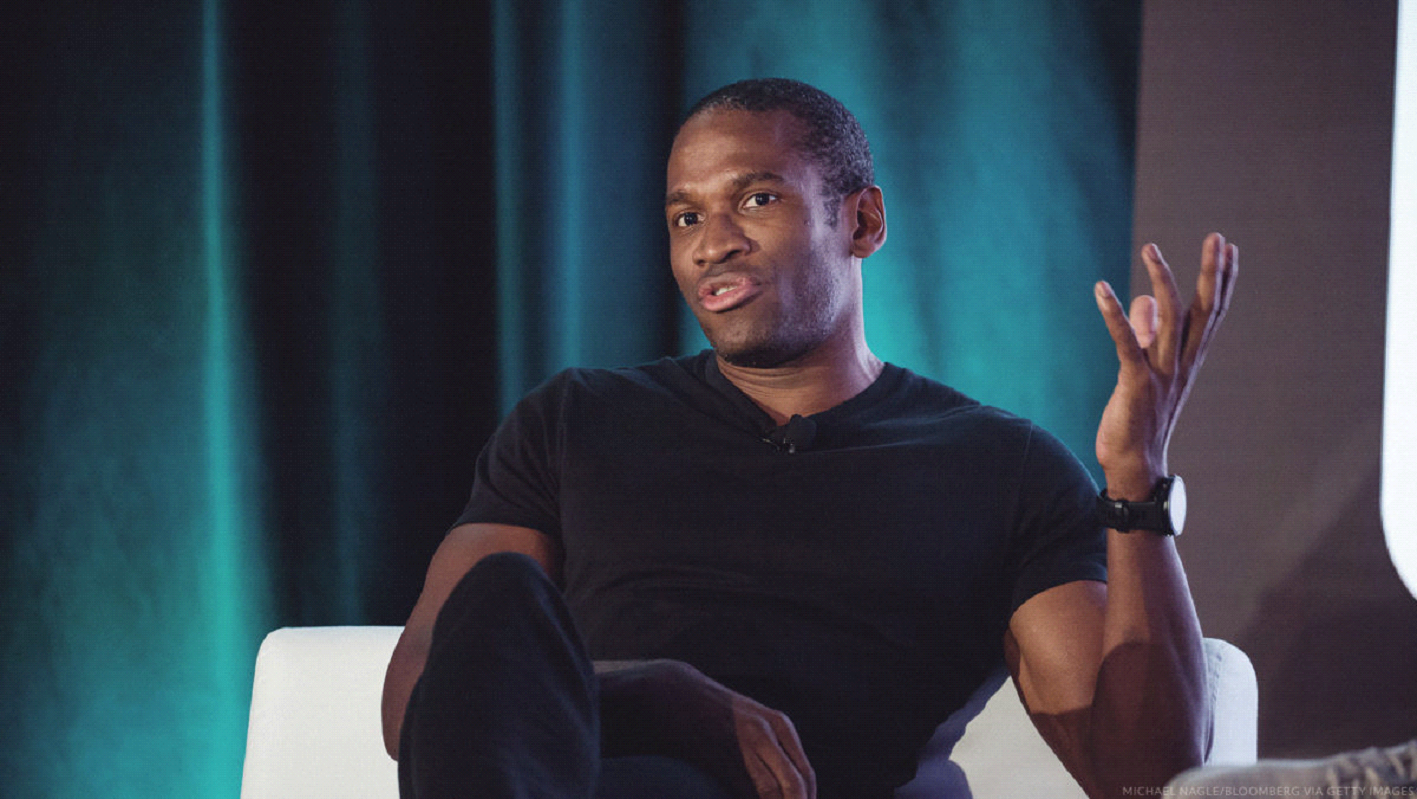 Due to the problems of overload, security and regulation, more than a few traders disgruntled and looking for better alternatives. Bex500 is one of the alternatives that is challenging the position of BitMEX in crypto leveraged trading area. Why choose Bex500? We will dive into it, head first.
BitMEX vs Bex500: Products
BitMEX stands for Bitcoin Mercantile Exchange, which combines margin trading and derivates of crypto assets for cryptocurrency traders. In BitMEX, only perpetual contracts for BTC and ETH are tradable. And for other altcoins, only futures contracts applied. 100x leverage, which makes it the leading exchange, can be only used in Bitcoin PERP.
Bex500 is a relatively new but competitive cryptocurrency derivative exchange established in 2018 by a group of professional traders, blockchain engineers and system developers. Bex500 offers 4 types of contracts including perpetual contract, Double contract, Forex, and Commodity. Perpetual contacts with 100x leverage are not only available for BTC, but also for ETH, XRP and LTC.
Double contract is an exclusive contract in Bex500. It's innovative perpetual contract with 200x leverage. Though the leverage is much higher, you don't need to worry about liquidation which may cause big loss. The profit/loss is controlled in the range of the margin you invest.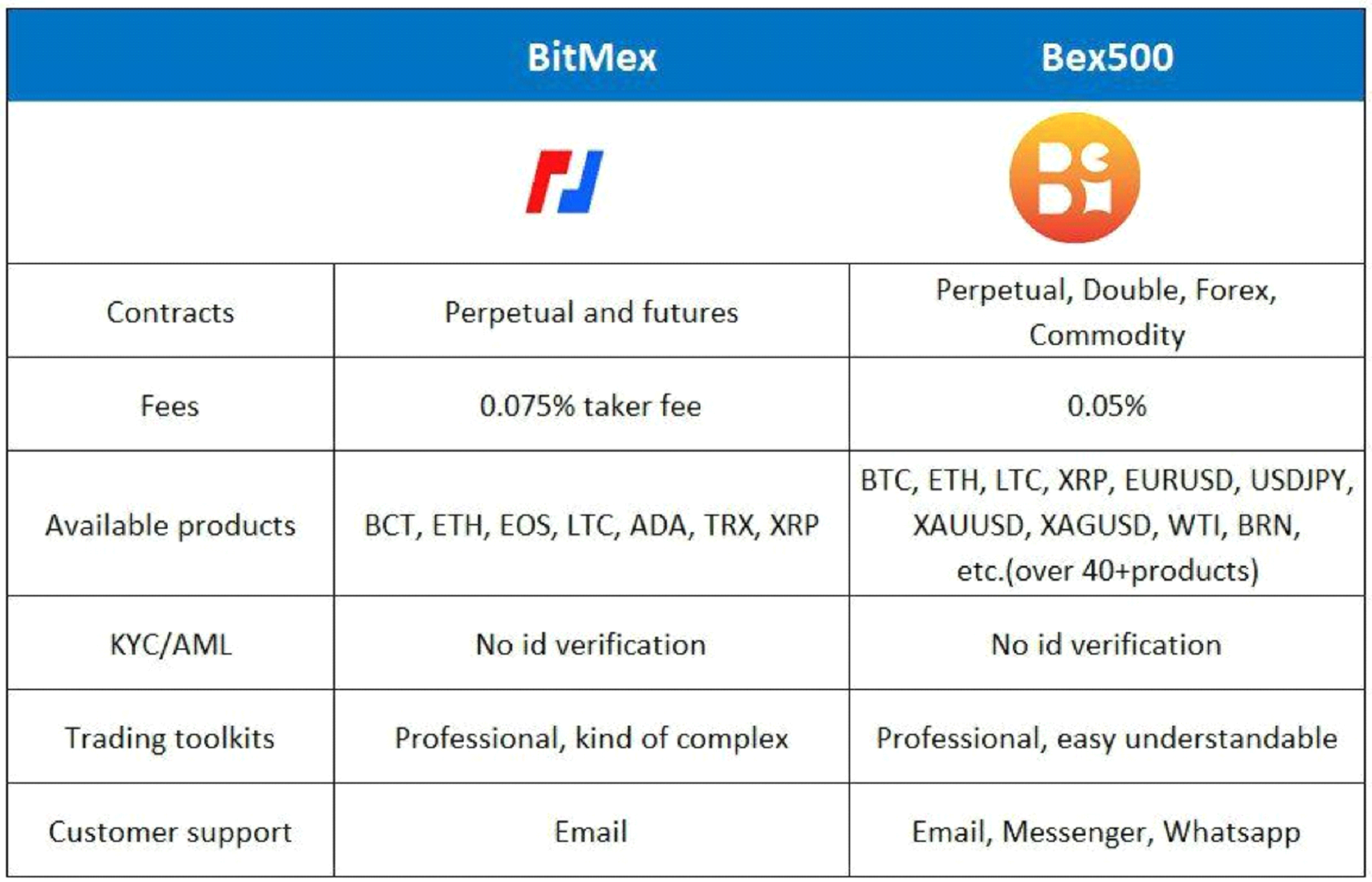 BitMEX vs Bex500: Trading Experience
Both BitMEX and Bex500 have professional user interface. Both of the charts are based on the trading view which has the full functions of the drawing tool.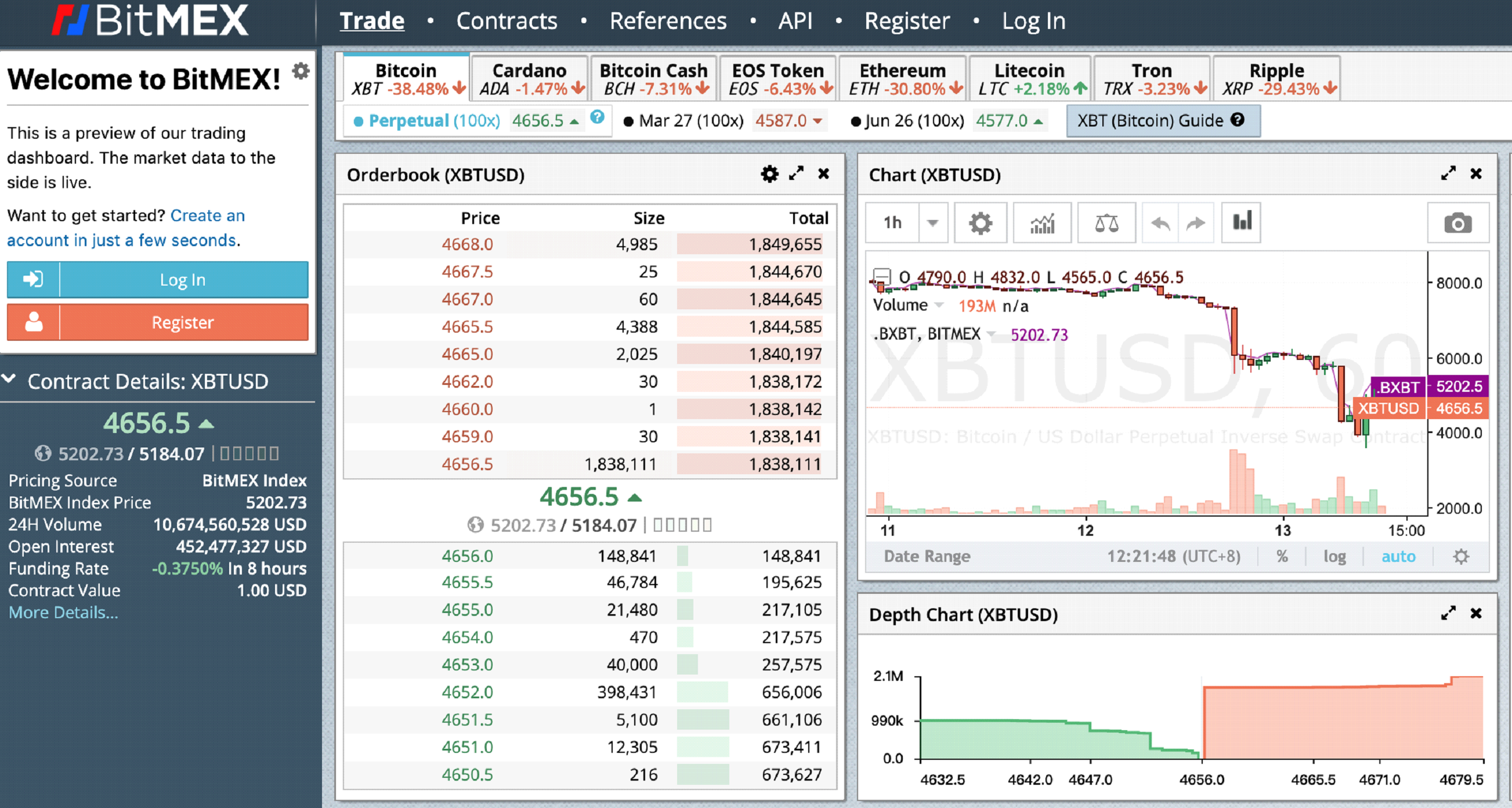 BitMEX's trading interface is complicated and more suitable for professional traders. However, for amateur retail investors, it may take some time for them to understand the trading interface and learn how to use it. BitMEX's simulation mode is apart from the real-time system that traders need to apply a new and unique account for trading simulation.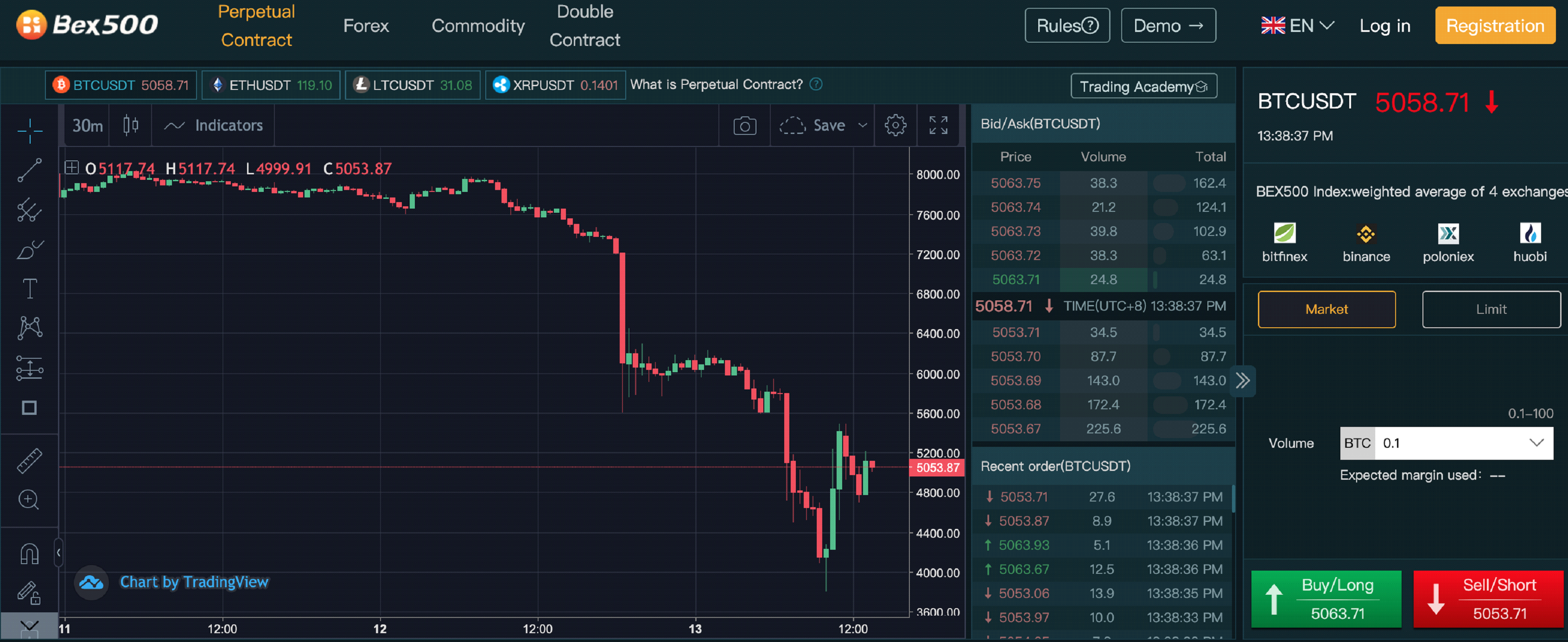 Bex500 offers a much easier and user-friendly trading interface, which is designed for both profession veterans and beginners. In addition, Bex500 provides more available trading toolkit to traders. For example, it provides P/L calculation which help traders to calculate the profit and loss before entering the real trades. Bex500 also enables traders to switch to demo mode easily with real account.
BitMEX vs Bex500: Trading fees
The transaction trading fees standard of BitMEX is 0.075% for taker fee and -0.025% for maker fee. The integrated fee standard is mostly 0.05%.
To consider fairness, Bex500 has unified the transaction fees and the transaction fee is settled as 0.05% which ensures that the trade action will not be affected by Fees.
BitMEX vs Bex500: Insurance Fund
"Insurance Fund" is a liquidation "fine" charged by BitMEX to protect the exchange against negative balance. BitMEX takes the difference between the Liquidation and Bankruptcy Prices and transfers it to the Insurance Fund. In other words, if your order is liquidated, you will lose more than you should have.
Bex500 is the first crypto futures exchange with no insurance fund. When the position is taken over by the Bex500 liquidation engine, it is liquidated at the best price for traders rather than the bankruptcy price. If the effective Liquidation Price is less favorable in extreme volatility, Bex500 will initiate its automatic deleveraging (ADL) procedure.

BitMEX vs Bex500: Bonus Activities
There is No bonus giveaway program in BitMEX.
In Bex500, traders who register an account can enjoy $15 welcome bonus, which can be used in trading and the profit can be withdrawn. It also provides users $400 extra bonus after they made the first deposit of 0.2 BTC.

BitMEX vs Bex500: Security
BitMEX is reputed to have strong levels of security. The exchange uses multi-signature deposits and withdrawal schemes which can only be used by BitMEX partners. BitMEX also uses Amazon Web Services to protect the servers with text messages and two-factor authentication, as well as hardware tokens.
Bex500 also employs security system at high levels, offering two-factor authentication, email verification, and IP whitelisting to ensure the safety of the withdrawal, offline wallet storage system and Amazon Web services to safely protect the wallet and system.
BitMEX vs Bex500: Customer Support
BitMEX's customer support is offered via an email ticket. It also offers a knowledge base that gives a slick rundown of the exchange and helps to educate users on complex trades.
Besides email, Bex500 has a live chat that operates 24/7 with multiple languages supported. Bex500 is also active across the social media platforms like Twitter, Facebook, WhatsApp and Telegram.
Conclusion
BitMEX has been surrounded controversies including overload problem, market manipulation, unfair insurance fund, and now not open for US and UK traders.
Bex500, as a strong competitor, overcomes all the above problems that occurred in BitMEX. For beginner in particular, Bex500 is a better choice as well as a trustworthy alternative to BitMEX.