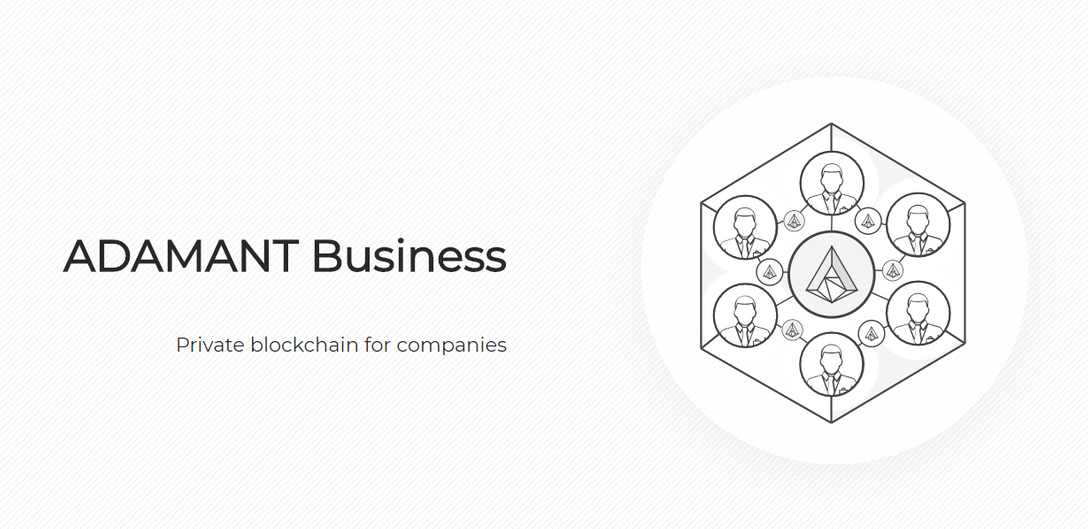 Distributed Ledger Technology (DLT) and, in particular, blockchain, are increasingly used by companies in their activities. This is not just a tribute to trend, but business optimization and cost reduction. Major software manufacturers, such as Amazon and IBM, already offer their services to implement blockchain for companies. Business-oriented blockchains and DLTs are also developing, such as Hyperledger, Ethereum Enterprise, Corda, Quorum, MultiChain. According to ReportLinker, the blockchain technology market will grow from $1.2 billion to $23.3 billion by 2023.
However, all these solutions are geared toward big business, competing in terms of performance, transactions per second, and scalability. While industry giants focus on large business, ADAMANT offers a solution for small and medium-sized businesses and communities.
Small and medium-sized companies do not need all this—they need only 10 transactions per minute, and not millions per second. But what is really significant is a clear understanding of the questions "What will blockchain give us?" And "How to start using blockchain in our company?"… — Alexei Lebedev, CEO of ADAMANT TECH LABS.
Moreover, ADAMANT integrates a blockchain with communication environment, combining the organization into a single whole. Communication is the most important tool for running a business or other association. And in this matter, a control over the infrastructure and data ownership, safety, reliability and inability to change the history of messages come to the fore.
ADAMANT Business offers a blockchain, a company's internal token and a solution for secure messaging on a blockchain. Unlike competitive blockchains, ADAMANT is easy to install, free and easy to maintain.
...Using a messenger inside a company is understandable. If you add an internal company token to this messenger that can be transferred in-chat — this is also understandable. No need to work through business processes and draw complex diagrams. All these Hyperledger-like solutions are not easy to use. In addition, to use corporate blockchain solutions you can not do without expensive consultants, it takes months of time just to try. ADAMANT Business can be installed by an ordinary IT specialist in a few days. — continues Alexei.
Why business needs blockchain
In general, blockchain increases transparency, improves understanding of processes, and reduces business costs. You can find many articles on this topic on the web, and we will dwell only on some features.
Blockchain allows you to store certified copies of data around the world, in all parts of an organization. This can be data on goods, deliveries, unique products or financial information.
In case of geographically distributed companies, the possibility of instant settlements between departments, regardless of distance, is of great importance. Given that payments in conventional currencies are long and expensive, this saves companies a lot of money, all mutual settlements become transparent and available for analysis to managers. In practice, unit balances in ordinary currencies are given in accordance with a blockchain once a year.
Blockchain can track the history or supply chain of goods—this way their quality is ensured and verified from production and packaging to the final consumer.
When an organization uses blockchain, it reduces transaction costs. After all, intermediaries, magazines and registers, as well as the personnel who deal with them, are no longer needed. According to Jason Kelley, an IBM blockchain services manager, Wallmart has been able to reduce the time it takes to track product shipments from a week to seconds.
Another advantage of a blockchain is "out of the box" cryptography. All data is securely encrypted and its protection does not require additional costs.
ADAMANT Business
Using a blockchain in an organization is a luxury that requires money no less than implementing an ERP system. That was before ADAMANT Business:
Free license
Easy to install
Low cost of ownership (associated infrastructure costs)
Quick solution for testing blockchain in your organization
Suitable for SMEs and communities
Completely open source
High speed—the default block time is 5 seconds which can be even faster
Easy to create additional functions: ADAMANT is written in JavaScript, so it's easier to find developers
Does not require resources. The network uses the Fair dPos consensus mechanism, and nodes can operate without load even on virtual machines with 1 CPU. Three nodes are enough.
Well-developed documentation
The ability to use blockchain "in test mode" without affecting the core business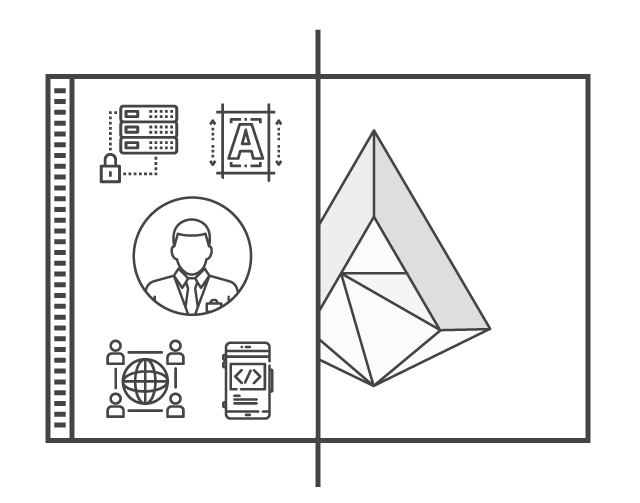 ADAMANT in practice showed how a blockchain messenger works. Developing the Messenger for three years, ADAMANT's public blockchain was initially planned as a demonstration of private corporate blockchains based on it. Unlike the public network, all ADAMANT Business data is stored on the company's nodes. Data ownership is especially important for businesses—they can always make the decision to completely destroy or return to a rollback point. Companies need "centralized decentralization".
As ADAMANT is a messaging platform, business will receive new opportunities, for example:
Messenger within organization
Internal token (coin / cryptocurrency) of the company for mutual settlements. This significantly reduces costs. It is reliable and safe. You can create several tokens for various purposes.
The internal token can be used to exchange for goods and services, create a reward system, evaluate working hours or for other tasks
The internal token can be a commitment to employees and partners, and is maintained and developed along with the company itself
Support for Bitcoin, Ethereum, Dash and other cryptocurrencies right in the messenger. Transferring cryptocurrencies in chats.
Internal exchange of organization token to other cryptocurrencies. You independently set the rates.
Authentication or two-factor authentication (2FA) for your employees
Voting service
Notification mailing
Bots performing various functions
The ability to create other services that work on your blockchain
What is good about a blockchain messenger:
MITM attack is excluded—each message is a transaction and is signed by Ed25519 EdDSA
The message falls into its block. The sequence and timestamp of blocks cannot be changed, therefore the order of messages also cannot be changed.
"I didn't say this" will not work with messages in a blockchain
Reliability, order and invariance of messages is checked by the node system
End-to-end encryption
The ability to get all your dialogs from any device at any time is the ability not to store dialogs locally at all
Message delivery confirmation
License and price
It's free. ADAMANT source code is open, and you can use all programs for your company's purposes for free.
Ways to use ADAMANT Business
A business has several options for creating a messenger on the blockchain.
Use ADAMANT in a public network
Deploy nodes in a public network and connect to them
Make a separate network
The first two options are only suitable for a test drive, that is, to get acquainted with the ADAMANT blockchain. To fully utilize ADAMANT Business, you need to switch to a separate network.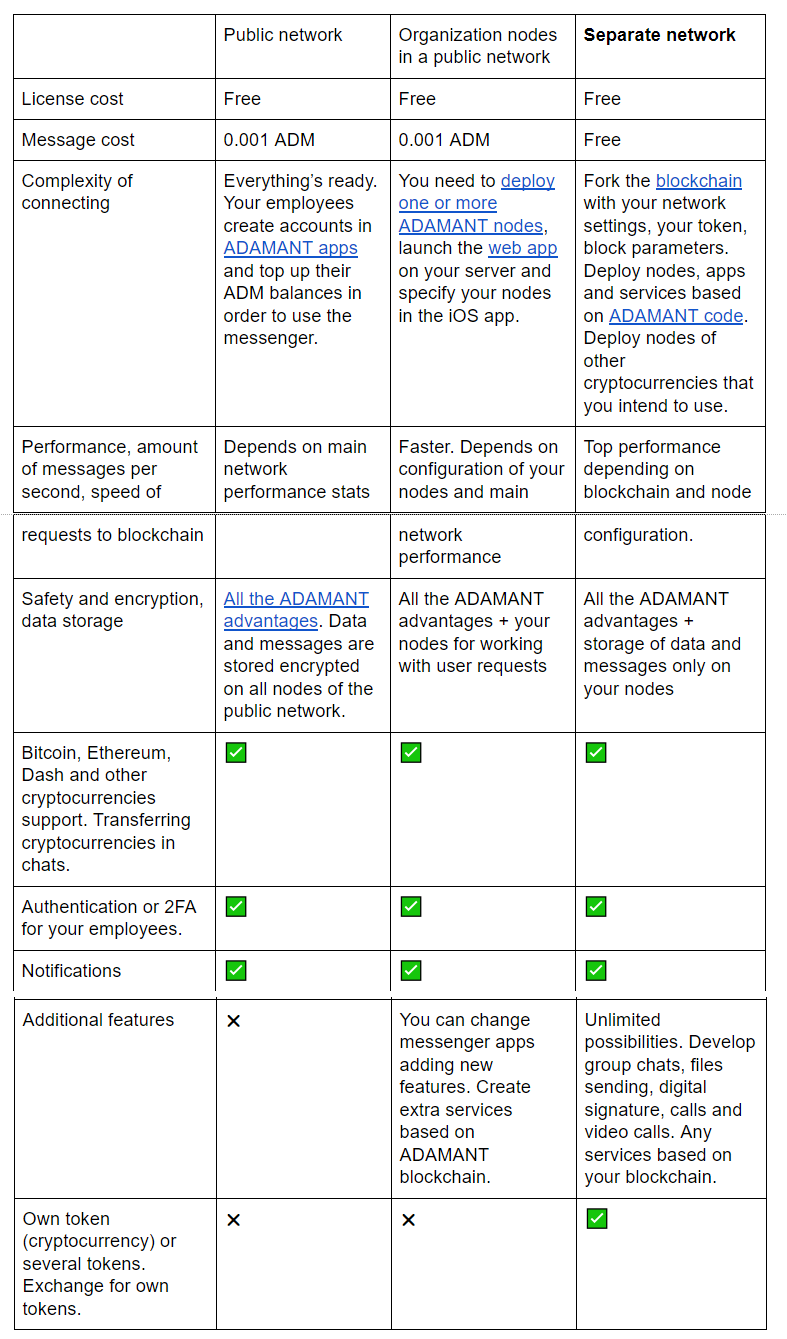 How to start
So, you decided to try the blockchain in your organization or community. Determine what opportunities you need, what tasks do you want to accomplish using the blockchain? After that, try the ADAMANT apps on the public network. Imagine that your applications will have your own tokens—how will you use them? Think about what data you will store aside from messages? How will the data be displayed? What services do your colleagues need?
To create a blockchain in your organization, you will need a technical specialist. ADAMANT offers instructions and manuals that will be helpful. Some instructions are still in development, but that's what currently available: https://adamant.business/guides/.
All the source code is open. To use the ADAMANT Business blockchain, you need to fork the repositories and make your settings. Later the guides on creating your own ADAMANT Business blockchain will be published as well.
ADAMANT wants every small group own their private blockchain.
Website and contacts: https://adamant.business/contact/