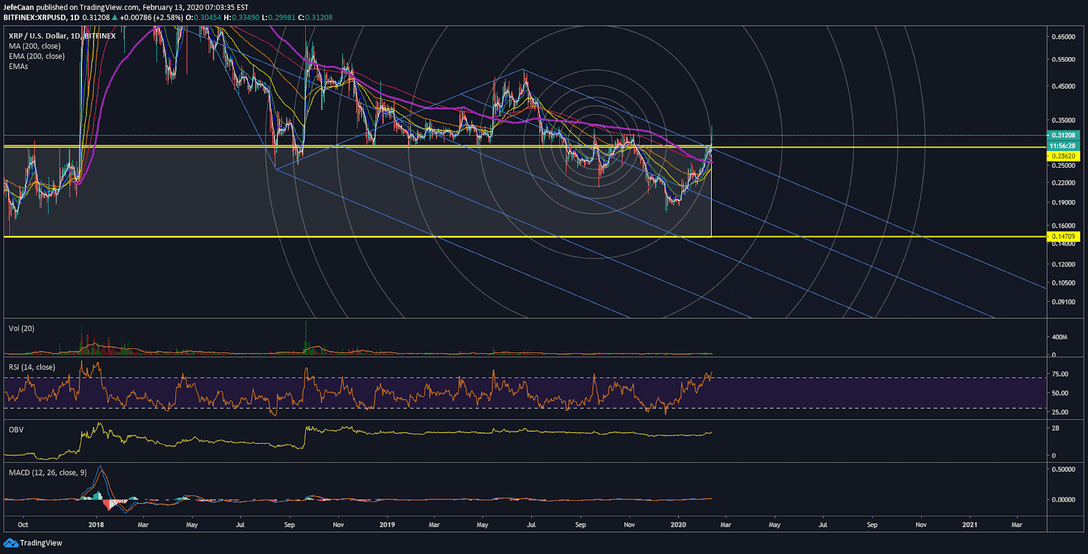 Ripple (XRP) all set to make a big move up ahead but it is surprising to see the cryptocurrency defy gravity and keep shooting up while the rest of the market is going down. Both BTC/USD and ETH/USD were down earlier today but XRP/USD continued to maintain its uptrend. We can now see the pair at a decision point as it has just broken past the fib circle as well as the pitchfork. It remains to be seen whether it can find support on top of the pitchfork or decline further but one thing is clear. If XRP/USD declines again, it will be expected to form a lower low in which case we would expect it to fall down to $0.12 or lower.

Say what you will about Ripple (XRP) but there is no denying that the XRP community is really strong and united. Even during the worst times during this bear market, they have offered their unwavering support for the cryptocurrency and continue to do so. Now, I'm not saying whether that is a good thing or a bad thing. To some investors, it is not about the money or the value of their investments but the sense of community and belonging to a cult, just like religion. However, the reality on ground is that most such retail traders have little impact on the price of Ripple (XRP). The big players keep swinging the market up and down their will but the majority of retail traders keep holding to their coins and they mostly add more to their positions just around different local tops.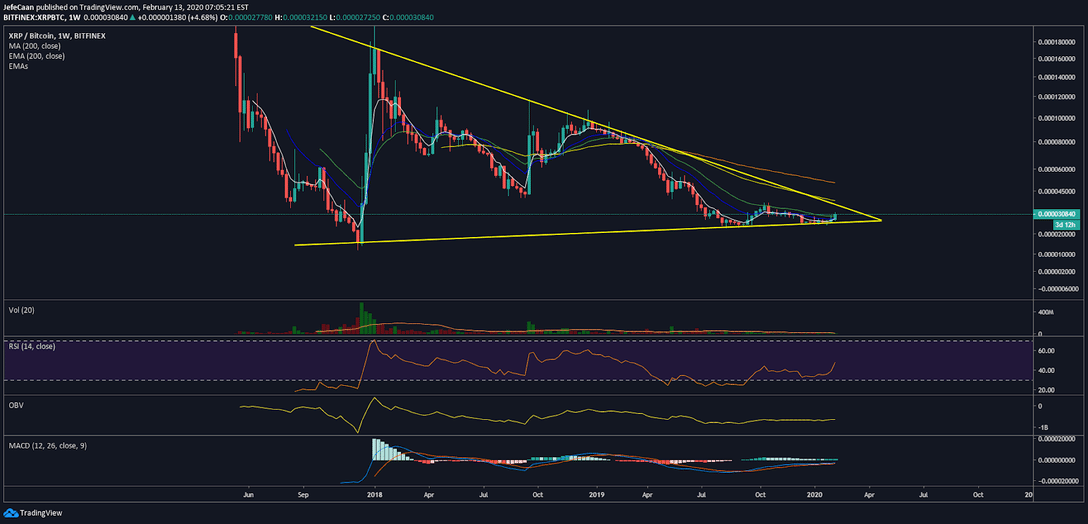 So far, the XRP community has been one of the most enthusiastic proponents of hodling. However, we have yet to see if they will continue to do that in case XRP/BTC does something it has not done since 2017 i.e. to decline below the symmetrical triangle and enter a long-term bear trend against Bitcoin (BTC). This is a very serious risk that most of these hodlers are taking on without realizing. It is unfortunate how most of them have fallen for the halving FOMO while ignoring something as serious as this.
The weekly chart for XRP/BTC shows that if this trend is broken, we would be looking at a major trend reversal. This is perfectly in line with our view of the market because we expect that Bitcoin dominance (BTC.D) is going to rise again and reverse the trend that started in 2017. The altcoin market has yet to see a bear market of its own. So far, we have seen it decline mostly because of Bitcoin. This could be the beginning of something different that we have not seen in the history of the cryptocurrency market. This could also be why we are seeing these fake pumps as the big players are trying desperately to lure retail traders in so they can dump their coins on them before the nuclear winter in the altcoin market begins.