Ethereum Classic (ETC) risks a decline to a single digit price again. This time it could be much lower as the price could fall close to $1 during the next downtrend. This is a cryptocurrency that has already been through a lot and is only recently beginning to see some recovery. The core team behind Ethereum Classic (ETC) abandoned it and then ETC Labs took over. It has made good progress so far even during the bear market but that is not going to save it from declining much lower in the weeks and months ahead.
The weekly chart for ETC/BTC shows that Ethereum Classic risks to lose a lot of ground against Bitcoin as well. This is not going to be easy for the current development team. The last team that gave up on the cryptocurrency cited funding reasons. The next downtrend would put Ethereum Classic through a lot more pain once again but this will also be a test to see if the cryptocurrency survives or not because the next downtrend is expected to last all the way till mid-2021. Considering that the current cycle will take longer than before to come to completion, we could see the correction continue till the end of next year. It is important to realize that such an extensive correction would put many altcoins through a lot of pressure. This is good for the market long term because only the best projects with the most dedicated teams will weather the storm.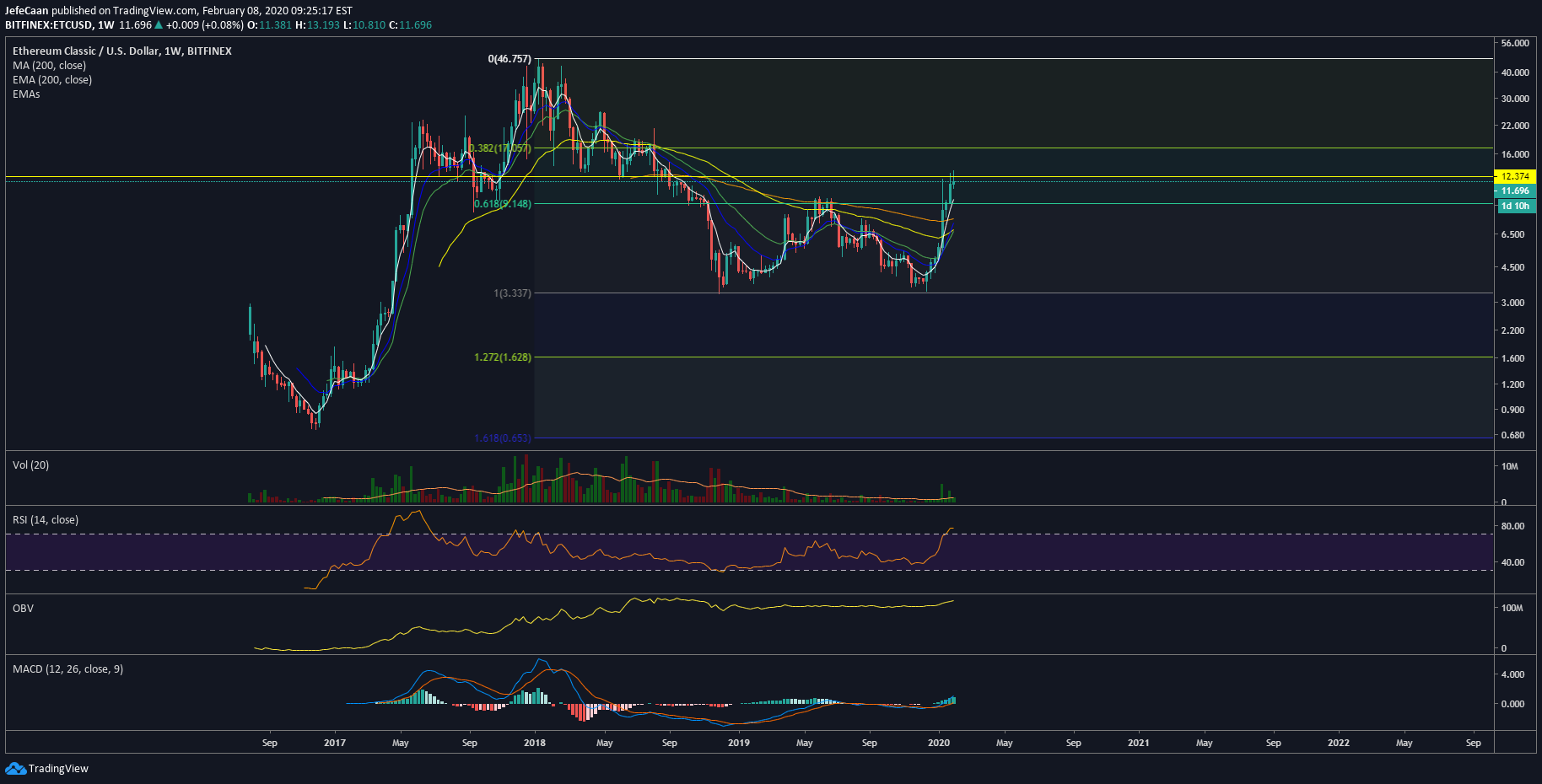 The weekly chart for ETC/USD shows that the price has clearly run into the previously broken market structure and now risks a sharp decline. It is very unlikely to rally from current levels. It is very interesting to note that the fractal that we now see forming looks a lot like the one between 2017 and 2018. This also tells us that the price could decline close to the next halving but it might rally as we near the next halving to give traders a false sense of a bullish reversal.

The ultimate game plan for the market makers and the whales is to squeeze every last drop out of this market. Their first goal is to liquidate the bears on these pumps to the upside. The bears keep shorting the market and the price keeps pumping higher to hit their stops. Their second goal which is the most important one is to trap in as many bulls as possible before the next halving. It seems to be working quite well so far and as Bitcoin trades sideways before the next decline, we can expect more people to FOMO into altcoins like Ethereum Classic only to be left holding the bags in the weeks and months to come.