Ethereum (ETH) has started to decline but it has not tested the 38.2% fib retracement at $235 just yet. This could mean that we might yet see further upside in ETH/USD before the next downtrend kicks in. The trend remains bearish on the larger time frame and the recent move seems to be an attempt to shake out the bears and trap in more bulls before a major downtrend. There is a very low probability of this being a double bottom in ETH/USD that could lead to a W-shaped rally in the price before halving. This is certainly what most traders are talking about at the moment but the most likely scenario is that it will be a major bull trap.

Financial markets are expected to see major volatility this year for a number of reasons. We have the Democratic presidential primaries going on which has now come down to a pro establishment vs anti establishment situation. If Bernie Sanders wins, Wall Street is going to be in a lot of pain and we will certainly see that reflect in the stock market. He is already being portrayed as a communist and even if he just wins the nomination, we could see an exodus of capital from the stock market which would seriously hurt the cryptocurrency market. New Hampshire (NH) results today will also have a major impact and could determine if Bernie poses a threat to DNC favorites like Pete Buttigieg and Joe Biden. This in turn would elicit a response from investors on Wall Street which would trickle down to the cryptocurrency market.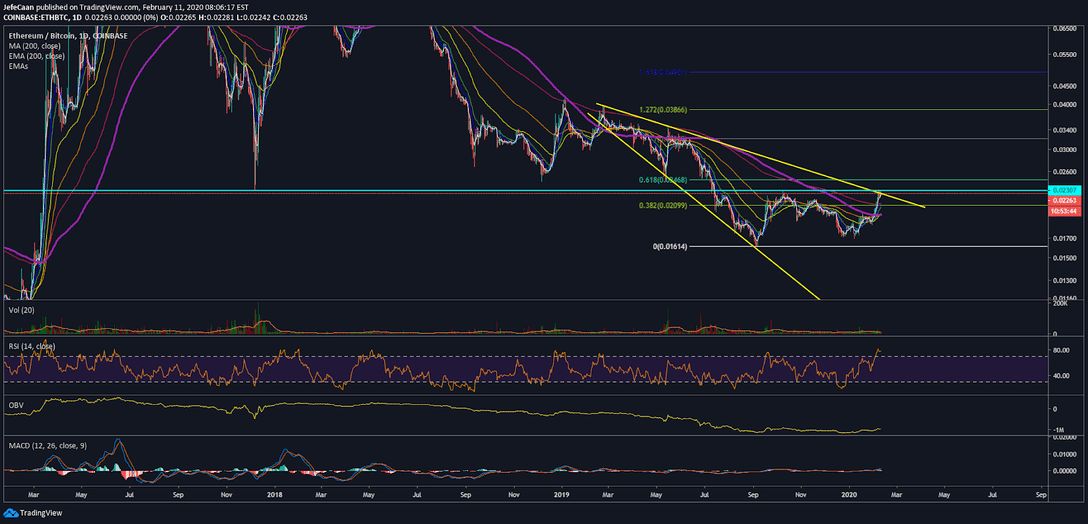 Too many people in this market are focused on the micro and not the macro. The reason it is more important to focus on the macro is because those trends are harder to change. Near-term it is useless to be chasing different moves up and down every 4 hours because it is all heavily manipulated. For most traders, it is far easier to be day-trading the stock market or the forex market rather than the cryptocurrency market. The daily chart for ETH/BTC shows the big picture and it is quite clear that the pair is in a strong downtrend.
Unfortunately, we have a large number of blind optimists in this market that have gotten used to "hodling" to the point of complacence. This is why we have seen most of them lose their investments in a slow bleed manner throughout this bear market. The market makers and the whales keep giving them opportunities to buy pumps and when they do, they crash the price enough to still keep them optimistic only to slow bleed them to death later. The possibility that Ethereum (ETH) may yet rally further should be a warning to the bears as well to remain focused on the big picture and not rush into trades before confirmation.