Ethereum (ETH) has shot up well past the 200-day moving average. Doing that, it has succeeded in breaking past the 61.8% fib retracement level as well. However, it is now at a decision point and while we expect a sharp decline in the market up ahead, it could still end up testing the 38.2% fib retracement level at $236 before the next downtrend. It is very important to realize that no matter how strongly you believe the market is going to decline in the near future, it could rally higher near-term even past the 38.2% especially this weekend.

The daily chart for ETH/USD shows that Ethereum (ETH) is now expected to decline within a descending broadening wedge during the next downtrend. This would no doubt be extremely devastating for the market before the next halving. The majority of retail bulls are still under the impression that the market is going to shoot up before the upcoming halving. However, what they do not realize is that a scenario like that would mean the whales and the big players in this market paying enormous profits to such retail traders. This is rarely the case even during a bull market.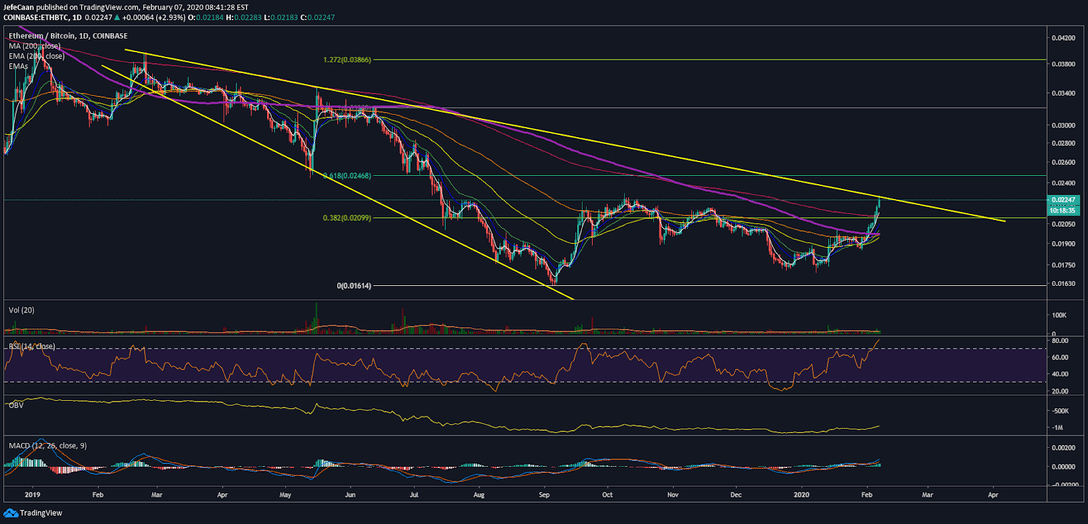 The daily chart for ETH/BTC shows what exactly Ethereum (ETH) risks to lose during the next downtrend. This is no doubt a very scary picture that many retail bulls are so conveniently ignoring at the moment. It is so easy to ignore this amidst the halving FOMO and expectation of a rally to the moon in the weeks and months ahead. The interesting part is that a lot of these retail traders end up making the same mistakes over and over.
The same traders that are now excited about Bitcoin halving were excited about the Bakkt launch. We all saw how that turned out. Back when BTC/USD was trading around $6k you would have noticed most of them say, "no way the price could fall lower, it makes no sense". Those that bought after that temporary bottom and sold near the top or just recently did well but a large number of retail bulls are still too complacent. They are waiting for a major rally just before the next halving. The problem is that everyone is expecting the same thing now and when everyone expects the same thing in a financial market, the opposite ends up happening most of the time.